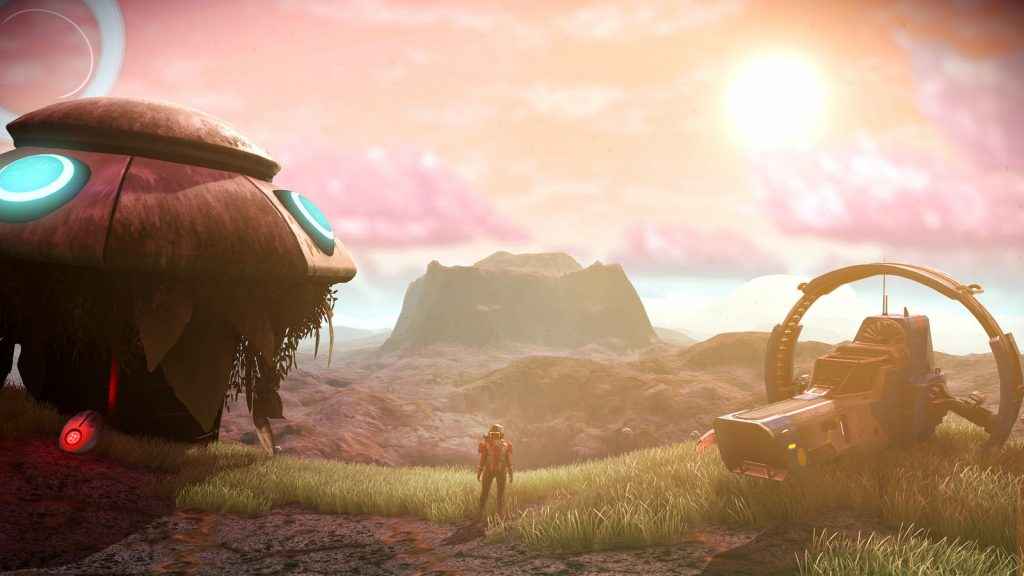 Having been leaked yesterday on the developer's own YouTube channel, Hello Games has now confirmed No Man's Sky Visions – the latest free update for the gargantuan space exploration sim – will release tomorrow the 22nd November.
Following on from last month's The Abyss update, which completely reworked the game's underwater locations, Visions aims to make things planetside a bit more interesting.
What's New in the No Man's Sky Visions Update?
"We've called it Visions, because it re-imagines our universe" explained Sean Murray in the announcement post. "Introducing new environmental biomes, new planet types, more colourful worlds, new fauna and flora, archaeology, salvaging, and much more".
As a result, players will notice a far greater diversity of planets and animals than ever before, "creating a weirder, more surprising universe to explore". But arguably the most exciting feature of the Visions update is space archaeology.
"Unleash your inner archaeologist and search the galaxy for planets containing the ancient bones of alien lifeforms. Unearth the long-forgotten remains of fallen satellites and scrap them for salvageable parts, but risk drawing the attention of new, challenging, corrupted sentinel drones."
Alongside these most welcome changes, Hello Games is also introducing a brand-new global community mission.
One that rewards players with the mysterious Eye of the Korvax helmet, as well as a range of new emotes, building parts, and fireworks if they successfully come together to explore the updated Visions universe.
Edging ever closer to the game we envisioned all those years ago, No Man's Sky is currently available at the discounted price of £25.19 on the PlayStation Network. It still sits at full price over on the US store ($59.99) at the time of writing. Nevertheless, it's still the perfect game for those looking for something relaxing to play over the holidays.