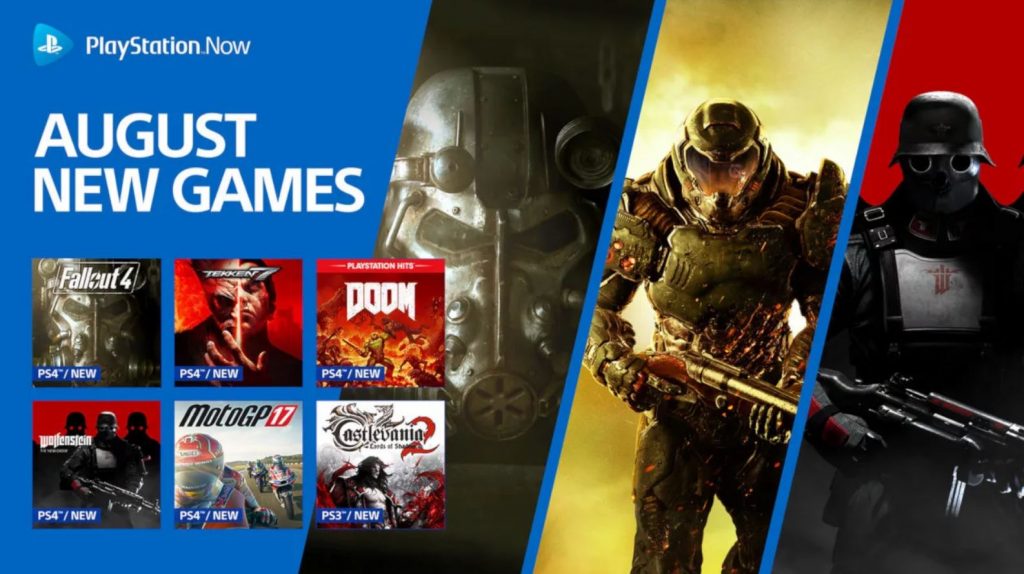 The new PlayStation Now August 2019 Update showcases what games are set to be added to the service in August and it focuses on Bethesda Titles.
Three of the publisher's titles are making their way to the service: Wolfenstein: The New Order, DOOM (2016), and Fallout 4. Also being added this month are three Castlevania games from the PS3.
European members of PlayStation Now will also get [email protected] in August, whilst American members of the service will get Tekken 7.
The full list of titles can be found below:
The focus on Bethesda titles makes sense as QuakeCon 2019 is happening this weekend. The event has already given us some big news including a deep dive into DOOM Eternal's new multiplayer mode, BattleMode. This game-mode allows you to play as a demon or a fully outfitted Demonslayer. Bethesda has also released the original DOOM, DOOM II, and DOOM 3 this week for PS4.
On top of that, Wolfenstein: Youngblood released today. Set 19 years after the end of The New Colossus and the game places you in the shoes of BJ's two twin daughters Soph and Jess. You set out to find your Daddy and liberate Nazi-controlled Paris.
We really enjoyed Wolfenstein: Youngblood as tried a lot of new things with the franchise. The game places much more of an emphasis on combat, with the narrative being a little disappointing. In our review, we stated "Wolfenstein: Youngblood is an excellent stopgap before the inevitable Wolfenstein 3. You can dip your toes back into the world and the new combat changes come together to create the best combat in the series."
All of these games above will be available on PlayStation Now from August 6, 2019.
Which game will you be playing? How much do you use the service?
Source – [PlayStation Blog]