[Update] It appears that the image of Nemesis shown below is a fan render. We found an identical image from someone called Jeff Sims, who writes: "My Lowpoly version of the Nemesis character of Resident Evil series." Looks like GAME just cut out the guys signature. Ah, well!
[Original Story] In a spin of the rumor mill that will have fans in a frenzy, we may have confirmation that series staple Nemesis – the omnipresent antagonist of 1999's Resident Evil 3 – is due to make an appearance in the upcoming Resident Evil 2 Remake, that is according to an interesting product listing on GAME UK's official website.
As it stands, and still live at the time of writing, there is product listings for both a Licker and Nemesis plush, alongside a bigger 15″ posable statue of everyone's favourite tyrant – all with the title prefix of 'Resident Evil 2'.
Resident Evil 2 Remake: Nemesis Statue Appears At GAME
To add fuel to the fire, the release date for all three sits at January 25, 2019 – the very day Resident Evil 2 Remake is due to release. Moreover, the design of the posable statue is especially notable as it's quite different to anything we've seen before, with Nemesis toning back the protruding pink tentacles and looking decidedly more skeletal.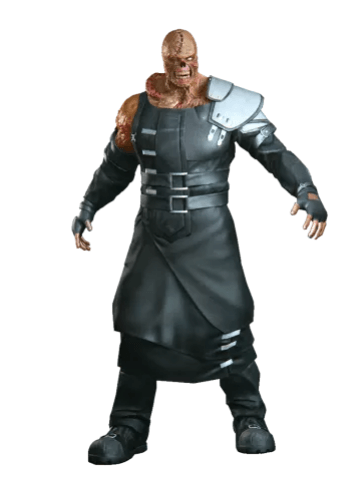 Short of a full-blown Resident Evil 3 remake, it's feasible that Nemesis could make some sort of cameo – or indeed play a larger part – in the Resident Evil 2 Remake as both games take part at roughly the same time with some overlapping portions. Moreover, Capcom's confirmed before that though the story will by-and-large remain the same, the sequence of events will be rejigged and fleshed out. (Fingers crossed we get to delve into Brian Irons' twisted past).
Related: New Resident Evil 2 Remake leak shows Ada Wong redesign
Of course, the posting could be just coincidental with Capcom looking to cash-in with all the spotlight on the series once Resident Evil 2 Remake lands on shelves but when you couple it with the fact that it's a redesign and has 'Resident Evil 2' in its listing title then it's definitely possible there's more than meets the eye.
Let's hope so, anyway.
Are you looking forward to the Resident Evil 2 Remake? Let us know in the comments section below.
Special thanks to the Resident Evil subreddit for the tip.