At the time, Team Ico's classic action-adventure game looked great on PS2 and PS3, but the Shadow of the Colossus PS4 Pro version looks outstanding.
In a new video, Sony makes visual comparisons during some of the game's iconic scenes between the three platforms, and the results are outstanding.
Shadow of the Colossus PS4 Pro – Two modes available
Furthermore, PS4 Pro owners will be able to switch between two different modes:
Cinematic, which emphasizes image quality, and for owners of compatible 4K HDR displays, boasts a beautiful dynamic 4K image targeting 30 fps
Performance, which delivers an extremely fluid frame rate targeting 60 fps
The Shadow of the Colossus release date has now been confirmed as February 6, 2018, and fans can expect a very special collector's editions. The Shadow of the Colossus Special Edition will feature:
Steelbook case
Manual
Postcards
In-game extras (Ancient Bow, Cloak of Fate, Spotted Steed Agro Skin
Two custom themes
Colossis Acatar Set
Colossis Stickers
Physical World Map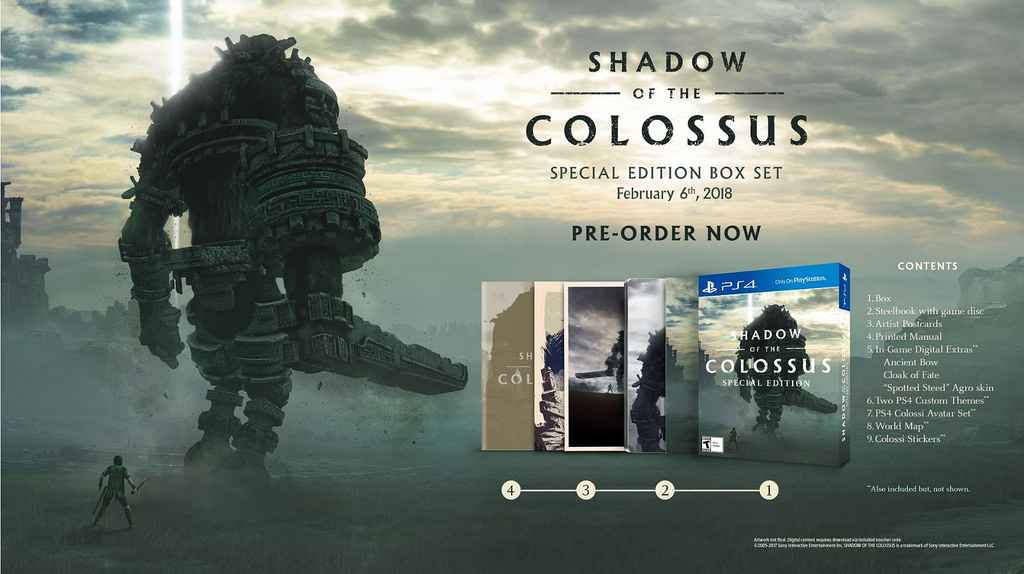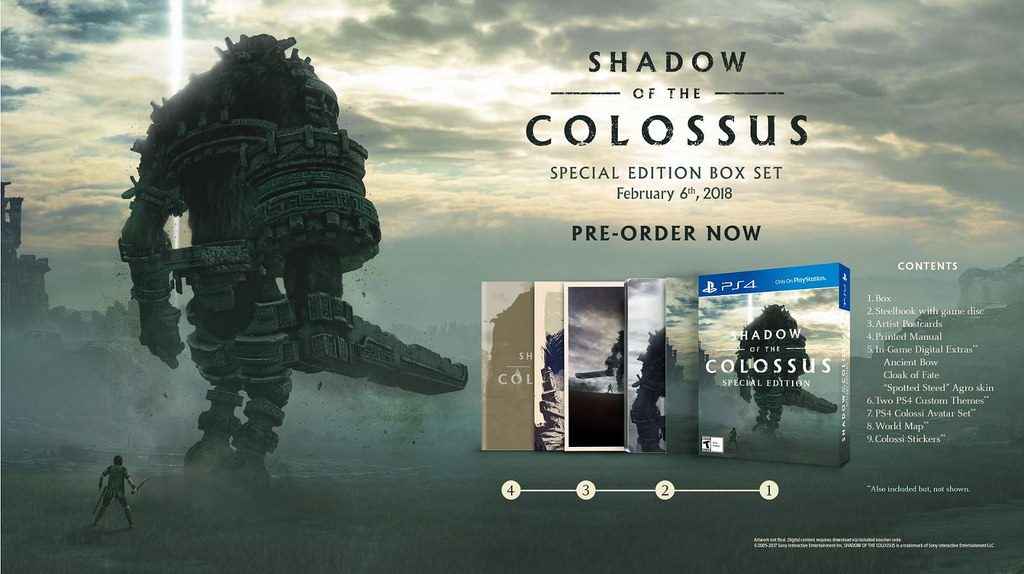 Shadow of the Colossus was originally released on the PS2 in 2005.The game features a young man called Wander who travels across a huge fantasy game world attempting to beat sixteen gigantic beasts called Colossi. Each beats has to be defeated in a certain way, so you could say that it's a puzzle game where you have to work out their strengths and weaknesses.
Recently, the Shadow of the Colossus PS4 intro was revealed, alongside brand new trailers from Paris Games Week and TGS 2017. The game has been built from the ground-up for PS4, but apart from new 4K graphics on PS4 Pro and a new control scheme, gameplay will remain the same as the original games.
You can pre-order Shadow of the Colossus on PS4 and PS4 Pro from the PlayStation Store.
Stay tuned for a full review as we head closer to launch.