Sanzaru Games, the developer behind Sly Cooper: Thieves in Time, has been Facebook's Oculus Studios. This essentially means that Sony will have to find another developer if it wants to continue the much-loved platforming franchise.
You may recall that it wasn't all that long ago that Sanzaru said that if players want to see more Sly Cooper games, then they should tell Sony about it.
Sly Cooper Future In Doubt After Sanzaru Acquisition
Sanzaru will still be able to operate independently following the acquisition, and a "vast majority" of staff have been transferred over. However, it has been reported that some employees will be made redundant as certain projects no longer require them.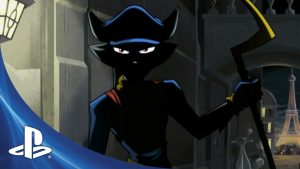 Speaking in a blog post, Mike Verdu, director of content at Oculus Studios, commented:
VR is home to many remarkable developers doing incredible work, pioneering a whole new language of game design, and pushing themselves to always achieve more. Sanzaru Games was one of the earliest development houses to take these steps, and, just a few months ago, we saw the state of VR gaming make a huge leap forward with the launch of Asgard's Wrath, a title that redefined what a full-length, fully-featured VR game looks like.

Today, I'm pleased to announce that Sanzaru is joining Facebook to help us pursue a future of rich, immersive, and original VR game content.

Sanzaru is a veteran game developer—having shipped titles to multiple platforms in the past—as well as a VR pioneer: They've created four titles for the Oculus Platform since 2016, when they were the first developer to partner with the Oculus Studios team.

They approach game design with three pillars in mind: great design, beautiful art (including animation and audio), and strong tech. It is this foundation that enabled Sanzaru to build a game as rich as Asgard's Wrath, and it's a strong foundation they will continue to build upon as we all push VR forward.
Hopefully Sony will hand the reins of the Sly Cooper series to another studio soon enough.