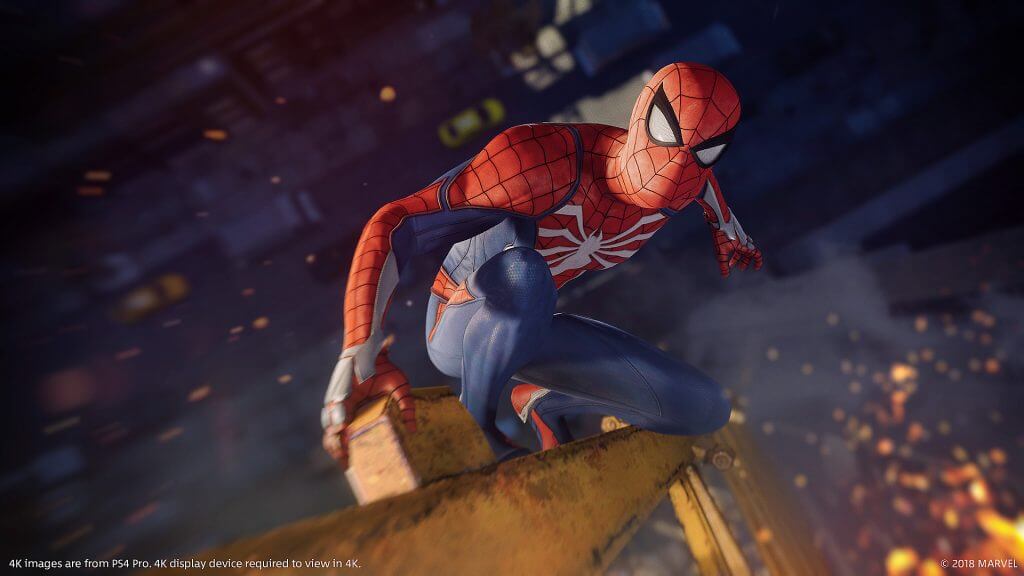 [UPDATE] There's a twist in the tale of what first appeared to be one of video games most romantic Easter Eggs. So, if you read the story below you'll discover that the marriage proposal which was highlighted outside one of the Spider-Man PS4 theaters turned sour after the guy who requested it from Insomniac Games told the world his girlfriend had left him.
The story went viral quite quickly with everyone feeling genuinely sorry for the man who had just been embarrassed in front of the gaming world. He wanted to set things straight and made a YouTube video, stating that she'd left him for his brother. Of course, this meant there was a lot of sympathy coming his way.
However, the video was removed and people started to get suspicious. After reaching out to his girlfriend for her side of the story, Houston Press discovered a different tale. Madison Gamble says that after a five year relationship things started to turn sour about one-year ago. She talks about his violent outbursts and states that she gave him an ultimatum in July to shape up.
I have big prospects in life and I am a highly motivated individual, but it was extremely challenging to have to be someone else's motivation to simply get out of bed or get off of his video games.
She also claims that she didn't leave him for his brother.
As far as his half-brother goes, Tyler had asked him to check in on me and ask me how I was doing after I broke up with him, so of course we got close. And our relationship just built from there. I did not leave Tyler for his half-brother and I have never been unfaithful to Tyler.
So, Madison's side of the story paints Tyler Schultz as the lazy gamer and bad guy, who was possibly trying to desperately salvage the relationship instead of fix it at the ground roots with a bizarre video game proposal to a woman who didn't even like video games.
You can read the full transcript of Madison's response at Houston Press.
[Original Story] There's many great Spider-Man PS4 Easter Eggs, but there's one that has stood out for all the wrong reasons. It all began when spidey fan Tyler Schultz got in touch with Insomniac Games in May via Twitter asking whether they would send a message to his girlfriend in-game.
Tyler thought it would be romantic to propose in a video game, and Insomniac granted his wish. Outside one of theaters in-game, instead of a traditional film name are the words Maddie, will you marry me? referring to Tyler's girlfriend, Madison.
Remember the guy who wanted to propose to his girlfriend and wanted a cool way to do it? He asked @insomniacgames to put it anywhere in #SpiderManPS4 and they actually did it! Amazing! pic.twitter.com/y1UBAbKEsj

— B is ready to #BeGreater (@bradgame64) September 9, 2018
However, days after the release of Spider-Man PS4, Tyler posted up a YouTube video to confirm the relationship had fallen apart weeks before the launch of the game. Furthermore, he claims that Madison dumped him after a five-year relationship for his brother.
In the video, which has now been removed from YouTube, he stated:
The thing that sucks about this Easter egg is the date that I'm making this video now, three, four weeks ago, my girlfriend dumped me to go with my brother. Basically throwing away the five years that we had together and spitting in my face basically, saying this isn't even the way she wanted to be proposed to, and left me. This might go down in history as the saddest Easter egg. Maybe, I don't know.
Spider-Man PS4 Update Will Change The Message
Following the sad news, Insomniac has confirmed that as part of a new Spider-Man PS4 update the text will be removed from the outside of the theatre. Furthermore, they've asked if Tyler would like the text displayed to read something else.
Will Tyler take the opportunity to take revenge on his ex-girlfriend or brother? Well, he definitely has something up his sleeve. He's now contacted Insomniac via Twitter to say that he has an idea he wants to present to them. Stay tuned!