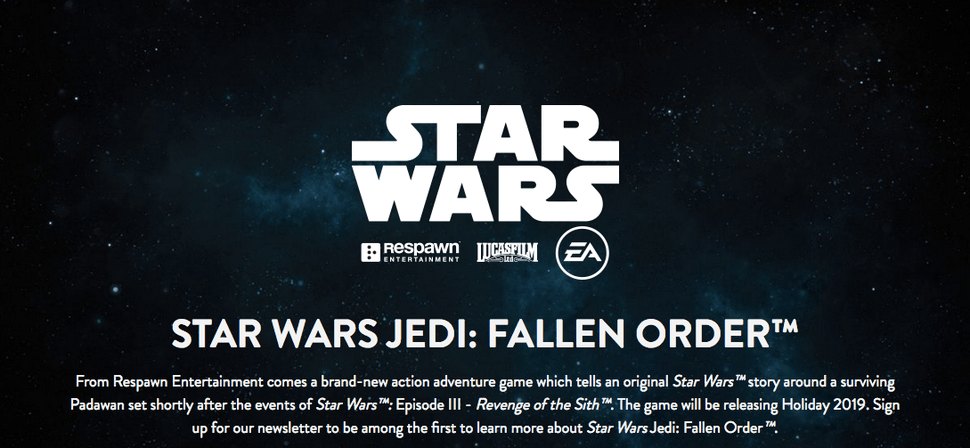 Respawn Entertainment's upcoming Star Wars Game, Star Wars Jedi Fallen Order will apparently have gameplay similar to Star Wars: The Force Unleashed. This is according to Making Stars Wars podcast host, Jason Ward.
Ward claims to have got the information from a source in the industry, though doesn't name them. As Respawn has not revealed any official information about the Star Wars Jedi Fallen Order gameplay so far, we'd treat this one as a rumor for now.
He claims that the new Star Wars game will pretty much be like Force Unleashed without the Mountain Dew qualities. Force Unleashed was fast-paced with a huge emphasis on Force powers.
Star Wars Jedi Fallen Order vs Star Wars Force Unleashed
Gameplay was a little over-the-top, but for Star Wars Jedi Fallen Order, Ward claims that it will be toned down, stating that it will be:
True to canon, and content that we've seen in films and stuff, so we won't see anything absurd.
He also make a comment about multiplayer, stating that you'll want to keep Star Wars Battlefront installed for multiplayer. It was also previously confirmed that Jedi Fallen Order will be a single-player game only by Respawn's Vince Zampella in a tweet earlier this year.
Respawn, who are most recently known for the development of the Titanfall series, last teased the Star Wars game at E3 2018. During EA's press conference, they confirmed that Jedi: Fallen Order would be released holiday 2019.
The action takes place after the events after Revenge of the Sith during the dark times where Jedi are being hunted. No trailers or further details as yet, but we'd expect to hear more soon.
The game will be released on PS4 and Xbox One.