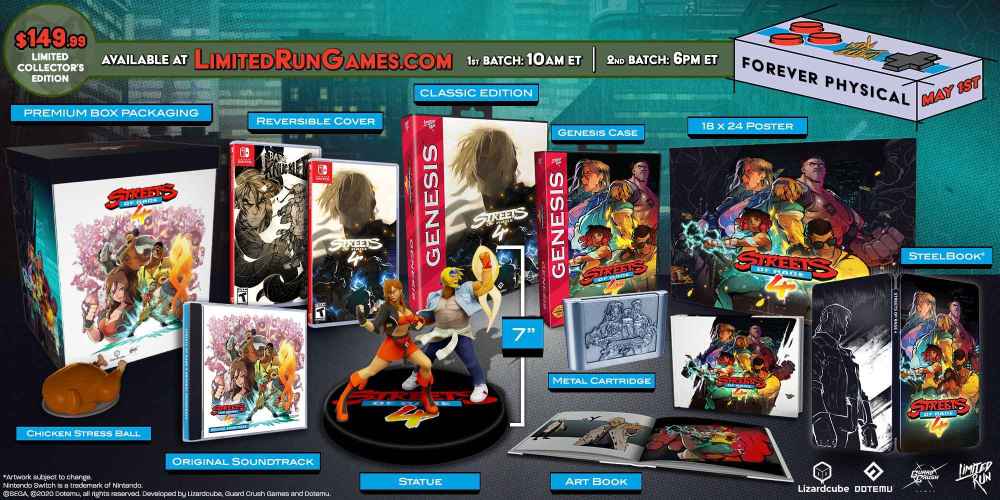 Streets of Rage 4 has hit storefronts today, and it has received some healthy and very positive press. Limited Run has already had a physical release campaign for Streets of Rage 4, but it has something even bigger planned tomorrow for this delightful sequel.
Streets of Rage 4 Collector's Edition
What makes a great collector's edition comes down to what it contains. A good statue goes a long way, and this one has a very appealing statue. Take a look at what this edition has to offer:
We're happy to say that the Limited Collector's Edition of Streets of Rage 4 will be available in two batches this Friday, May 1 at 10am & 6pm ET on https://t.co/5Lksol4sqo.

Check out the contents of the CE below (that statue, though!). @Dotemu @Lizardcube @Guard_Crush pic.twitter.com/1X2VUfUnQ7

— Limited Run Games (@LimitedRunGames) April 28, 2020
Wanna see a better shot of that metal Genesis-shaped cartridge? Well, here you are!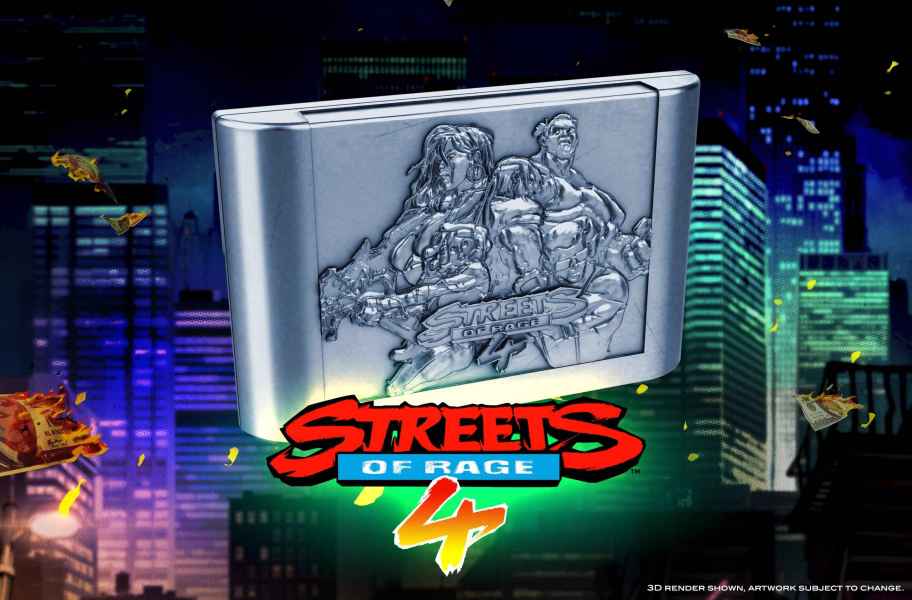 Limited Run Games has also considered the fact that some customers have already purchased the other available editions of Streets of Rage 4. For this situation, Limited Run is allowing customers to cancel their previous editions once they secure a copy of the Streets of Rage 4 Limited Collector's Edition. This means you won't have to double down on a prior pre-order with this big collector's edition if you don't want to.
After you've obtained a copy of the Limited Edition then you'll want to open a ticket with our Support team at https://t.co/NTVneAFdbX. -L

— Limited Run Games (@LimitedRunGames) April 29, 2020
The available quantity for this Collector's Edition will be only 2500 units. That may seem like quite a bit, but that number is split between the Nintendo Switch and the PS4.
Related content: Streets of Rage 4 Review
1,500 Switch, 1,000 PS4

— Limited Run Games (@LimitedRunGames) April 29, 2020
If that edition is too much for your wallet right now, the Classic Edition and Standard Edition are still available for pre-order from Limited Run Games. Across the board, all of these editions will be created for both PS4 and Nintendo Switch.