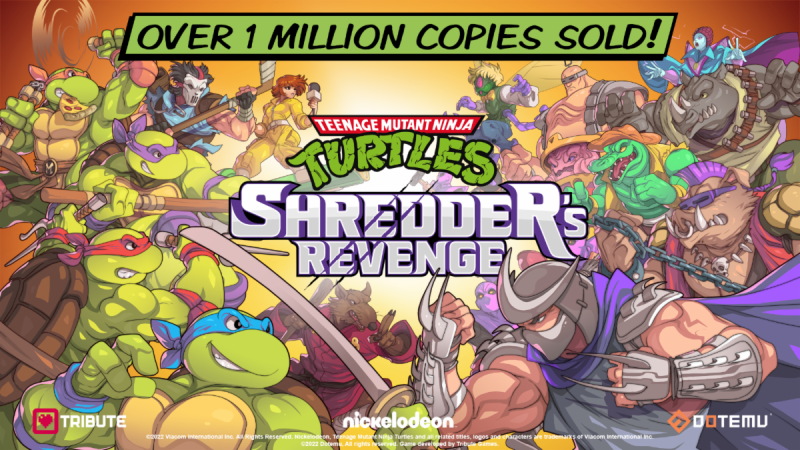 Happy news for turtles fans and beat 'em-up game fans, the genre is most definitely making a big comeback. Teenage Mutant Ninja Turtles: Shredder's Revenge sold over 1 million units in just its opening week.
Beat 'em-up games had their prime in the days of the arcade, but have only recently been making a big resurgence with games like Shredder's Revenge, Scott Pilgrim vs The World: The Game coming back, and Streets Of Rage 4, to name a few.
"Tribute Games set out to make the ultimate celebration of a chapter in Teenage Mutant Ninja Turtles history that means the world to us," said Jean-Francois Major, co-founder Tribute Games, developer on Shredder's Revenge.
"It's been wonderful to watch the accessible fun of beat 'em-ups resonate with longtime fans and genre newcomers alike. We're thankful for the support and encouragement the passionate TMNT community has shown us…and we look forward to watching players continue to discover the easter eggs we've hidden throughout the game while chaining together some bodacious combos."
If you haven't checked it out already, and are a fan of beat 'em-up games at all, you owe it to yourself to check out Shredder's Revenge. Our review gave it a 9/10, and called it "a great beat 'em-up that embodies the spirit of the genre."
There are also more Turtles games on the way, though rather than being old-styled, like Shredder's Revenge, these are just old.
Konami is releasing a collection of 13 classic Turtles games in the Teenage Mutant Ninja Turtles: The Cowabunga Collection. We just yesterday got a look at gameplay from each of the games included, which you can see here.
Source – [Tribute Games Press Release]