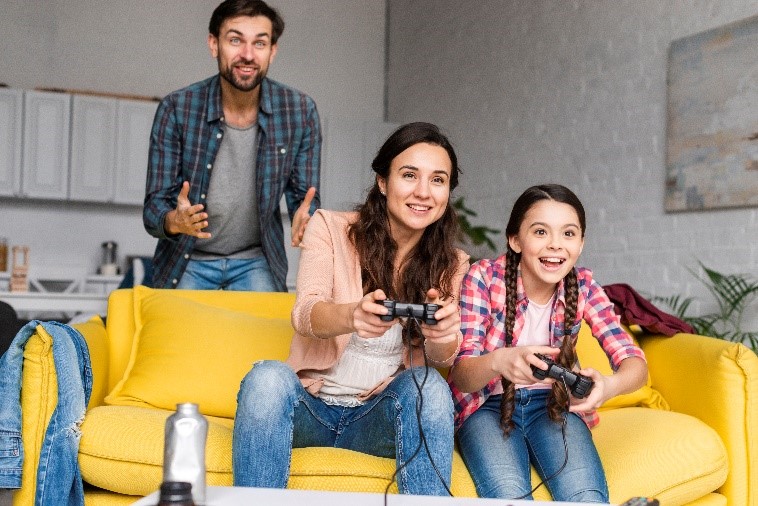 Video games can help people connect despite a common belief that they encourage social isolation. Imagine the whole family could play and enjoy the thrill of a videogame. We have prepared a list of many games families can play on PlayStation.
Monopoly Plus
Since everyone is on technology, why not play traditional games like Monopoly, but on the PlayStation version? You can play in full 3D with so many options that you will never have to worry about rules again. Buy a house, build a hotel, rent, and find out who will go to jail. It won't be as fun as playing in an online casino, but in the end, when everybody smiles and enjoys it, you will, too.
Uno
Another classic card game that everyone can play is Uno. You have to match the cards by color, or by value, and empty your hands first. It is an easy game, even for smaller kids.
Push Me Pull You
This game is one of the best games for the whole family, divided into groups of two players, each sharing a control. Creatures look like worms but with human heads and arms. They push each other to move balls. It may seem silly, but it is so much fun.
Overcooked 2
The concept is that each member of the family should work together to place the order before the time runs out. It seems easy, but there is a catch. The kitchen is alive and doesn't let you do your job. You will laugh a lot and have a great time, even if you sometimes scream with indignation!
NBA2K20
The little ones can play with Antetokunbo or Donsic. The older ones with Jordan or Byrd. Even bigger with Oscar Robertson or Bill Russell. For girls, all 12 WNBA teams are available for the first time. Do you prefer football to basketball? No problem, you will have a great time with "FIFA20" or "PES20". In general, sports games are ideal for bonding young and old.
Assassin's Creed Odyssey
Ubisoft has collaborated with historians for the most faithful performance of the time. If the main game is a bit violent for younger children, the Discovery Tour allows you to roam freely around the country and learn a lot of things on your own or with digital tours.
Minecraft
A very simple idea – take bricks and create your own world – which became a game by a single man (Marcus Persson), was a huge success and was bought by Microsoft for $2.5 billion. After Tetris, it's the second game of all time in sales. It's user friendly, releases the imagination, and is loved by children and adults.
Rocket League
Car football – do we need to say anything else? The most incredible vehicles run, jump, and crash on a field, pushing a huge ball towards the opponent's goal. The whole family can play on the same team with online opponents or set up a mini family league.
Rayman Legends
Rayman Legends is one of the most beautiful games of recent years, with beautiful graphics and vibrant colors. The game can be played with four players. Your goal is to free the Teensies from their cages while you try to survive. Music plays a big role in some levels as the game has its own versions. You jump, escape, and hit things in the rhythm of Black Betty, Eye of the Tiger, and Antisocial.
Any LEGO game
LEGO games are a league on their own. The gameplay is similar, the differences between them are minimal. What makes sense is the concept: Star Wars, Indiana Jones, Harry Potter, Batman, Avengers, Pirates of the Caribbean, Jurassic World; whatever you choose, you will be able to play and have so much fun while you're building and breaking LEGO. All the games from movies follow the storyline, so you know what the levels are about, and they also take music from the soundtracks of each movie.
LittleBigPlanet
One of the funniest game series we've seen on the PlayStation, LittleBigPlanet is a series that you will enjoy in various ways. You can choose any game of the series you want (on PS3 & PS4) and enjoy its multiplayer with your angels. At the same time, you will have the opportunity to exhaust your creativity by making your own tracks!
Crash Bandicoot N-Sane Collection
One of the most classic video games that will entertain you for hours. Due to its huge success, they recreated it to please the fans and introduce it to new players. Crash Bandicoot, Crash Bandicoot 2: Cortex Strikes Back, and Crash Bandicoot 3 is here to give you hours of fun. You can pick Crash or his sister, Coco. Ten million people in 2019 chose Crash for their entertainment and gave many good reviews.