Century: Age of Ashes PS5 review. Certainly on the face of it, Century: Age of Ashes has a whole lot going for it. A free-to-play online multiplayer effort that has you riding a variety of very massive (and not to mention very angry) dragons against opposing teams made up of the same across a range of different dark fantasy style arenas, Century: Age of Ashes on first impression looks like House of the Dragon if 99% of the humans buggered off and just the dragons were mostly left to their own devices.
Of course any game that has dragons in it which you can actually fly would fall flat on its fiery snout if the actual dragoning (it's not really a word, but let's just roll with it anyway) wasn't up to snuff. Luckily, Century: Age of Ashes doesn't disappoint at all in this regard, presenting players with a highly satisfying take on dragon powered warfare that we just haven't seen in a good while.
Century: Age Of Ashes PS5 Review
---
Flying (And Fighting) Dragons Has Never Felt Better
First off, the simple act of just flying your dragon about the place feels hugely satisfying with every climb, dive, bank and turn feeling appropriately weighty. Quite simply, you actually feel like you're riding astride a massive ten ton angry flying lizard with a ton of fire in its belly and it feels *great*. Naturally, the satisfying dragon flight mechanics of Century: Age of Ashes translates well into combat as you and your enemies swoop down through valleys, use pressurised air pockets to soar up into the sky and bank around massive jagged cliffs, deep caverns, ruined castles and more besides.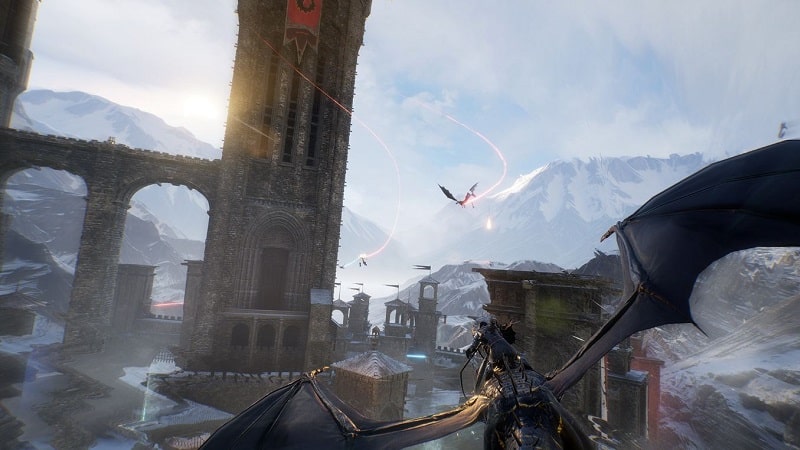 When it comes to the combat side of things, Century: Age of Ashes acquits itself ably here too. In addition to the expected longer range fireball attacks and close proximity fire breath strikes that can drain the health bar of your enemy very quickly indeed, each of the four classes also provide their own unique special abilities and skills that can spice things up further.
The Phantom class has a limited time invisibility skill that can not only allow them to escape immediate danger, but also turn them into an extremely effective airbourne assassin of sorts. Meanwhile the unlockable Stormraiser class can unleash a blinding wave that not only damages foes, but stuns them for an extended stretch. When taken in tandem with the innately superb handling of the dragons themselves, not to mention the vast range of natural hazards in the environment, combat in Century: Age of Ashes turns out to be a highly satisfying endeavour indeed. It also doesn't hurt that Century: Age of Ashes is extremely welcoming to new players, with a handy (if unskippable) tutorial that shows fresh faces the requisite ropes while a range of practice and unranked modes also allow wannabe Targaryens to find their feet/claws at their own speed.
Further Reading – Best Free PS5 Games Ranked In 2022 – Great PS5 Games At Zero Cost
Wrapped around the Century's central premise of being a fearsome dragon rider are four primary game modes that each provide a unique hook. Carnage is your regular Team Deathmatch style affair with 12 players splitting into two teams of six to devastate each other with power ups that randomly spawn on the map. Meanwhile, Gates of Fire is essentially Century's take on the capture the flag game type where players gain points by manurvering through checkpoints for as long as they hold the flag. Survival on the other hand does exactly what it says on the tin, as it pits eight players against each other in a free for all until just one dragon rider is left standing (well, flying).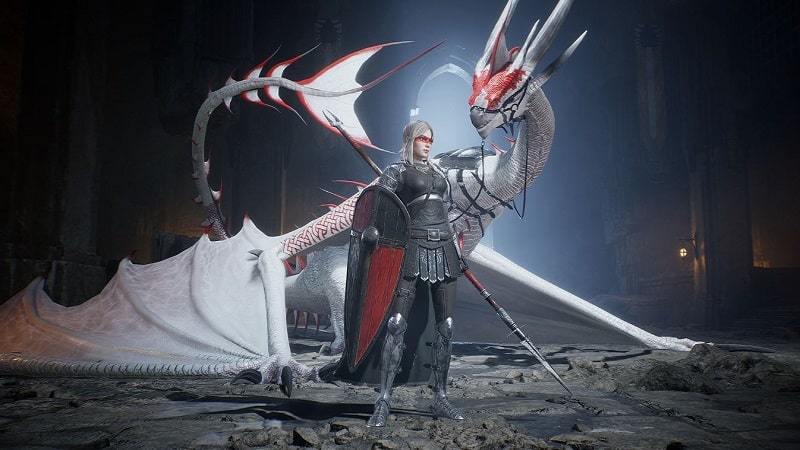 Arguably much more interesting than any of those aforementioned game modes however is Century's Spoils of War mode. Here, the primary objective is to collect gold from special areas in the map and deposit it safely into your Scrooge McDuck esque vault. The problem as you might well guess is that not only are other players trying to do the same, but they can also attack you mid-flight, causing your accumulated loot to spill all over the place, ripe for the taking by opposing dragon riders. Oh, and to make things even more intense, players can even use special bombs to try and destroy the enemy bank vault in addition to the rest of the ongoing chaos that characterises the matches played out in this mode.
The reason why Spoils of War is Century's best mode is because the very mechanics embedded within it lend extremely well to the sort of creative and tactical play that Century's current quartet of classes can provide. The Phantom class for instance, could cheekily lay a mine in front of the enemy's vault, giving them a brutal surprise when they attempt to deposit their ill-gotten gains, while the Windguard might want to use its Smoke Trail ability to obscure the enemy's vault, likely resulting in whole heaps of misplaced gold and other such riches. Spoils of War, quite simply, is a whole heap of fun and will likely be a staple of Century: Age of Ashes going forward.
Sitting atop Century's multiple game modes and certainly acting as the bedrock of its progression system, are the dragon growing mechanics that help to keep folks playing. When dragon eggs are obtained, they first have to be hatched and then grown through various stages of aging before they can be taken into battle. Rather than being a passive process, players must instead complete special feats and challenges during matches in order to spur the growth of their fledgling flying furnace. As it turns out seeking out and fulfilling these requirements during matches, such as achieving a number of kills or scooping up a requisite amount of riches acts as a decent incentive to keep you playing above and beyond what the current suite of modes offer.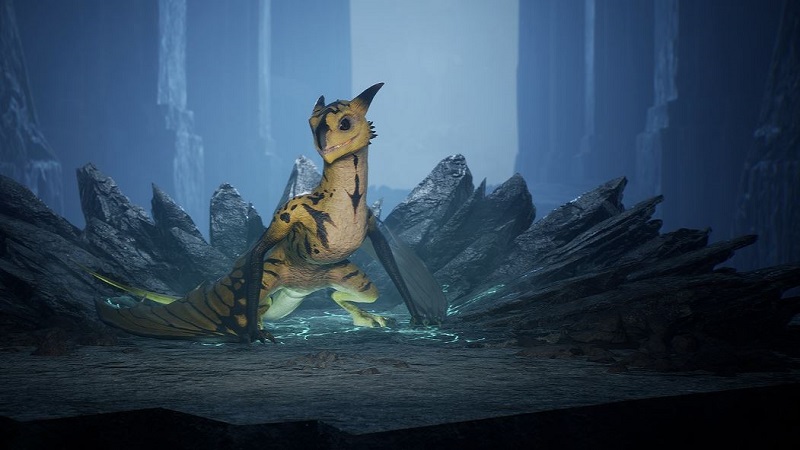 Where Century: Age of Ashes arguably stumbles most egregiously however is in regard to its monetisation structure. Though the free to play model of Century: Age of Ashes certainly isn't geared towards pay to win by any stretch of the imagination – only cosmetic purchases can be made in the form of new dragons, riders and so on, it does still manage to feel rather overbearing.
The reason for this will be something of a familiar story to players who have been exposed to similar mechanisms in other free to play games. Essentially, the only way to purchase the shinier bits of gear and dragons in Century: Age of Ashes is by forking out red gems which represent a premium currency for the game. As you might well guess at this point, these red gems aren't exactly in abundance for regular players to scoop up without paying actual real money and so very quickly, you begin to realise with a sinking feeling that the only way to get these red gems in anything resembling a useful quantity to fork over money from your real world wallet.
Certainly the situation isn't as bad as it could be thanks to the microtransactions in Century: Age of Ashes being purely cosmetic. However, the fact that you hit a paywall pretty quickly in the game means that unless you have a thing for a grinding endlessly across what amounts to just four or so modes at this point, you're going to get frustrated quickly at the lack of ongoing incentives to keep on playing. That said, it's also worth remembering that the developer of Century: Age of Ashes has committed to a seasonal structure for the game, which hopefully means that new seasons won't just introduce new classes for to use and shiny things to buy, but also new ways to earn that premium red gem currency with some degree of regularity. One can only hope.
Another sizable flaw that Century: Age of Ashes finds itself blighted by is one that concerns technical performance. Though the game looks routinely impressive with some geometrically complex environments and highly detailed dragons, the framerate is all over the place. Often failing to maintain even a steady 30 frames per second, Century: Age of Ashes is certainly one of the worse performing PS5 games you can get right now. It's a shame too, not least because the availability of a reduced resolution performance mode to stabilise the frame rate would have been really useful; especially given the quick response times that the game frequently demands from the player.
Though the actual core mechanics of flying and fighting dragons in Century: Age of Ashes are both hugely satisfying and ably complimented by a decent set of game modes, the presently hefty paywalled economy means that players have little choice than to dive into their own pockets to buy the shinier cosmetic items. Coupled with a wildly inconsistent level of technical performance, it's clear that while developer Playwing has an intriguing online multiplayer effort on their hands, more work is required to balance out its economy and iron out the performance issues that otherwise detract from a highly enjoyable offering.
Century: Age of Ashes is out now on PS5 and is free to play.
Stormraiser DLC code kindly provided PR.