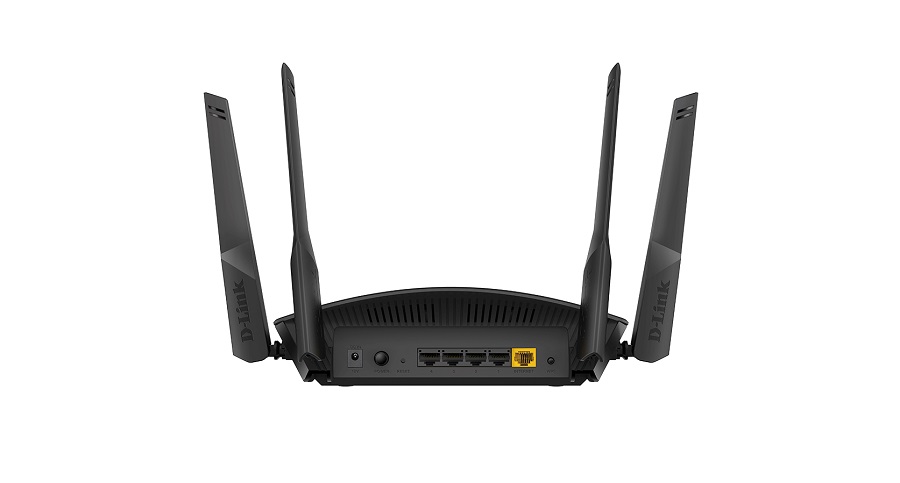 D-Link DIR X1860 Router Review. With PlayStation 5 and other contemporary electronics all embracing the new WiFi 6 standard, it makes sense that the cost of WiFi 6 compliant routers would also be reduced over time in turn. Standing at the vanguard of these newly affordable WiFi 6 routers is the D-Link DIR X1860, a sturdy device that effectively hits a mid-range performance and cost effectiveness profile.
D-Link DIR X1860 Router Review
---
In this D-Link DIR X1860 router review:
The WiFi 6 Difference
---
So first things first, the D-Link DIR X1860 router supports WiFi 6. This means that by connecting compliant devices to it, such as your shiny new PlayStation 5 for example, you'll experience some of the benefits of the new WiFi 6 standard. You'll notice that I said 'some' rather than 'all' the benefits of the WiFi 6 standard and that's because of a couple of fairly large sized caveats.
Related Content – How Fast Is PS5 Wi-Fi? Here's Why Wi-Fi 6 for PS5 Is a Big Deal
First off, one of the main benefits of the D-Link DIR X1860's adherence to the WiFi 6 standard is in how it ensures that there is sufficient bandwidth on the network for all connected WiFi 6 devices to use. This means that you can have multiple devices streaming and downloading simultaneously with a much smaller hit on download performance than what you would normally get on a standard, non-WiFi 6 compliant network.
In real terms, this means that you can be downloading the latest massive patch for Call of Duty: Black Ops Cold War while your housemates are watching Netflix on their iPad and playing on their own PS5 console and not see any significant drop in performance.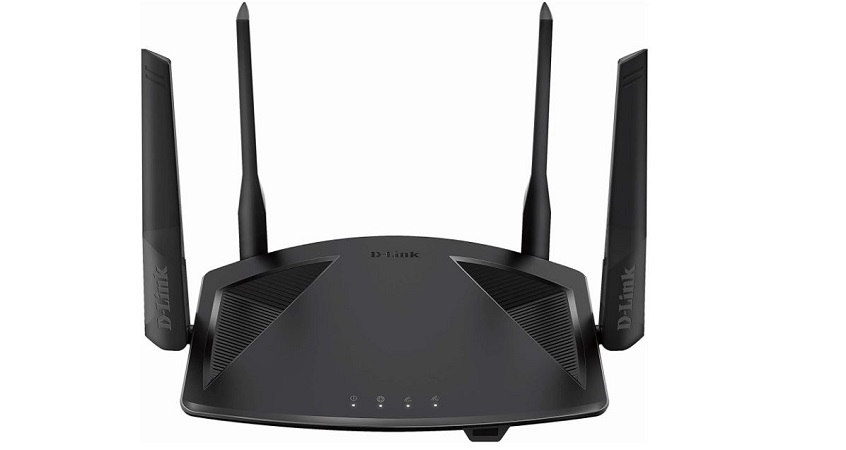 The problem though and this isn't the fault of the DIR X1860, is that the backend of Sony's PlayStation Network is still lacking somewhat when it comes to permitting fast downloads. Coupled with the 5GHz WiFi issue that is still affecting some PS5's even after the patch which was supposed to fix it, it's clear that Sony still has a fair amount of work to do when it comes to providing the sort of speedy network experience that PlayStation 5 owners deserve.
PS5 Download Performance
---
Using the DIR X1860 on our 500Mbit connection, rudimentary PSN speed tests had downloads coming in at a more than respectable 330Mbits on PlayStation 5. In practice, we were able to download 62GB in just over 31 minutes, which is pretty good result indeed. When compared to our Nest WiFi Router which was able to download the same 62GB package in just over 35 minutes, it's fair to say that even with the throttled PSN servers taken into account, the DIR X1860 performs commendably to say the least.
Guide: Here's How You Fix Those PS5 WiFi 5GHz Issues Which Stop Your Downloads
PS5 Upload Performance
---
Equally, when it comes to the upload side of things, the DIR X1860 gets the job done here too. Boasting a similar performance improvement ratio, the DIR X1860 comes in at a fairly swift 71Mbits versus the 65Mbits or so that was possible on our older Nest WiFi Router. Again, the performance differential isn't that much, but for many folks, the DIR X1860 will provide a significant performance uptick over the default router that your ISP would have likely lumbered you with.
D-Link DIR X1860 Performance Under Network Load
---
With the above PS5 download and upload tests being carried out whereupon the PS5 was the only device attached to the DIR X1860 router, we decided to load up the router with the following additional WiFi 6 devices to see how it would perform.
iPhone SE (2020)
iPhone 12 Max
Dell XPS 15 laptop
iPad Air (4th generation)
At the time of the tests, each of these devices not only had an active connection to the DIR X1860, but the two iPhones were streaming HD video while the Dell XPS 15 and iPad Air were downloading file packages that were 10GB in size.
When downloading the same 62GB file package on PS5 as before, we were looking at just over 40 minutes for the whole thing to be downloaded on our 500Mbit internet connection, while uploads also topped out at a respectable 55Mbits too.
In short, the DIR X1860 will let you download all of your PS4 and PS5 games and DLC with only a relatively marginal hit to performance while other WiFi 6 devices are doing the same thing. Again though, while the WiFi 5 performance of this router is also pretty good, you'll only be able to get the most out of it if all the devices which connect to it are WiFi 6 compliant.
In all tests, the DIR X1860 was placed in a lobby area, roughly five meters away from the PlayStation 5 that was used as the primary testing unit for this review.
Some UI And Update Flaws That Need Addressing
---
Though ultimately a solid router with decent performance, there are a couple of flaws that need addressing here. Firstly, the frequency of updates isn't quite where it should be. At the time of writing there have been just three firmware updates in the last six months – which is a less than ideal situation, especially considering the up-to-the-minute security oversight that routers like these need to have.
Another issue is one that concerns the UI.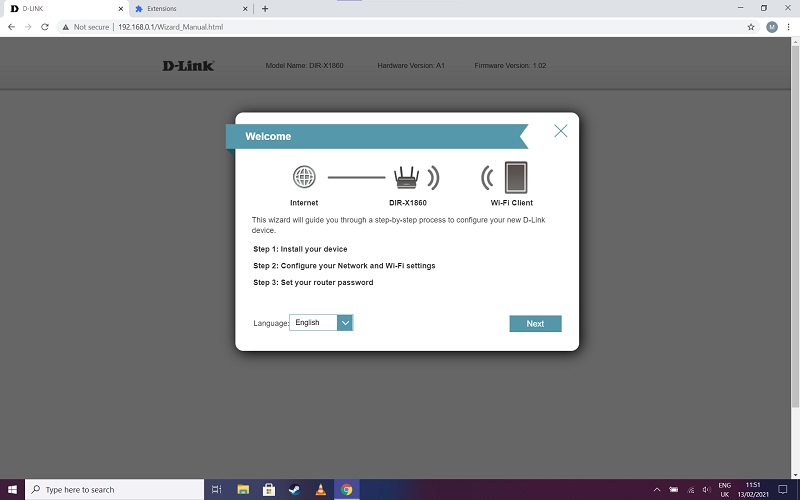 When you're setting up the router initially, if you accidentally click on the setup wizard before sorting out the other settings, you are locked into that wizard until you complete it (and thus setup the router incorrectly), owing to the fact that there is no escape or exit command available. This seems quite like an obvious omission too and sadly, despite the router having three firmware releases since its initial release, the problem still hasn't been sorted.
Again, it's not a gamebreaker in the strictest sense of the word, but can be hugely frustrating when you're setting up the X1860 for the first time in which is otherwise a fairly breezy and straightforward process to accomplish.
Ports And A Lack Of USB Goodness
---
While the X1860 boasts the four Ethernet connections that one would expect from any router, it is missing a USB port and here, your mileage will vary as to how much of a disappointment that is.
Chiefly, a USB port on a router can be used for all sorts of things. Whether to connect 4G and 5G USB dongles for redundancy purposes, or if you wanted to hook up some USB storage for a shared network resource, these are all things that you won't be able to do with the DIR X1860 router.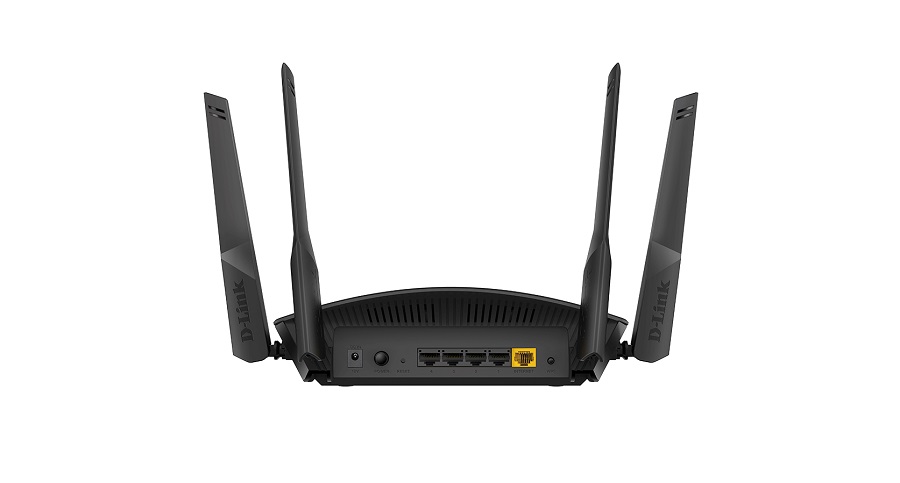 However, if you're just intending on using this router to play games, stream video and you're not too fussed about those other options (you can after all use your phone as a network hotspot if your plan allows), then the omission of a USB port isn't really going to matter.
Conclusion – A Fine, Entry Level WiFi 6 Router
---
At the end of the day, the D-Link DIR X1860 router is a solid investment that delivers more than reasonable WiFi 6 and great WiFi 5 performance. Though the absence of a USB port grates also, there's no denying that the DIR X1860 is a great entry level WiFi 6 router that for many PlayStation 5 owners will provide a welcome upgrade from whatever plastic lumps their ISP's had initially saddled them with.
Likewise, the DIR X1860 also makes a compelling case for the future too – encouraging users to seek out WiFi 6 compliant devices to full up their network with in order to fully enjoy the benefits that WiFi 6 brings.
The D-Link DIR X1860 router is out now and can be bought here.
Review unit kindly provided by PR.