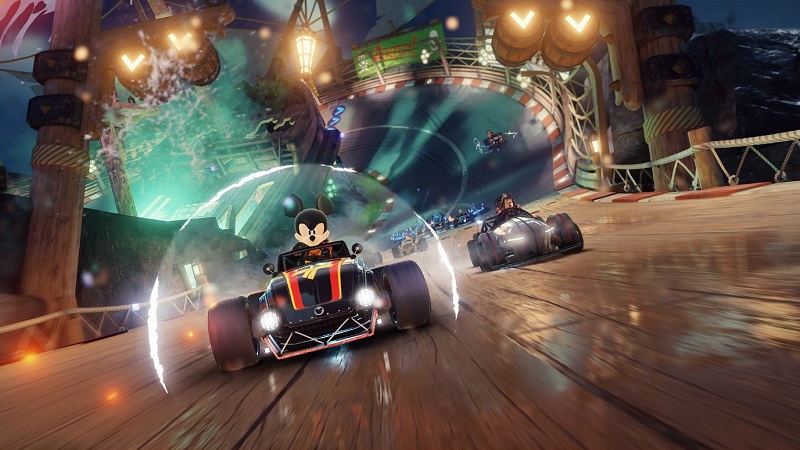 Disney Speedstorm PS5 review. An attractive, free-to-play kart racer that is generously stuffed with a wealth of characters from across the broad spectrum of Disney's magical universe, it's certainly true that Disney Speedstorm has a lot going for it on the surface. However, peer beyond its ornately crafted veneer and Disney Speedstorm soon seems like a fundamentally excellent kart racer that isn't anywhere as hobbled by pay to win mechanics as you might initially think.
Disney Speedstorm PS5 Early Access Review
---
Super Slick Kart Racing That Isn't As Pay To Win As You Think
Just one quick look at Disney Speedstorm proves extremely kind to both the eyes and years. Certainly, the Gameloft developed product looks slicker than oil on a waterslide, thanks in no small part to its eye-catchingly authentic character models, an overabundance of graphical effects, generous eruptions of colour and a buttery smooth 60 frames per second screen update. Elsewhere, the ears are ably catered for too by the thunderous cacophony of thrumming engines, exploding attacks and deftly composed rejigs of popular Disney films.
It's worth keenly noting that a substantial amount of work has gone into making each track resemble its Disney counterpart with aplomb as well. From the sloshing waves and sea shanties of A Pirate's Life (inspired obviously by the Pirates of the Caribbean movies) to the crackling skies and plunging hills of the Hercules inspired Mount Olympus, Disney Speedstorm does a sterling job of bringing the look of those legendary Disney properties to life in a way that is utterly faithful and which fans will find warmly familiar. Even better still, each track also has multiple versions that each open up new and previously undiscovered routes, providing yet more additional real estate for wannabe Disney racers to blaze around on.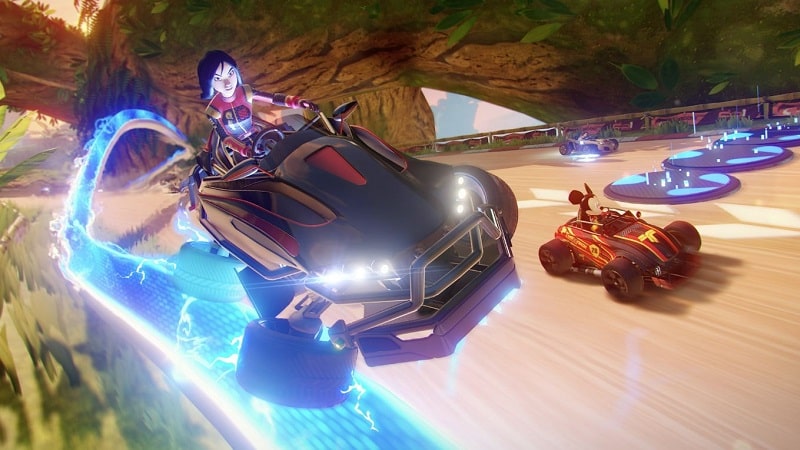 And then there are the kart racers themselves. Not only do the likes of Donald Duck, Sully, Mulan, Jack Sparrow and more all feature and look (in a somewhat stylised fashion) approximate to their counterparts in Disney's movies, but they each have their own special skills and abilities which help to set them apart from one another to boot. Quite simply, if you had to imagine what the perfect Disney kart racing game would look and sound like, chances are it wouldn't look very different at all from what Gameloft have wrought with Disney Speedstorm and that is certainly something to be commended.
Further Reading – New PS5, PS4 Games Release Dates In 2023 And Beyond – All Upcoming PS5, PS4, PSVR2 Games
Much more than just some delectably crafted facsimile of the Walt Disney universe, it's also something of a joy to discover that Disney Speedstorm also plays the part of an entertaining kart racer too. Not only does Disney Speedstorm handle fundamentally well and is fantastically responsive (owed in part to that super smooth 60 frames per second screen update), but it taps into what makes the modern kart racer so very compelling in the first place with a raft of well-designed tracks, balanced power-ups, turbo zones, massive ramps, split-screen local multiplayer and so much more besides that fans of the genre will enjoy.
So Disney Speedstorm not only looks like the perfect Disney kart racer, but it seemingly plays like it too. Naturally, like most things in life Disney Speedstorm is too good to be true, because underneath its beguiling audiovisual presentation and rock solid genre fundamentals is a racer that is apparently swimming in all manner of free to play monetisation menus. Or is it? Well, like much else to do with Disney Speedstorm, the actual truth might surprise you.
For a start, yes, there are a number of overlapping systems in place which gate the purchase of new characters, their karts and the upgrades necessary to keep them to competitive in the later races. How it works is that there are 'collections' which include a number of different characters appropriate to their theme. So, if you take a look at the Beauty and the Beast Collection, you can unlock both Belle and the Beast and so on within that set. Brilliantly, there are collections that don't even have an analogue with Disney film or television, but instead taps into the lore surrounding other properties such as Walt Disney World, starring Figment the mini-dragon no less, for example.
Supplementing these characters are crew members that are not only themed within their own collections (the Mickey and Friends Collection has some wonderfully niche Disney characters such as Morty and Ferdie Fieldmouse, Wilbur and the Lonesome Ghosts) and which when assigned to various core Disney racing characters, can be used to boost and bolster their abilities in a variety of different ways. Given Gameloft's traditional penchant for releasing new content, you can expect the roster of tracks, racers and crew members to expand dramatically over the course of the coming months.
Further Reading – Upcoming PS5 Games – The Most Anticipated PS5 Games Coming Soon In 2023
To actually unlock both these characters and the crew members that you'll need to get the most out of them, the currency that you'll need are Shards and before you start hollering 'this is some pay-to-win BS' at the screen like I did when I first heard about this, it's worth knowing that while Disney Speedstorm allows you to leverage real currency to purchase these Shards through special founders editions and boxes, it also provides no shortage of ways to get them too. From limited events to login bonuses, special missions and limited time races that can be completed to earn tokens that can be swapped for these Shards, Disney Speedstorm encourages players to simply play for these Shards, rather than reach their hands into their pockets at the first opportunity.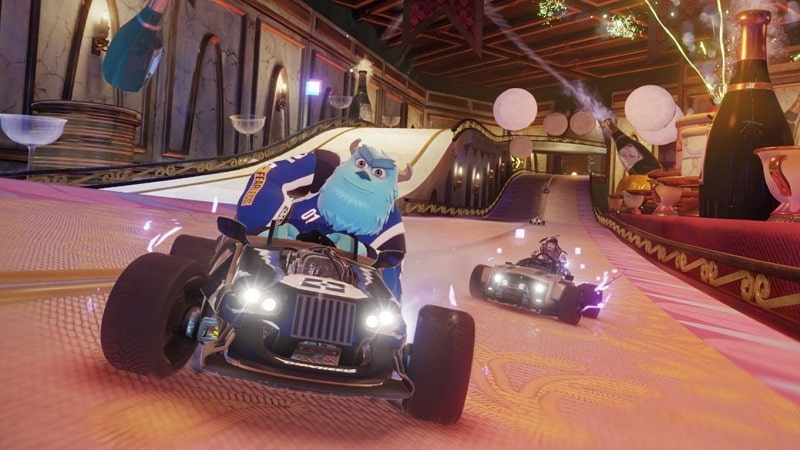 With that in mind, players who are committed to amassing Shards via good old fashioned racing will find that there is something of a trajectory for the grind that grows as Disney Speedstorm becomes more challenging. So in that sense, there is still very much that element of grind that is synonymous with other pay to win fare, but the stellar audiovisual presentation and fundamentally enjoyable karting gameplay that Disney Speedstorm offers are so compelling that the aforementioned grinding curve might find itself seeming more appealing than it otherwise would in the hands of lesser (and more cynically grabby) developers.
Brilliantly, one part of the game that the monetisation structure of Disney Speedstorm doesn't reach is its local multiplayer modes. With a full suite of unlocked tracks and racers, players can immediately hook up for up to four player shenanigans in local split-screen racing without the need to unlock a single thing. Considering just how great Disney Speedstorm plays, being able to access all of the content right away with friends – which for many folks will be the main reason for playing the game in the first place – is arguably a boon no matter which way you look at it.
Further Reading – All PS5 Games At 120 FPS & 120 Hz – What PS5 Games Run At 120 FPS & 120 Hz In 2023
With a potentially boundless universe of characters, worlds and more to tap into, Disney Speedstorm could conceivably provide fans of the House of Mouse with a steady diet of endless Disney themed content to get stuck into. Gorgeous to look at super satisfying to play, Disney Speedstorm's pay to win mechanics aren't sufficiently weighty to substantially detract from everything that it does right and for fans of both all things Walt Disney and kart racing, Disney Speedstorm will likely prove to be an irresistible proposition that could largely mitigate the grind of its longer term prospects.
Disney Speedstorm is free to play and is out now on PS4 and PS5.
Deluxe founder's edition code kindly provided by PR.