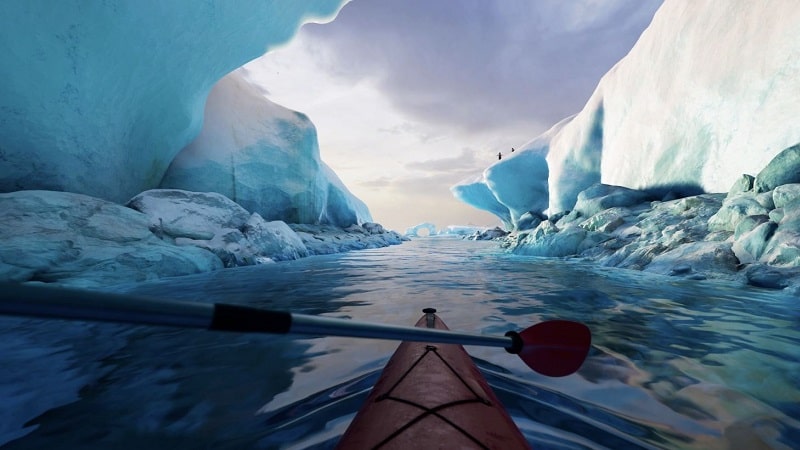 Kayak VR: Mirage PSVR2 review. If Pistol Whip is my go-to PSVR2 title for raising my heart rate and getting the adrenaline pumping through my system like a madman, then Kayak VR: Mirage is thankfully very much filling a niche at the other end of that particular spectrum. A chilled out VR offering like no other, Kayak VR: Mirage encourages players to take a kayak, an oar and adventure out onto the open water and leave their troubles behind. Calm, relaxing and zen, Kayak VR: Mirage also happens to be a strong showcase of the PSVR2's capabilities and a true highlight of the launch line-up for Sony's new chunk of VR tech as well.
Kayak VR: Mirage PSVR2 Review
---
An Arrestingly Calm Showcase For PSVR2 That Everybody Should Play
The premise of Kayak VR: Mirage is beautifully straightforward. As an adventurous kayaker, you're whisked away to the far-flung areas of the Earth as you paddle alongside dolphins in Costa Rica, navigate your way through frigid ice caves in Antarctica, kayak through the canyons of Australia and even face down an ocean-churning storm on the Norwegian Seas.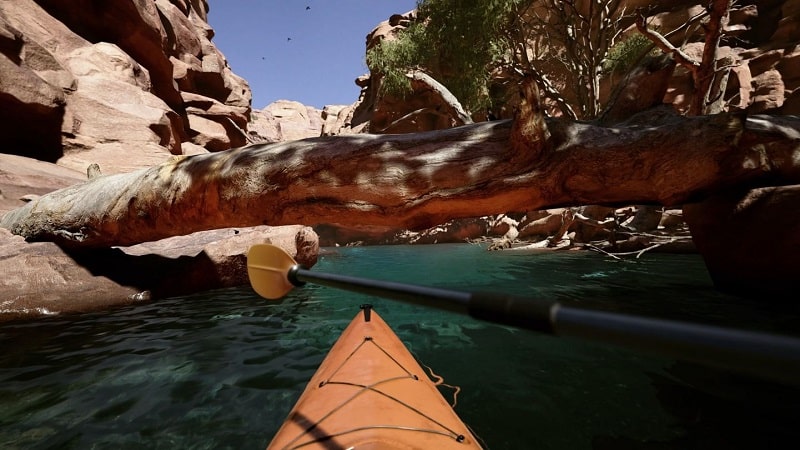 Bringing these idyllic and evocative locations to life is the PSVR2 hardware which essentially strives for a photo-realistic depiction of them with water so detailed it looks like you could touch it, all the while boasting a range of high-detailed environments, different times of day, variable weather conditions and more besides. The various environments that you paddle through in Kayak VR: Mirage are also brought to effervescent life thanks to the various sea-bound wildlife and animals that you'll see as you make your way through the world, all of which make Kayak VR: Mirage feel like a truly magical experience.
Further Reading – New PS5, PS4 Games Release Dates In 2023 And Beyond – All Upcoming PS5, PS4, PSVR2 Games
From kayaking next to a massive sea turtle, whose detailed shell you can make out through the clear, emerald green waters of Costa Rica, through to the energetic dolphins that will leap next to you and the penguins that will stalk on the ice and occasionally let out a cry in your direction when you're kayaking through Antarctica, it becomes clear that Kayak VR: Mirage isn't just visually impressive – it might also be the most stirringly photorealistic VR title on the market right now. Certainly, if you're looking for a showcase to convince your friends that PSVR2 represents a quantum leap over what the previous iteration of PSVR was capable of from a technical standpoint, then Kayak VR: Mirage should absolutely be your first stop.
Complimenting the stellar visual presentation of Kayak VR: Mirage are the physics that govern the act of kayaking itself. By using the PSVR2 Sense controllers to effectively steer the kayak by using the oar to drive yourself through the water, the accurate physics model that has been employed here is just nuts – as not only do the PSVR2 Sense controllers use haptic feedback to really make you feel like you're pushing through a body of water at varying speeds, but so too are the more nuanced movements of the kayak itself (such as it bobbing along after a period of acceleration, or performing a tight turn) convincingly conveyed to the player as well.
The end result of such an accurate implementation of kayaking physics is that, ostensibly, you really feel like you're there on the water – either just bobbing along and soaking in the scenery or furiously paddling your way through a Norwegian thunderstorm as you struggle to stay afloat. There's just nothing quite like Kayak VR: Mirage on PSVR2 (or PSVR, for that matter).
In terms of the game structure itself, Kayak VR: Mirage is pretty much split up into four sections. For the uninitiated a handy tutorial gets you going and provides easy to understand guidance about how to use the kayak, how to steer and so on. Next, Kayak VR: Mirage also allows competitive players to tackle high-speed checkpoint races to deaden those arms (it can be a terrifyingly draining workout) while also providing asynchronous multiplayer support pitting player against player with the subsequent bragging rights secured on a global online leader board.
Further Reading – PSVR2 Review – A True Game Changer For High-End VR On Consoles And Beyond
For me though, it's really in Kayak VR: Mirage's free roam mode that the game truly excels. After a long day at work or a particularly intense session at the gym (or even just on another PSVR game – I'm looking at you, Pistol Whip), it can be utter bliss to just pick an area of the world, choose the time of the day, pick out some weather conditions and then just paddle off into your very own, super chill, photorealistic world.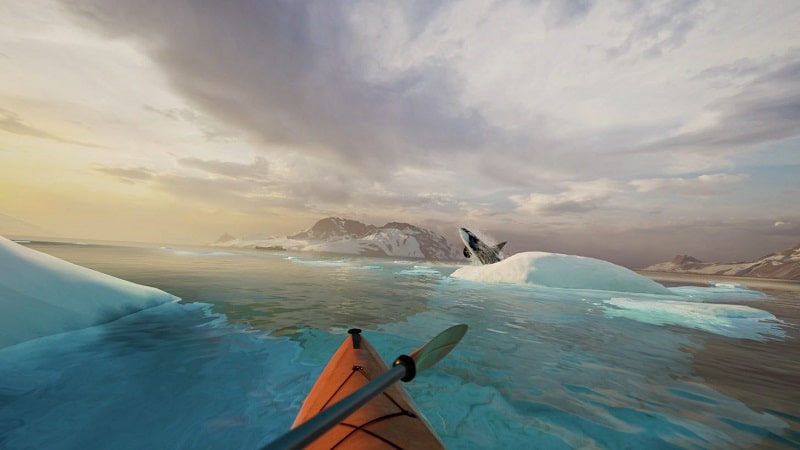 Though Kayak VR: Mirage arguably holds its place as a uniquely relaxing affair, it's also reasonable to posit that there simply needs to be more content available in the game for folks to consume (though the budget £18.99/$22.99 price does mitigate this swallowing of this bitter pill somewhat). While you can tweak the appearance of your kayak, paddle and headwear with a swathe of unlockable options, there isn't a whole lot to do outside of trophy hunting – so those folks that are looking for a more goal-driven effort outside of the checkpoint racing and online leaderboard score chasing that Kayak VR: Mirage already offers, might be disappointed.
Kayak VR: Mirage fills a very bespoke place in my gaming diet, providing me with a digital home away from home where I can be free of the stresses of everyday life and other games and just paddle about the place with Mother Nature as my sole companion and for that fact alone, Kayak VR: Mirage effortlessly earns its place as a true highlight in the PSVR2 launch line-up.
With its relaxed nautical paddling beats, accurate kayak physics and photorealistic locations, Kayak VR: Mirage is my go-to PSVR2 game after a particularly stressful day or as a palette cleanser after playing more intense PSVR2 titles. Though its content offering could be broader, the simple fact remains that Kayak VR: Mirage effortlessly commends itself as one of the highlights of the PSVR2 launch line-up and is a VR experience that everybody should play.
Review code kindly supplied by PR.
Kayak VR: Mirage releases alongside the PSVR2 hardware on February 22, 2023.