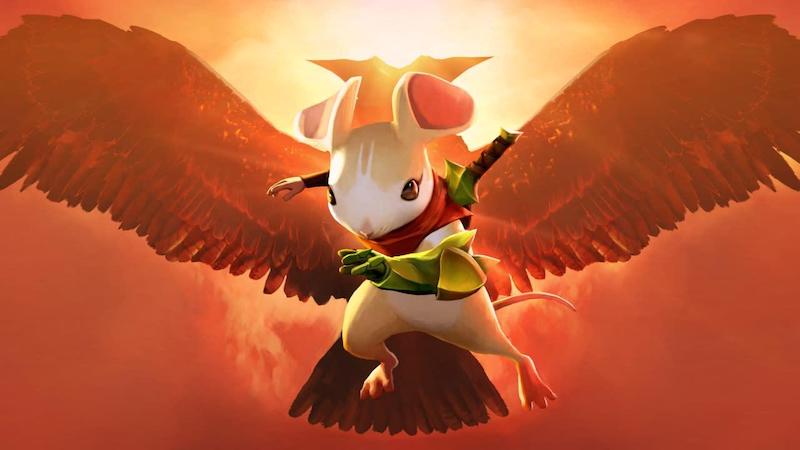 Moss: Book II Review (PSVR) – Few games show off the potential of VR as much as Moss Book II. While this was evident in the original game, the sequel turns everything to eleven.
I've neglected my PlayStation VR more and more as we near the launch of its successor, PSVR 2. This is in part to the excitement for the newly enhanced device as well as fewer and fewer games launching for the original PSVR.
While I'm excited for PSVR 2, Moss: Book II helps quench my thirst for upgraded VR and hone my hopes for what the new hardware will bring.
Moss: Book II is more than worthy of breaking out my PSVR again. Although the hardware holds the game back in specific ways, it's one of the best VR games I have ever played.
Moss: Book II Review
---
A Surprisingly Deep And Satisfying Story
Moss: Book II picks up moments after the conclusion of the original game. You, the Reader, and Quill, a brave mouse, defeating the evil serpent Scarffog.
While the game provides a pretty thorough recapping of the first game before letting you loose in this new adventure, some terms and names may be hard to get a handle on at first.
Nevertheless, you are given everything you need to continue the quest you started in the original game.
Quill must continue her quest to acquire all of the King's Glass from the five distinct lands of Moss. Already possessing one shard, Quill and her Reader set off to find more.
However, you soon learn of another looking for the glass, and they already have two of the five pieces. The wielder gains unlimited power by collecting all five shards, making them practically invincible.
This simple but impactful story had me honestly enthralled. And while it doesn't present the player with anything new, it does execute the story perfectly.
Like the first game, the entire playthrough is presented as a book being read to us. Because of this, the story has an audio book-like quality where a single voice actor voices all characters.
While this may be a bit cheesy at times, it's a perfect way for you to get lost in this world. The story is shaped around you from beginning to end in a third-wall-breaking way.
Quill addresses you as someone in her life, asking for high fives and sharing in victories. The world and story of Moss feel like it's happening with you rather than to you, and it is one of my favorite things about this game.
Simply Fun
The story of Moss: Book II isn't the only noteworthy aspect of the game, as the combat and puzzles shine just as bright.
Neither overcomplicates themselves by committing too much to one or the other, instead, Moss relies on a healthy mixture of both.
Always jumping back and forth before either one becomes stale or boring; using your sword to dash across chasms allowing you to progress into rooms otherwise out of reach, or acquire the maul to smash shielded enemies to ashes.
Each ability/weapon you acquire in Moss is quite different than the last. Quick dashing with the sword, the ability to manipulate vegetation, to shuriken's, and mauls.
By the end of your journey, both Quill and the Reader have a variety of weapons and abilities that help tip the fight in her favor.
While much of the gameplay is fun, it can also become a bit repetitive. The game tries to combat this by making you switch weapons and making the player use their ability to alter attacks.
However, with square being the only button for attack and the lack of a light or heavy attack, the combat can feel a bit one-note.
Though combat is shallow, the mixing and matching of weapons and the satisfying crunch of each enemy more than make up for any shortcomings.
VR At Its Finest
Every time I turn on VR, I am reminded of how immersive this version of gaming is. However, some games make it even deeper.
Quill talking to you as the player, putting you into the game, is one way the immersion is increased. But this would be nothing if the world wasn't presented in such a breathtaking way.
With each land of Moss: Book II, you are shown drastically different areas. Each was beautiful and flushed out. Throughout the game, you can look off into the distance to see a fantastic view, and in most cases, this is where the level will conclude.
From lush human-sized gardens from a mouse's perspective to medieval factories full of molten metal. No two locations in Moss: Book II are alike.
While I've caught myself getting lost in the levels multiple times, I couldn't help but also have the feeling that The PSVR was holding Moss back.
Of course, this is no fault of Moss or Polyarc, as the game pushes what PSVR is capable of in almost every aspect. However, with PSVR 2 announced and specs released by PlayStation, one can't help but wonder how much better Moss would be on next-gen VR hardware.
Moss: Book II Is A Beacon Of Hope For VR
PSVR and VR have had some outstanding hits, from Super Hot VR to Astrobot: Rescue Mission. These games excelled not just because of game quality but also because they used VR as a tool.
The story, puzzles, fun combat, and amazing worlds are all part of Moss: Book II's DNA. While held back with hardware at times, Polyarc has achieved what may be my favorite VR experience with Moss: Book II.
If you own a PSVR, it's worth setting up to experience how amazing a great VR game can be. All I can hope for now is a sequel on PSVR2 to see what Polyarc and Quill are capable of.
Moss: Book II is out now for PSVR.