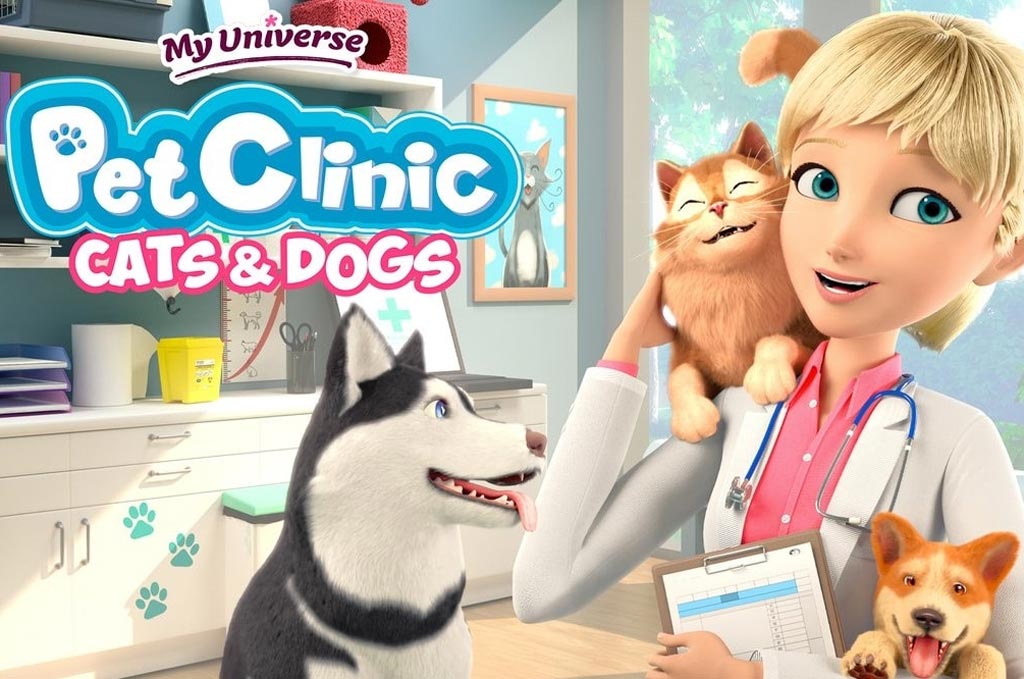 My Universe: Pet Clinic Cats and Dogs PS4 Review Children love animals and my eight year old daughter Leyla is no different. In Leyla's case, her particular animals of choice are cats, and in the absence of a real cat (forbidden by the landlord), her bedroom is adorned by an abundance of cat toys, cat pictures, a bronze bust of Cat Stevens and a catalytic converter from a 1988 Austin Montego.
When Pet Clinic came up for review, I jumped at the chance thinking that perhaps I could even persuade Leyla to write the review with my guidance, but despite her impressive English and creative writing skills, her notes on Pet Clinic weren't quite enough to make up a short paragraph.
So even though this 49 year old man is reviewing this game, I'll be interpreting the thoughts and feelings of my daughter, whose demographic this Veterinary simulation is clearly aimed at. But does it keep the attention of a girl who has a penchant for Cat Quest, Minecraft, Tomb Raider and Steep or is it a mismatch of simplicity and repetition more suitable for toddlers?
My Universe: Pet Clinic Cats And Dogs PS4 Review
---
Learning Life Skills Through Video Games
Pet Clinic is the latest in the Life series from publisher Microids and developer it Matters Games which also includes School Teacher, Fashion Boutique, My Baby and the controversial Brexit Haulier. Aimed fairly and squarely at younger children, the series aims to introduce adult responsibilities to a demographic who have yet to experience the crushing disappointment of being an adult in the modern world.
Like the rest in the Life series, Pet Clinic maintains a bright, colourful palette, simple CGI cartoon characters and clear, uncluttered navigation and controls. As the head veterinarian, you start the game with just you and your receptionist; initially your only responsibilities are to treat two pets per day to learn the ropes and to earn stars and money which you can use to upgrade your clinic. The game offers up simple prompts to enable players to know where to go next without ever seeming patronising.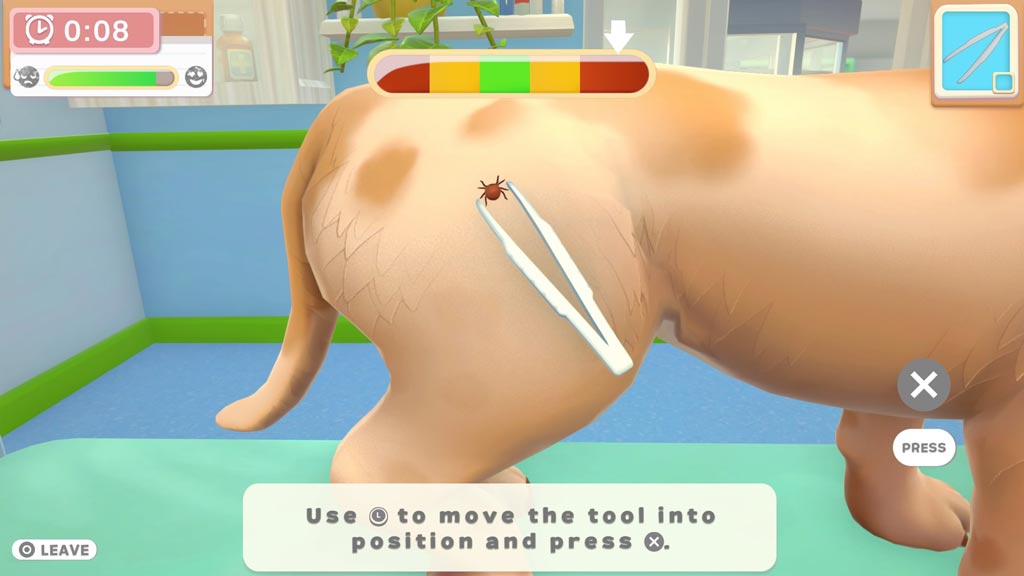 Raining Cats And Dogs
Initial ailments are limited to minor wounds, stress and removing ticks, and once your next patient has been checked in at reception, you can welcome them into the treatment room. As the title suggests, you'll be either treating cats or dogs, with a fair variety of breeds coming through the doors. An occasional stoat or capybara would have mixed things up a bit, but I'll just have to wait for Pet Clinic 2: Stoats and Capybaras…
Once the patient is on the treatment bench, you'll need to palpate the animal with a floating glove to calm it down before you can examine it. Once the animal is relaxed, you'll need to identify the problem by floating the glove over different parts of the body in order to check the ailment. Initially you'll be cleaning, disinfecting and dressing wounds with a succession of tools and simple presses of Cross in the right spot or by releasing the button at the right spot for accuracy.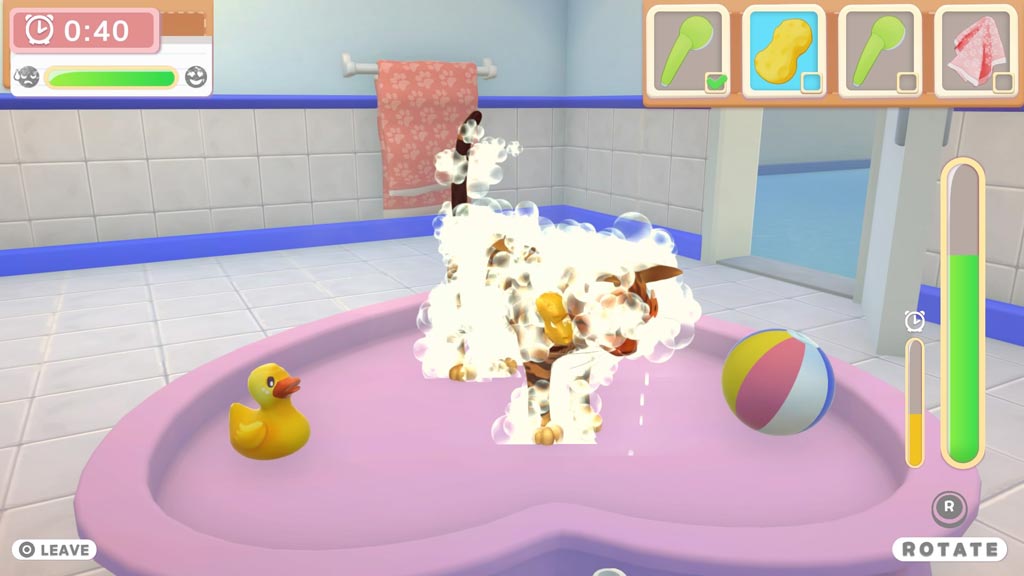 Philthy Animal Taylor
As the ailments become more varied, you'll be using a stethoscope and matching heart beats, pulling out ticks with tweezers, scrubbing filthy animals clean and, once you've opened your pharmacy, mixing up various ingredients to make a medicine. The clock ticks down throughout the examinations and treatments, giving you a bonus if you get the job done quickly. Accuracy is also rewarded but it's pretty much impossible to fail or cause fatal damage to the pets through sloppy work.
Once the pet has been restored to rude health, you can discharge the animal (and owner) and before they leave, the animal will reward you with plenty of affection and the owner will usually reward you with a gift such as a financial donation to the clinic or something to decorate your rooms such as a plant, flowers or a child's drawing. After all the patients have been treated, you can close the clinic, rate the pets' behaviour and then get ready for the next day.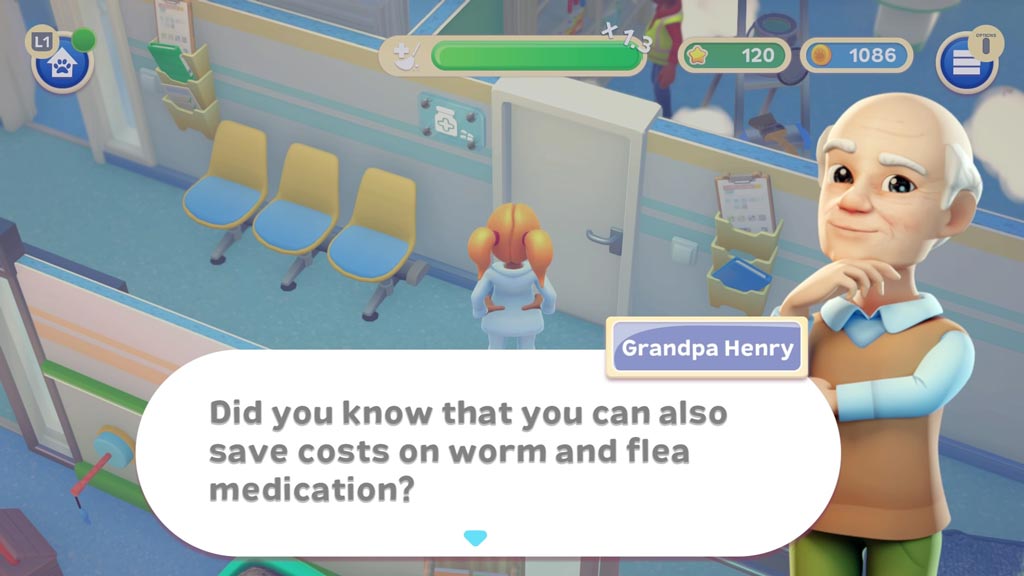 Urine The Money
As your finances increase with the passing of the working week, you can open up new rooms or upgrade your existing rooms with new equipment allowing you to treat more complex ailments and more patients. Staff can also be added as your clinic's "level" increases, although it's a long slow process to get that far, and although new treatments are drip-fed with each improvement to the clinic, there's an awful lot of repetition without much variety in order to feel like you're progressing.
There's a vague resemblance in the isometric presentation to Two-Point Hospital but obviously simplified for kids, and there's very little in the way of 'management' involved in running your clinic but it's hardly necessary when the basic gameplay is enough to entertain small pet lovers.
While the repetition and simplicity of gameplay seemed something of a limitation to me, my 8 year old daughter Leyla revelled in the cuteness of the pets, particularly enjoying petting them before or after their treatment, often for far longer than was strictly necessary! Persistent petting will result in a tummy rub, which was always Leyla's intention before allowing the cat or dog to leave. Another delight which passed me by was the way the new patients and their owners appeared out of a puff of smoke outside the front door and disappeared the same way when they were leaving.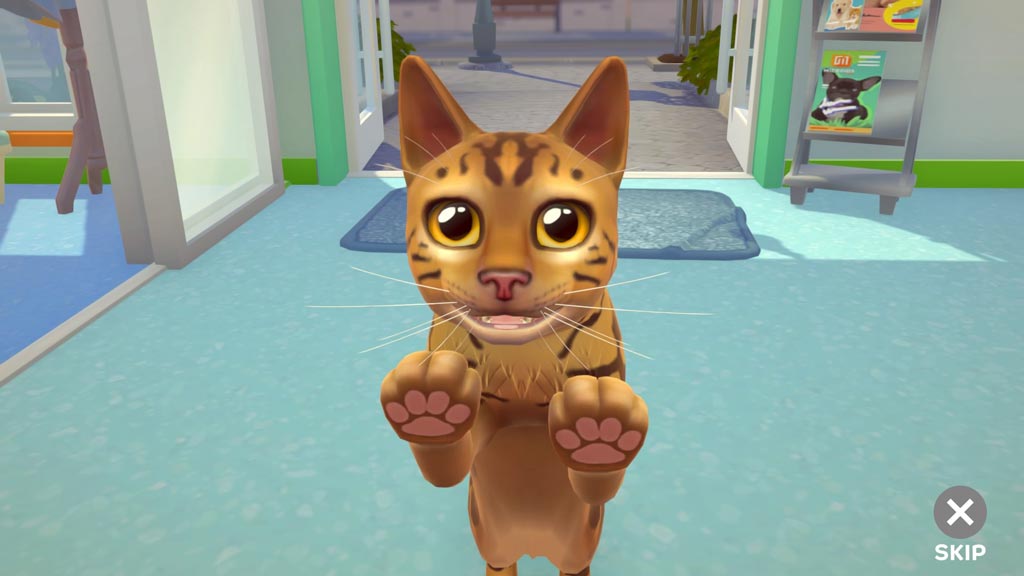 Suspicious Meownds
So all in all, Pet Clinic Cats and Dogs managed to entertain and keep my daughter playing despite my perceived lack of challenge and the repetition of treatments which struck me as obvious criticisms but didn't bother her at all. The relaxing vibe and attractive if simplistic presentation make it a well judged diversion for kids who like the idea of working as a vet, without the daily traumas involved with treating sick animals.
My suspicions that it could be forgotten about after a few hours play could well be true, particularly due to the limitations of the gameplay, so perhaps it's one to purchase once the price drops, as the full price tag may be a bit of a risk for parents who will end up playing it themselves once their kids have got bored after a few hours.
My Universe: Pet Clinic Cats and Dogs is available now for PS4.
Review code supplied by Microids