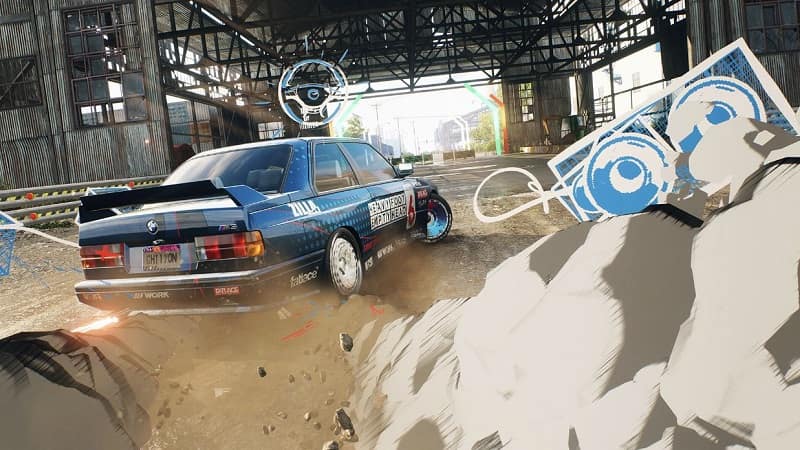 Need for Speed Unbound PS5 review. Need for Speed Unbound not only marks the return of Criterion Games after a decade long hiatus as a primary developer, but also the Need for Speed series in general and with Unbound being the first Need for Speed title since 2019's Need for Speed Heat, I can confidently say that while Need for Speed Unbound is the best series entry in years. If you've been hankering after a new Need for Speed title, or just an attractive street racer that shows off your PS5 console, Need for Speed Unbound has your back and then some.
Need For Speed Unbound PS5 Review
---
Need For Speed Unbound Feels Like A Hybrid Of Need For Speed Underground And Burnout Paradise – Which Is Great
Taking on the racing street culture that was embraced by both the early Fast and Furious movies and Need for Speed games, Need for Speed Unbound wraps its single-player story mode around a familiar narrative. Without spoiling the plot, the story mode of Need for Speed Unbound has players taking the role of a lowly street racer who finds themselves trying to raise a fading garage to prominence by buying new cars, upgrading them and then using those same rides to enter and win a range of tiered races with a view to getting even bigger and better rides and so on and so forth until the end.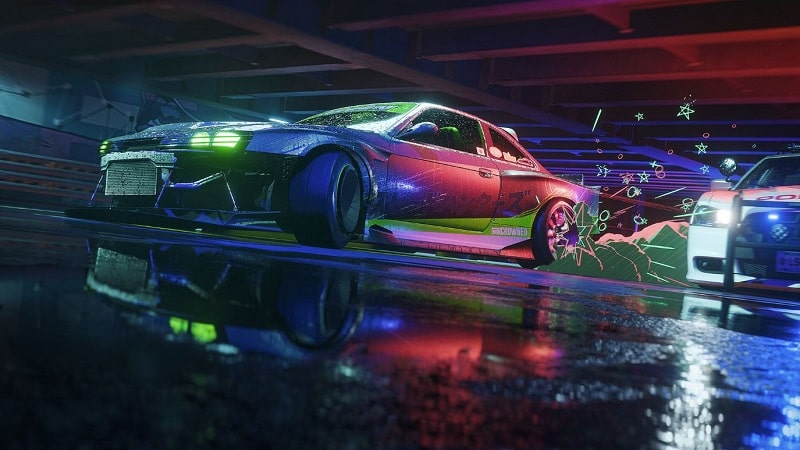 It's formulaic stuff that is certainly presented well enough, with reasonable (for the most part) voice acting and some excellent cut-scenes and racing transitions to boot. It's also not very inventive or a whole lot different from the sort of narrative we saw nearly twenty years ago in Need for Speed Underground and a whole bunch of series entries since, but where Need for Speed Unbound seeks to separate itself from previous games in this regard is in how it implements open-world design into its single-player story campaign.
Rather than just having players take part in a series of linear races, Need for Speed Unbound demands that its wannabe street racers take part in weekly qualifiers before taking on the story mode's chief antagonist (again, no spoilers here) in the finale race known as The Grand. Managed via an in-game calendar, players are essentially free to make money however they like in the intervening days between each qualifier in order to purchase bigger and better rides, taking on side jobs, completing activities and naturally, taking part in races (and betting on themselves to win said races). It's a neat system that simultaneously encourages the player to explore the world of Need for Speed Unbound, whilst also keeping them tightly focused on a particular set of goals (completing daily activities meanwhile, offer up yet further opportunities to accumulate those cash stacks).
Further Reading – Best PS5 Racing Games Ranked – The Best Racing Games On PlayStation 5
There are some extra considerations that must be accounted for here too. You see, not only does each race require a minimum standard of car quality in order for players to take part, but so too do many of them also require a joining fee and will attract a certain level of heat from the local enforcement too depending on their prize money, all of which lends a real risk and reward dynamic to the proceedings to keep things interesting beyond what I would have otherwise expected.
On the evidence of titles such as Burnout Paradise and Need for Speed Most Wanted, it's clear that developer Criterion Games has long known how to craft compelling open world environments for wannabe street racers to cut around in and Need for Speed Unbound is thankfully no exception. Quite simply, the city of Lakeshore is a joy to explore with its dense urban areas (including pedestrians!) giving way to rural areas, hilly expanses, motorways, railways and more besides.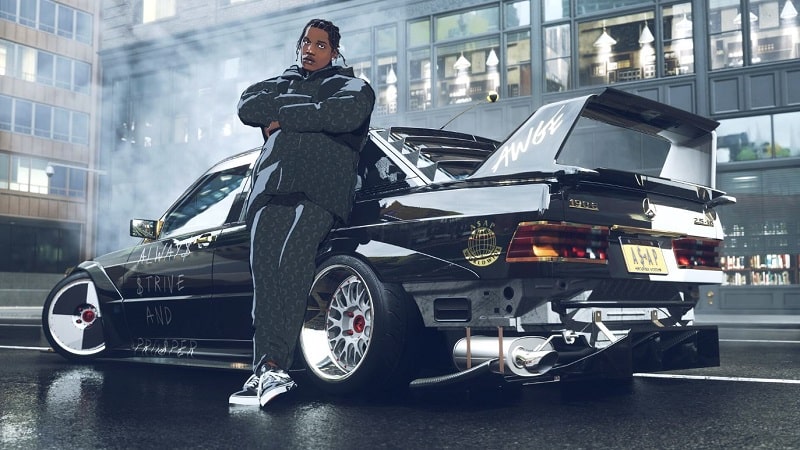 As such, when you find yourself tearing around Lakeshore for additional activities to complete in order to top up your cash reserves, such as crashing through signs, racing through speed traps, collecting graffiti art and more, you'll begin to notice that some of these side activities are stashed away in more difficult to reach places, gently encouraging you to find ramps and other means of getting to those sweet rewards in much the same way that the open world design of Burnout Paradise previously achieved. Again, exploring the world of Lakeshore is largely a thrill thanks to how well designed all of it is, and with larger areas within Lakeshore opening up as you progress through the campaign, so too does the incentive to see more of the world increase exponentially.
Tying itself directly into the wealth of customisation options that exist for your rides and your character, tracking down these collectibles and other such activities also provide new possibilities for both and in the process provide ample incentive for you to explore every nook and cranny of Lakeshore, allowing Need for Speed Unbound to keep players occupied long after the credits have rolled on the story campaign. From new win poses for your character to special decals for your car, there's always something for you to shoot for when it comes to completing all of the activities and collectibles that are dotted around Lakeshore.
Without a doubt, Need for Speed Unbound is obviously at its very best when you're screaming around the streets in the midst of fierce competition with other racers and Criterion Games have fashioned a hugely satisfying handling model that really makes you feel like you have an ultra powerful street racing car purring underneath your foot. You know, as it should be.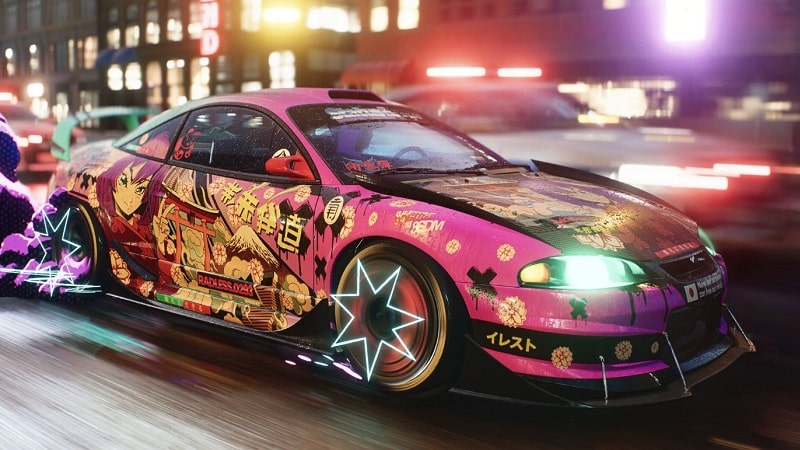 A big part of the reason why Need for Speed Unbound's handling model feels so satisfying is the very palpable feeling of heft that you get when you take control of your car, as you thunder down straights, get massive air from ramps and drift around corners, fighting the vehicle the whole time as you attempt to keep the thing from spinning out of control. Emphasising this feeling of physicality is the Dualsense controller itself, with the adaptive triggers providing a real feeling of resistance as you brake into a drift before hitting the gas and accelerating out of a corner, while the haptic feedback registers every hit, skid, jump and crash with due aplomb.
Very much in the vein of Burnout Paradise and previous Need for Speed titles, Need for Speed Unbound also rewards players for taking risks with long jumps, deep drifts, near misses and accelerating in the face of oncoming traffic by filling up a boost bar that can be used to, you guessed it, provide an extra boost of speed that can make all the difference between a win and a loss.
Further Reading – Best PS5 Games Ranked – The Best PlayStation 5 Games Available In 2022
In addition to all the usual jumps, drifts and boosts that Need for Speed Unbound offers in line with past entries in the series, Criterion Games has also provided players with a new wrinkle to their driving arsenal known as Boost Nitrous. Supplementing the usual longer use of nitro boosts that the series has typically embraced, Boost Nitrous permit players a sudden, split-second boost of speed that when correctly leveraged can allow you to correct a wayward drift or even nudge just ahead of the opposition as you reach the finish line. It's a great little mechanic that adds a real layer of strategy to the whole experience.
Another freshly implemented feature in Need for Speed Unbound is the notion of restarts. Rather than just rewinding or effortlessly restarting races as you could in previous Need for Speed titles with no penalty, Need for Speed Unbound gives the player just ten restarts that can be used in a single day – with those restarts being replenished at the end of each day when you return to a garage or hideout. Given how challenging some of the races are, you can certainly expect to burn through those restarts but this is where the added element of strategy comes in; do you use restarts on a bunch of less challenging races to get a higher position, or, do you save them for more difficult races where placing pretty much anywhere above 6th is a monumental feat in itself? The level of thoughtfulness that has been lavished on both the macro and micro design facets of Need of Speed Unbound is both surprising and welcome to say the least.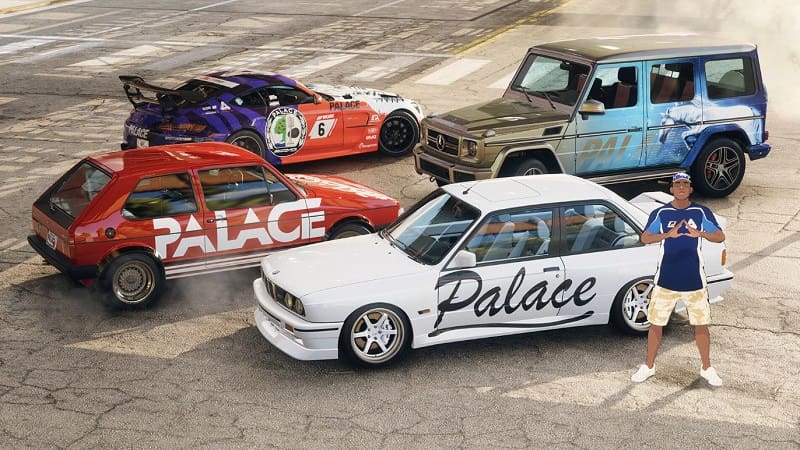 Of course, this wouldn't be a Need for Speed game without the police and in Need for Speed Unbound they're both abundant and aggressive to say the least. Not only do they doggedly chase the player around Lakeshore in the open world, but they can also gate crash (pun intended) individual races too, often causing chaos in the process as they smash into other cars and attempt to shut down as many racers as possible. And that's not all either, because as your heat rating increases based on your racing activities at night and your general disregard for all those boring road safety rules, so too can the police chase you directly after a race too, serving to make the police in Need for Speed Unbound feel more threatening than they ever have before.
When you're done with the single-player side of things, Need for Speed Unbound provides an entirely separate multiplayer campaign with its own progression and unlocks, permitting players to explore Lakeshore at their leisure, meetup with other racers to win prizes and upgrade their garage with the latest car upgrades and custom kits. It's a superb addition to the game that definitely keeps you playing once you've beaten the single-player campaign and will likely be a focal point for new content as EA takes Need for Speed Unbound into the future with additional DLC offerings.
And then there are the visuals. Ostensibly something of a key selling point for the title, Criterion Games have leant deeply into the artistic subculture of street racing with graffiti flourishes that occur whenever you perform a cool manoeuvre in your car (though it is also used for artistic effect during some of Unbound's cut scenes too) as masses of coloured cel-shaded smoke shoot up from the wheels of the car as you drift around corners, sketchy graffiti wings sprout as you take to the air and Akira style light strobes occur when you hit the boost. Need for Speed Unbound then certainly has an off-beat visual style (which you can disable if you like), but it's also something of a technical triumph too.
Though the cel-shaded characters and graffiti influenced flourishes are stylish in their own right, they're actually just a smaller part of a much more impressive visual veneer that aims for photorealism rather than abstraction. Running at dynamic 4K resolution and 60 frames per second, together with some absolutely gorgeous lighting, shadows and rain effects that really make both the cars and sights of Lakeshore come alive with rain-slick reflective roads, soaking wet car chassis and more besides, Need for Speed Unbound certainly makes a case for being one of the best looking racers on PS5.
In boasting a beautifully constructed open world filled with emergent opportunity together with resoundingly satisfying street racing that echoes the series earlier instalments, Need for Speed Unbound ultimately feels like a roundly entertaining hybrid of two beloved racers from EA's yesteryear, namely Burnout Paradise and Need for Speed Underground, and I'm absolutely here for it.
Visually astounding with a weighty handling model and some super clever design, Need for Speed Unbound is easily the best Need for Speed in years. Though the single-player story campaign is a little less inspiring than it needs to be both in terms of its plot and content, Need for Speed Unbound nonetheless sets a resoundingly solid foundation for the Need for Speed franchise to evolve into the future and is essential for fans of both the series and the street racing genre at large.
Need for Speed Unbound is out now on PS5.
Review code kindly provided PR.
Need for Speed Unbound Guides: