NHL 23 Review (PS5) – While attempts are being made in other facets of sports simulation to diversify the offerings available, the same can't be said for for hockey.
At least for the foreseeable future, EA will remain the only game in town, along with its predictable pattern of mistakes and less than inspired releases in between years that actually bring about innovations and improvements.
NHL 23 does bring a slew of improvements, though it more or less falls in with the in-between years, especially when considering that the biggest changes should've been old hat by now.
All that makes NHL 23 feel more like it's simply stumbling along until another year, and we can only be hopeful it'll be better than the last.
NHL 23 Review (PS5) – Stumbling Along
---
A Change Long Overdue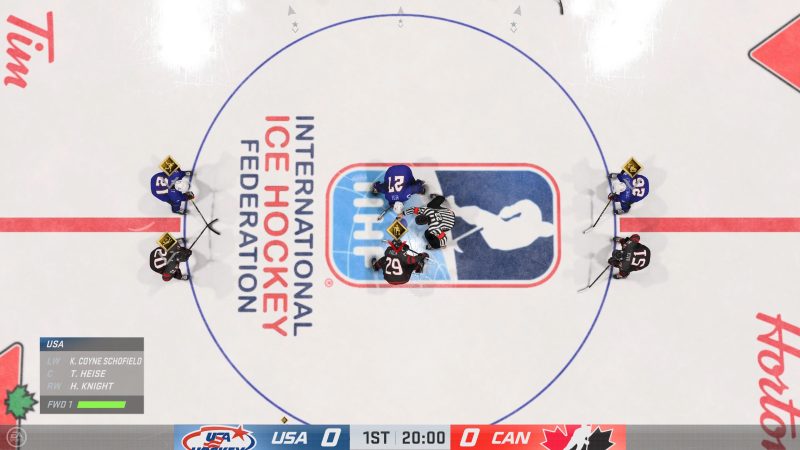 The biggest change anyone ought to immediately notice about NHL 23, particularly because that change is on the cover, is the inclusion of Women's International players in the IIHF World Championship.
Team Canada's Sarah Nurse graces the cover of NHL 23 along with Anaheim's Trevor Zegras. Her inclusion, along with the inclusion of every other female player that's in NHL 23 is long overdue, though EA has yet to go as far as including the PHF (Premier Hockey Federation), the CWHL (Canadian Women's Hockey League) or the ZHL (Zhenskaya Hockey League).
For now at the very least, the inclusion of the international women's teams from the IIHF tournament is a very welcomed addition. Growing up in Canada, there was a time in my life when I could count on watching both the women's and the men's teams for Canada achieve gold in the IIHF.
However that failed to last, as the men's team started losing, so now I could only rely on the women's team to win every year. And for a long time, they did, and they're still winning today.
Being able to take Team Canada to the ice against the US and have a grand old time wiping the floor with them never stops being fun for me, and I'm glad to see EA making a better effort towards proper representation for the whole hockey world in its annualized release.
Of course, there's still more to be done, but it's a start.
Be A Pro-fessional Robot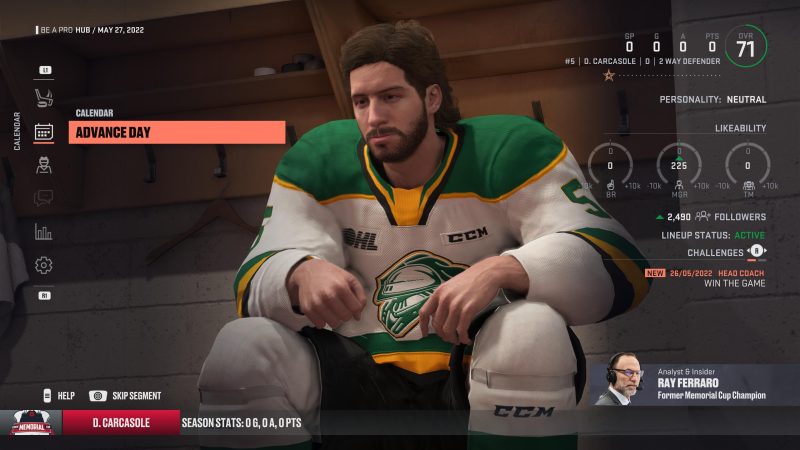 The introduction of the IIHF women's teams and changes brought to Franchise mode (which I'll go over later) are really nice to see, and they are two main aspects of what makes NHL 23 worth the investment for yearly fans.
But as it seemingly is every year, not every aspect of these games was given the TLC it needed, in fact it feels more like modes were just ignored, and pulled straight from NHL 22 without any improvements or changes.
The Be A Pro mode is one of the culprits in this case, as it still remains lifeless in its attempt to string together a single-player campaign taking your created player from farm teams to a Stanley Cup team.
Nothing feels different from NHL 22, all the way down to the mind-numbingly boring writing that plagues the campaign. A more harrowing thought than it would seem, considering that I criticized NHL 22's Be A Pro mode for feeling copy and pasted out of NHL 21.
In truth, it might be foolish to think that EA would hire voice actors and draft a story where you aren't simply generic professional athlete #3, but voice acting could potentially go a long way towards making any of the off-ice encounters interesting.
At the very least a new writing team, something to get away from the robotic feeling of what's meant to be half the whole experience in the mode.
Your League, Your Rules = More Fun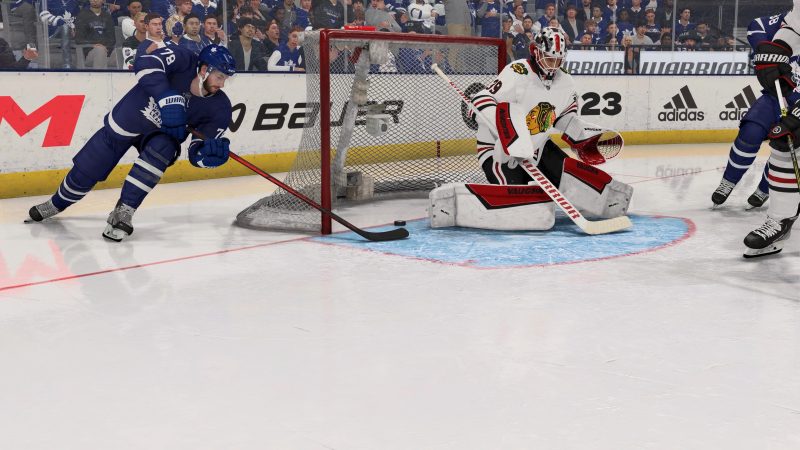 What is very much changed for the better, is the improvements brought to Franchise mode.
Being able to customize your own league in terms of its size, create a custom draft, and simply have more control on every aspect of running a franchise has made the mode far more enticing.
I chose to create a fantasy Toronto Maple Leaf's team in a league where only the original six teams remain, for a bit of an older feel.
It's a very satisfying level of customization offered to you, and the kind of improvement that maybe should've been added some time ago, though I'm happy EA got here regardless.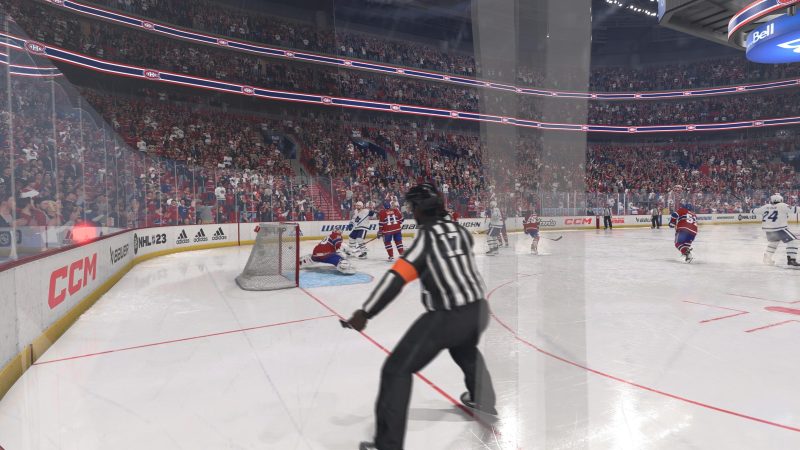 In all my time with NHL 23 so far, franchise mode has been the most fun to explore and play around in, that upgrading from last year's model to NHL 23 is worth it for that alone.
And being able to etch your name into the Stanley Cup is a pretty nice touch.
NHL Never Looked Better
While the jump in visual quality might not be as noticeable compared to last year's first foray into current-generation consoles, NHL 23 still manages to look much cleaner than its predecessor.
The way NHL 23 presents itself in menus, on and off the ice is still very much unchanged from NHL 22, but the overall visual quality is a clear step above.
No doubt the added time developers have now had with PS5 and other current generation platforms has helped, which is always an exciting factor of a new generation.
Once the NHL series and EA's other annualized sports games leave the PS4 behind, that year's entry should hopefully be another step up.
If it ends up being NHL 24, then it'll be interesting to compare it to 23. NHL 23 however is doing just fine as the current top dog in terms of visuals across the long-running series.
Stumbling Along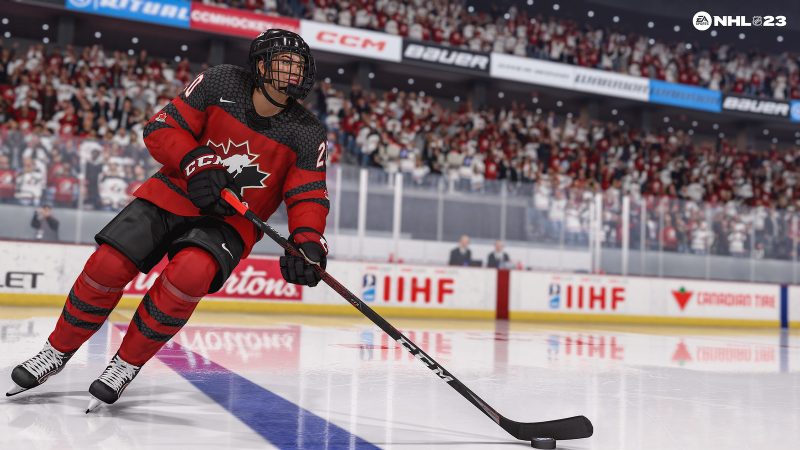 I wouldn't go so far as to say that NHL 23 brings something ground-breaking with the inclusion of stumble actions and loose puck plays, but they do really add to your immersion when playing.
It's an extra level of puck control that does actually help to make NHL 23 feel a little closer to the real thing, and helpful in maintaining control of the puck.
But it doesn't do anything that drastically changes the feel of the gameplay. The core, fun mix of the more arcade-focused gameplay that was re-introduced into the series last year with NHL 22 is still there, but it doesn't feel like 23 iterates on it enough to make it stand apart.
What's almost worse is that EA claims to have improved the goaltender AI this year, though if what I've seen is considered an improvement, then I'd be more interested to know what the bar for "improved" really means.
Goalies still feel extremely exploitable, particularly around shots aimed in the top corners. And one-timers remain a solid strategy for an easy goal, though that has been an issue long-plaguing the series.
Even without one-timers, knowing that I could score more times than not from the same place on the ice with the same angled shot just doesn't feel like improved goalie AI to me.
The pattern of modes being left untouched also goes for HUT and online play, however that is much less surprising, considering EA simply has to look at how much money HUT brought in the year before, look at the numbers and say 'Well if it ain't broke…'
But that also sticks to what seems to be the theme of this years release, as an "in-between" year. Small iterations in some areas, big quality of life changes in others, and the rest of it pretty much stayed the same, warts and all.
Enough to stumble along towards next year.
NHL 23 is now available for PS5 and PS4.
Review code kindly provided by the publisher.