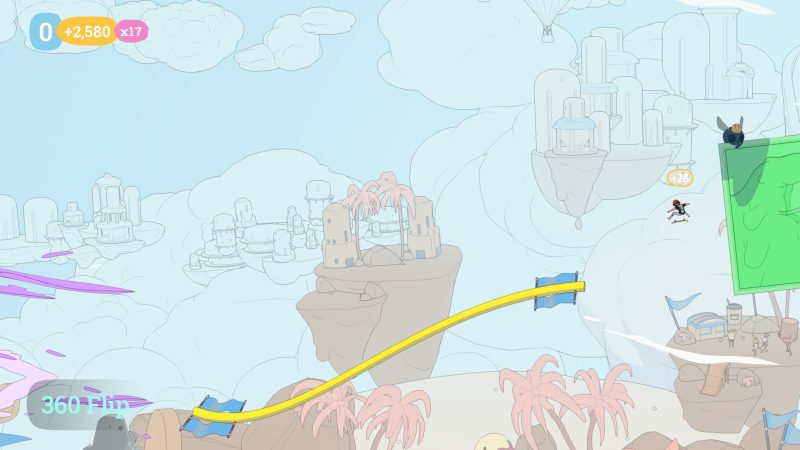 OlliOlli World Finding The Flowzone DLC Review (PS5) – When OlliOlli World first released back in February of this year, I couldn't stop praising the creativity and passion that went into the creation of every level, and that creativity bar was only raised with the first DLC expansion, Void Riders.
Now the latest DLC from developer Roll7 is here, titled Finding The Flowzone, which introduces a new mechanic called Wind Zones.
Parts of a level where a huge gust of wind will send you flying through the air to pull off the gnarliest of tricks. But what really makes Wind Zones an absolute joy to experience is how they genuinely make you feel like you're skating on air.
OlliOlli World Finding The Flowzone DLC Review (PS5) – Soaring To New Heights
---
Skating In/On The Clouds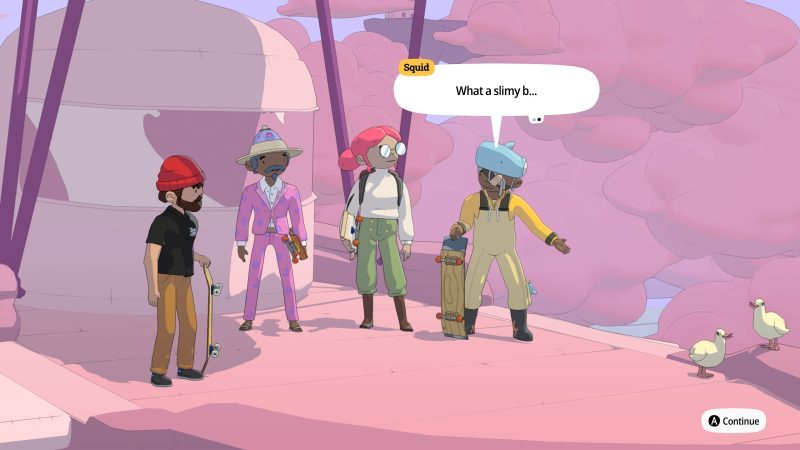 Similar to Void Riders Tractor Beams, which played with changes in gravity to further expand its levels, Wind Zones bring you more time spent in the air, but they also add another layer to the level design in a way the tractor beams failed to.
The big thing is being able to change direction in the air, thanks to these zones, which worked to make replaying the levels part of this DLC more fun than anything you'll play throughout the rest of the game.
It's also worth noting that Void Riders simply added levels on the main map, while Finding The Flowzone brings you into the sky for a whole new area to explore.
And exploration is a key factor in this DLC, as you'll be tasked with collecting three map pieces in each level of the five areas you can unlock.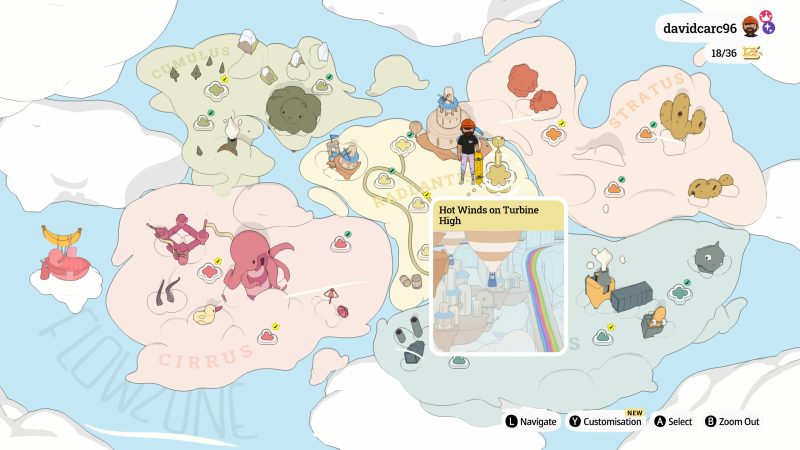 You won't need to find all of them to advance to each new area, but you will need to find at least 18 out of the 36 available to see all five new sections, each with three levels.
That means repeating levels, but when has OlliOlli not been about repetition? At least now, we have the most intricate and well-designed levels Roll7 has ever put out to make that repetition more enjoyable than ever.
Also just like the Void Riders DLC, the difficulty bar across all the new levels has been raised, so best to come at this after having gone through the main game/
A Deceptive Wind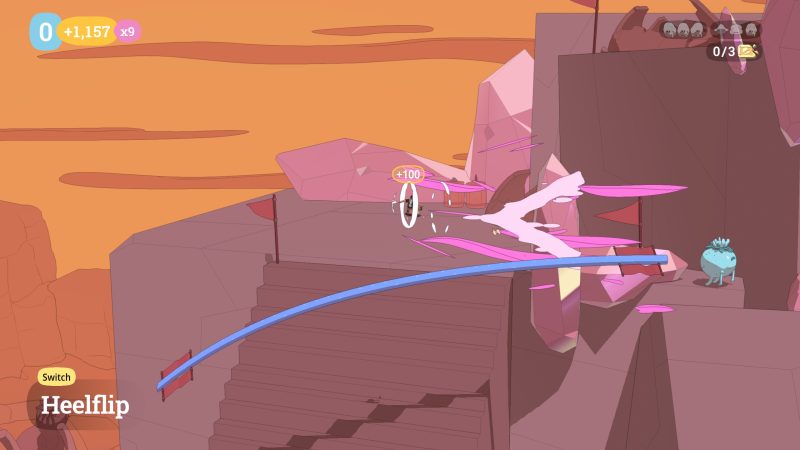 Part of why I love how much exploration the wind zones bring to OlliOlli World is most levels end up feeling deceptively short.
You go a hell of a lot faster thanks to the wind zones, but if you're not careful and paying attention for different routes, then there are whole chunks of levels you'll miss in a blink of an eye.
As an OlliOlli veteran, in that I was first introduced to the series by playing the first two on my PS Vita, the new routes introduced in OlliOlli World's main campaign made everything meatier than I had previously thought it could be.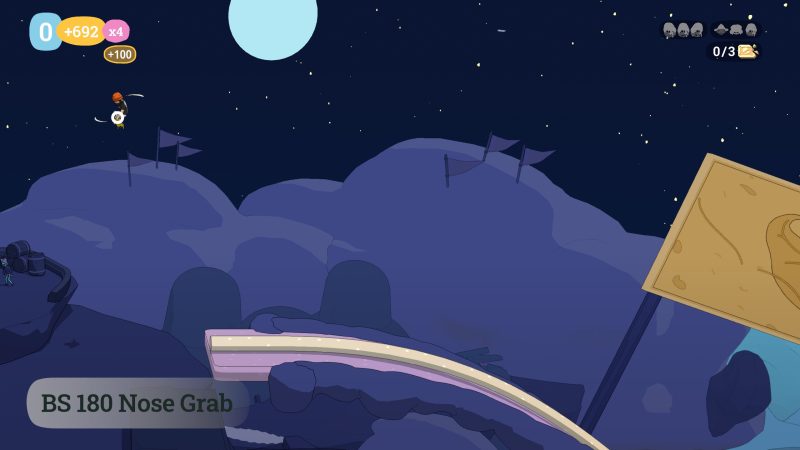 Now wind zones expands that even further, in a way that's already more fun than it is in any of the levels from the main game.
OlliOlli World is a skateboarding game with layers in everything it does, not just in how far you can take a combo.
The art, level design, even characters and world-building all continue to show there's no end to the depths you can go to, as you skate your way to the lost Radlantis City.
The Sky's The Limit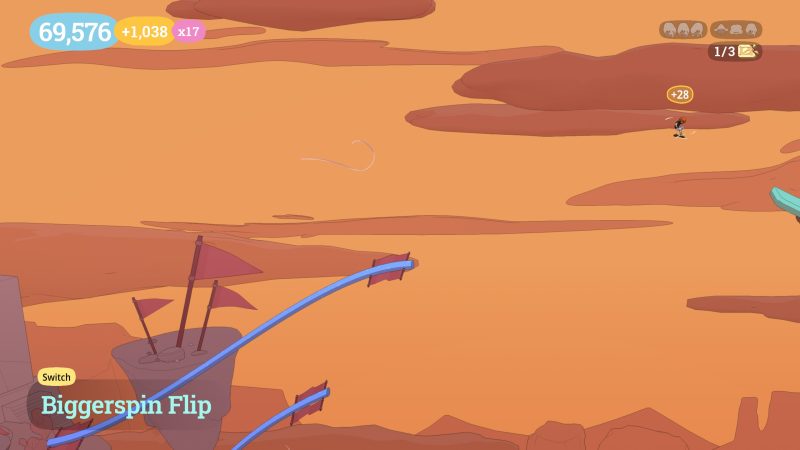 When I reviewed the Void Riders DLC, I said that any fan of the game should definitely pick it up, as it included the best levels we've seen in OlliOlli World so far.
Now that I've played through the entirety of Finding The Flowzone and made my way to Radlantis City, I can confidently say the same is true for Finding The Flowzone.
It's just incredible to keep seeing Roll7 one-up themselves as a studio, continuously raising their creativity bar and making more of the best OlliOlli World I've seen yet.
The levels here are definitely more at pace with the Void Riders DLC, but unlike Void Riders which contained a few disappointing boss levels, not one level was amiss in Finding The Flowzone.
It's a much tighter, and better package this time around that once again makes it a must buy for any OlliOlli World fan.
I might sound hyperbolic, and maybe I am giving the Flowzone more credit than its due, considering the level of quality we've come to expect from Roll7.
But it's the consistency in which Roll7 keeps improving that makes it all the better for me. It's just another sign that Roll7 is still rolling on with what I believe to be their best work ever.
From Radlantis To Beyond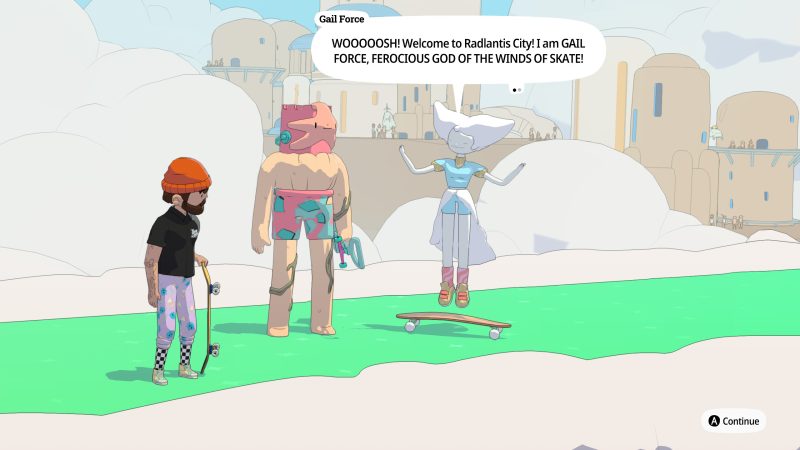 Finding The Flowzone is able to further expand levels in new ways, creating more intricate and complex level design, raising the bar again after the Void Riders DLC already notched it up.
It's awesome to continue seeing Roll7 do incredible things, the art built for OlliOlli World is so beautiful, a factor that continues to be a huge reason why I'll never stop playing this game.
For any fan of OlliOlli World, and anyone who liked the Void Riders DLC, I can't recommend Finding The Flowzone enough.
Finding The Flowzone is now available on PS5 and PS4.
Review code generously provided by publisher.