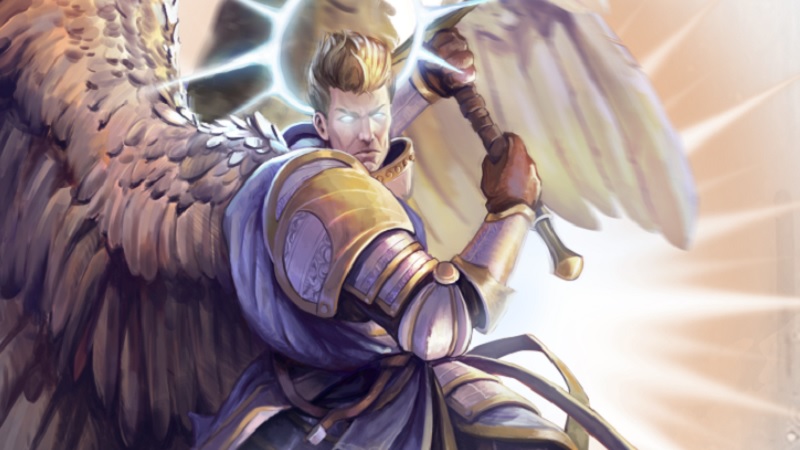 Pathfinder: Wrath Of The Righteous PS4 review. There's no way around it, Pathfinder: Wrath of the Righteous is an absolutely mammoth prospect that expects you to free up whole swathes of your social calendar so that you can be as fully invested in its world as possible. Cut from a similar cloth to the likes of Pillars of Eternity and the classic Baldur's Gate and Torment CRPGs, Pathfinder: Wrath of the Righteous is the sort of all-encompassing RPG effort that revels in the depth and sophistication of its narrative, characters, systems and does its utmost to ensure you'll be along for what is ostensibly a very long ride indeed.
Pathfinder: Wrath Of The Righteous PS4 review
---
A Monstrous, Time Consuming Epic RPG That Will Sweep You Up For Months
The premise of Pathfinder: Wrath of the Righteous is pure epic, dark fantasy. In a world that is slowly succumbing to a demon invasion that is emerging from a region known as the Worldwound, Wrath of the Righteous casts players as a near fatally wounded hero who is brought to safety in a town that has decided to have a cheeky celebration before returning to the important business of demon slaying. Obviously, everything goes down the toilet at record speed and before you know it you're thrust out into the wilderness with a ragtag band of survivors that are all looking to gain some measure of revenge on the demonic legions that have destroyed their homes and murdered their loved ones.
Viewed from an elevated third-person perspective, Pathfinder: Wrath of the Righteous follows the same basic structure that was introduced in its predecessor, Pathfinder: Kingmaker. With a party of plucky adventurers that you must guide throughout the world, you and your merry band end up speaking to NPCs, picking up side-quests, levelling up through experience gains and of course, collecting sizable heaps of loot to equip and/or sell on. Much more importantly though, Pathfinder: Wrath of the Righteous also leans extremely heavily on non-linear storytelling and progression, something that is arguably a cornerstone of any good CRPG worth its salt.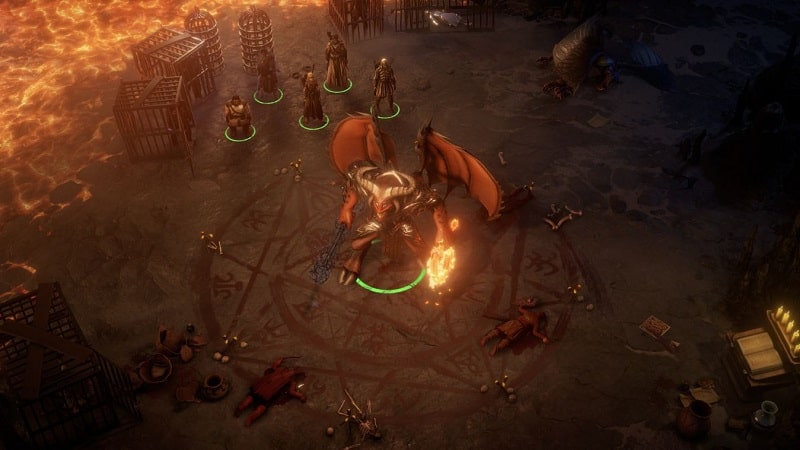 Adapted from the Pathfinder First Edition ruleset table top RPG, Pathfinder: Wrath of the Righteous is simply overflowing with opportunities for player agency, choice and freewheeling non-linear progression. Beginning with a layered character creation suite that allows players to choose a mixture of race, class, moral alignment and even the deity that they would like to follow, Wrath of the Righteous wastes no time in providing wannabe adventurers with sufficient creative latitude to fashion their protagonist however they like.
Wonderfully, all of those variables play out with actual consequences in the game world too. A lawful evil character might be able to converse with a corrupt local magistrate, opening up dialogue choices that wouldn't ordinarily be available to other characters, while acolytes of the lawful good deity Iomedae may find common cause with fellow believers, again opening up dialogue options and the potential for additional side-quests that other characters just wouldn't otherwise see. Even specialisations in things such as religion and diplomacy allow you to gain insights into the wider lore of the world that wouldn't normally be available if you don't have those skills, while more physical attributes such as athletics would allow you to pull off feats of strength (such as saving someone who is pinned under a slab of rock) that other characters wouldn't be capable of.
Further Reading – All PS4 Games That Run At 60 FPS On PS5 – Every PS4 Game That Runs Better On PS5
Naturally with Pathfinder: Wrath of the Righteous also being a dyed in the wool CRPG, this astounding level of choice also spills over into the various companions that you'll meet along the way as you attempt to destroy the demon menace. Frequently, you'll find yourself caught up in the back stories of your comrades as you choose to help their cause or not and depending on your choice, they'll largely either stick around as an ally or be encountered later on as a foe. It also doesn't hurt that each of the companions you meet are a well-written and in-depth bunch too. Though on the surface you get the seemingly usual mix of pious Paladins, brave warriors and so on, it's to the credit of the character scribblers at developer Owlcat Games that each of these potential companions that you can take with you on your journey has their own personality traits and skeletons in their cupboard – all of which serves to make them far more interesting characters than their archetypes might suggest.
Pathfinder: Wrath of the Righteous demands a lot of patience (and time) from its players and perhaps nowhere is that more keenly felt than in how the narrative is imparted. Though a fair chunk of the dialogue is supported by fully voiced performances that are great for the most part, the lion's share of the dialogue and lore that Wrath of the Righteous boasts comes in text form and thus requires a substantial degree of patience on the part of the player to plough through it. For folks that have had experience with CRPGs before such as Pillars of Eternity this won't be an issue, but for others who are new to the genre the frequent walls of text that Wrath of the Righteous presents players with might test their patience more than they were expecting.
Further afield, the Mythic Path system that Wrath of the Righteous employs adds yet further potential for player driven decision-making in an CRPG that is already overflowing with an abundance of it. At certain key points later on in the narrative you'll be given the opportunity to make some big decisions that will transform your character entirely. From being transformed into an Angel, Gold Dragon, Trickster, Lich or even a Demon, following these Mythic Paths not only bestows an staggering wealth of super powerful abilities upon your character, but it also drastically changes the direction of the narrative too – helping to funnel events down towards one of Wrath of the Righteous' many different endings.
Further Reading – Pathfinder: Kingmaker Definitive Edition PS4 Review
Ultimately though it may sound a little cliché, Pathfinder: Wrath of the Righteous is the first game in a long while where it feels like your choices really matter and their consequences reverberate in both big and small ways throughout what is a beautifully conceived game world. What this also means is that Pathfinder: Wrath of the Righteous is one of the largest games you'll ever play too, with single playthroughs streaking well past the 100 hour mark and the appeal of consecutive multiple playthroughs stretching that figure well into the land of four digits.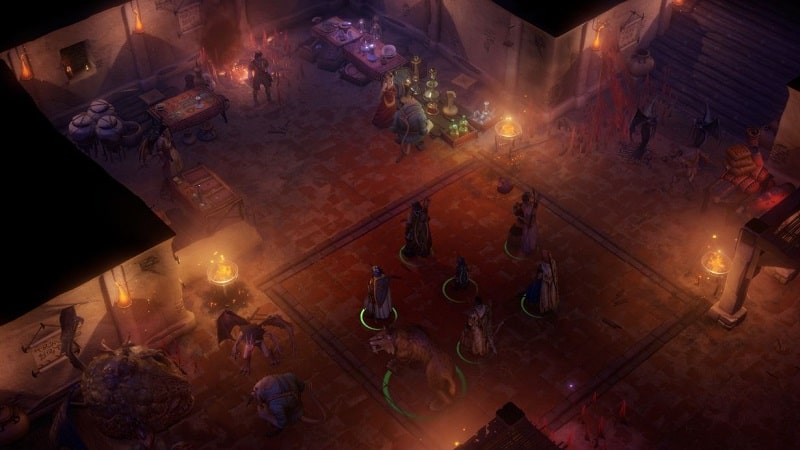 Largely contributing to these total playtime figures is one of the greatest pleasures that you can enjoy in Pathfinder: Wrath of the Righteous – simply exploring its world. From the musty basement of a tavern in a town besieged by demons where the inhabitants are huddled together, bandaging their wounds, to the sprawling awe of the Valley of Temples and the trap-stuffed hidden corridors of the Ivory Sanctum, there's always something new to seek out and explore in Pathfinder: Wrath of the Righteous.
When it comes to the combat in Pathfinder: Wrath of the Righteous, Owlcat Games latest offering does ample justice to its table top source material here as well. Depending on the preference of the player, combat can play out either in real-time or turn-based style actions. Though the latter approach speaks for itself, the real-time style of play allows you to pause the combat at any time and essentially queue up actions such as movements, attacks, spells and more to be unleashed as soon as you unpause. It's a great pair of approaches to the combat aspect of Wrath of the Righteous that should broaden the appeal of the overall package to more folks as a result.
When you're in the trenches of the combat in Pathfinder: Wrath of the Righteous, tactics rule supreme. Though you can easily rush in and smash the enemy to bits early on in the game, later battles require that you not only have a party of adventurers that are appropriately levelled for the task but which also work in the correct synergy too. After all, there's not much point having a cleric with awesome buffs and healing spells if all they're going to be used for is topping up the HP of the damage dealers, instead of using the various buffs and blessings to improve everyone's chances in battle as well.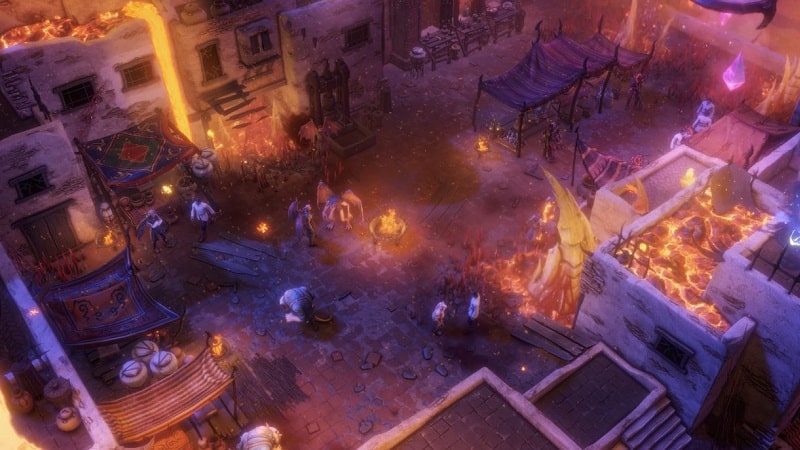 Thankfully, for those players that just want to experience the story and explore the world of Pathfinder: Wrath of the Righteous without having to worry about battles existing as a barrier to their enjoyment, there is a suitably wide number of difficulty presets that can be used to make encounters much more trivial than they would otherwise be. In much the same vein as offering two different types of combat styles will help Pathfinder: Wrath of the Righteous appeal to a broader swathe of players outside of the usual genre stalwarts, so too does being able to tinker with the combative challenge that game offers also help to encourage new players to pick up the controller too.
Further afield, the biggest new addition that Wrath of the Righteous brings to the table in regards to the combat side of things over its predecessor is the new macro strategic layer of conflict that is introduced by the new Crusades mode. Here, players find themselves no longer in control of a party of six or so heroes, but rather entire armies that number in the hundreds as you wage war against the entire demonic legion at a much more global level. From maintaining and financing garrisons in towns to recruiting archers, clerics, mages, knights and mercenaries to fight on your behalf, not to mention the progression embedded in each of those unit types to see them develop over time as you push the demons back into the Worldwound, it's clear that the Crusades mode is practically a whole game within itself.
More than just a functional addition, the Crusades mode also serves to underscore the scope of the massive demonic invasion that Wrath of the Righteous hinges its entire narrative on. After all, it wouldn't feel much like a global demonic invasion if all you ever saw were the odd demon and cultist here and there and not much else. With the Crusades mode taken into account alongside everything else that is offered up here, it can sometimes seem like there is almost too much to do in Pathfinder: Wrath of the Righteous which might very well prove to be intimidating new players – though fans of table top RPGs will certainly lap up everything Owlcat Games latest effort offers with relish.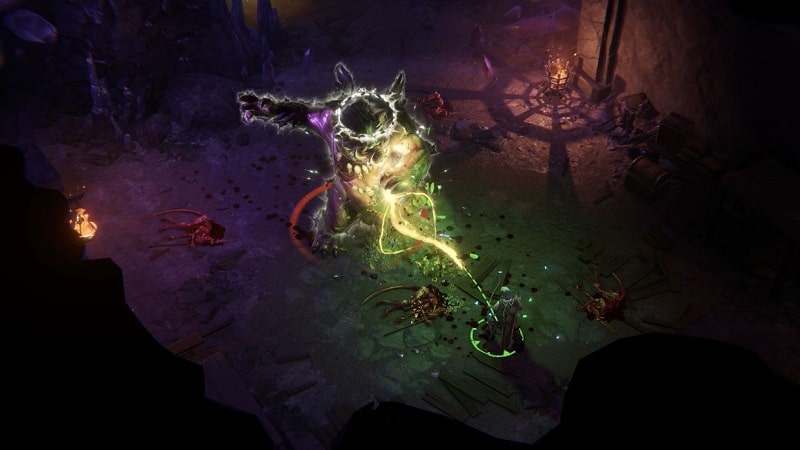 With far fewer crashes and glitches, I can also happily report that the PS4 version of Wrath of the Righteous is leaps and bounds better than its predecessor from a technical perspective too. That said however, it's still not quite as polished as it should be with a range of strange visual issues present such as disappearing shadows and the presence of invisible walls where they shouldn't be. Thankfully though, the frequent crashing which plagued Kingmaker appears to be a thing of the past while also developer Owlcat Games has committed to patching the game going forward to iron out those rough edges yet further still. Oh and Wrath of the Righteous runs at a buttery smooth 60 frames per second on PS5 too, so that's nice.
With the massive scope that Wrath of the Righteous revels in, comes the unavoidable fact that this latest Pathfinder adventure demands a whole heap of time from folks that want to plumb its substantial depths. One does not simply complete and see everything that Pathfinder: Wrath of the Righteous can offer in a weekend, instead Owlcat Games latest effort should be treated like a ten season boxset of a prestige television show; slowly chipped away at over the course of days, weeks and even months.
Pathfinder: Wrath of the Righteous represents not only a significant improvement over its predecessor, but an enormous and sophisticated CRPG that players with a hankering for epic adventure and narratives will surely enjoy. Though it still isn't quite as polished as it needs to be and is complicated enough that genre newcomers might struggle with its information packed menus, largely text driven dialogue and detailed mechanics, Pathfinder: Wrath of the Righteous is nonetheless a vastly epic, incredibly entertaining and meaty adventure that is deserving of your time.
Pathfinder: Wrath Of The Righteous is out now on PS4.
Review code kindly provided by PR.