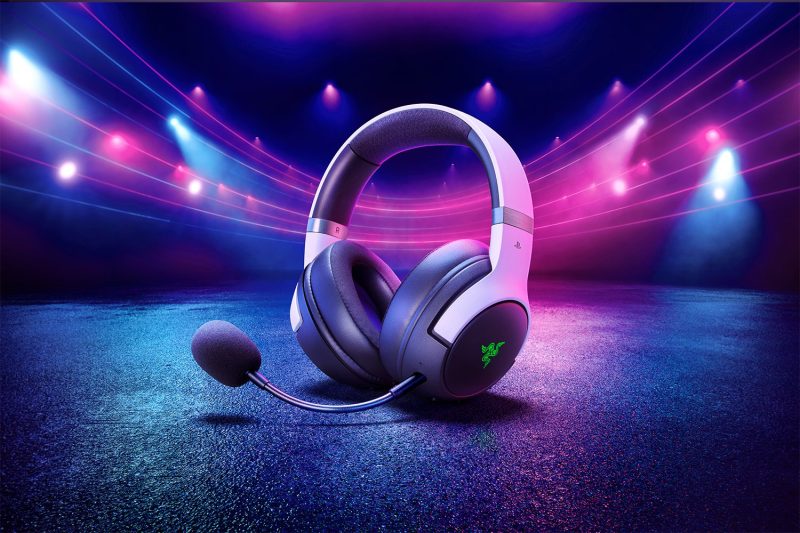 Razer Kaira Pro Hyperspeed Wireless PS5 Headphones Review – Having a good pair of gaming headphones is almost as important now as having a proper monitor to get the absolute most out of your brand new console or top-of-the-line PC.
Wearing headphones while playing anything from a competitive shooter to your third-person narrative heavy action adventures can make it a more immersive experience, and the right pair can be hard to find.
Many cost far too much for too little payback, and some upgrades feel so miniscule, you can't really hear the difference for why you ought to fork over the extra cash.
That is unfortunately the case with Razer's latest upgrade in its Kaira model series, with the Razer Kaira Pro Hyperspeed Wireless PS5 Headphones.
At a tall $199.99 USD asking price, a $70 jump from the Razer Kaira Hyperspeed, or a full $100 jump from the Razer Kaira's, it's unfortunately more difficult than it ought to be to hear why the $70 or $100 jump is justified.
Related News – Razer Kaira Pro PS5 Wireless Headphones Review
Razer Kaira Pro Hyperspeed Wireless PS5 Headphones Review – Taking Your Money At Hyperspeed
---
Engage Hyperspeed On The Battery Life
When I reviewed the Razer Kaira Pro Wireless PS5 Headphones, I was happily surprised by their long-lasting battery life, whether I was playing games or listening to music.
Unfortunately the same doesn't seem to be true for this new Hyperspeed variant of the Razer Kaira Pro's, as it almost feels like I'm having to charge them after one or two gaming sessions.
The haptics and the added RGB on the side of either ear absolutely chug at the battery life, and while turning those features off can help profoundly, I still found it lacking compared to my experience with the Kaira Pro's.
According to Razer, there shouldn't be a different between the Hyperspeed variant and the regular Pro model in its battery life on default settings.
If you're going to use these headphones while consistently playing at a desktop or entertainment system, then it might not be the worst thing to remember to plug them in when you're finished listening.
Related News – Razer Wolverine V2 Pro PS5 Controller Review
But it makes them the less reliable option if you're also trying to use these headphones as a travel or commute companion, because you won't be able to trust they'll make it through your journey.
Practically Twins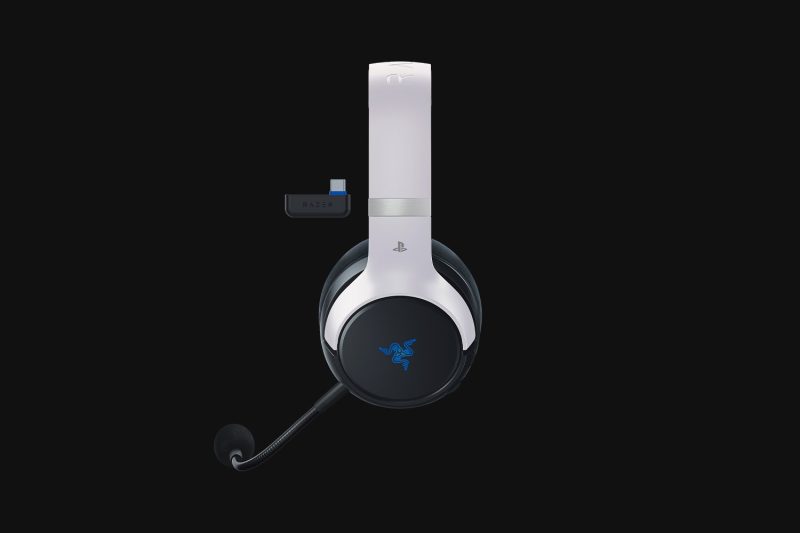 It's difficult to talk about the Hyperspeed Kaira Pro's without talking about the Kaira Pro's, because if you put them side by side you wouldn't be blamed for having trouble telling them apart.
Related News – Razer Kaira PS5 Wireless Headphones Review
An added PlayStation logo overtop either ear on the Hyperspeed's stands as the main visual difference between the two, and thankfully the USB-C dongle has an added blue accent that helps distinguish it from the dongle for the standard Kaira Pro's.
The RGB lights on either ear are back, and it still feels like a cool, but ultimately useless feature, unless you're working in a darkly lit room surrounded by mirrors.
Having the two be almost visually identical isn't all that bad, though it does feel like a lost opportunity to not have more colour variants available.
The earcups feel the same, which means they're just as heavy as the Kaira Pro's, but do have the same amount of cushion that'll delay any discomforting feelings due to the weight of the headphones as long as possible.
At the very least this also means that premium feel I enjoyed with the Kaira Pro's remains with the Hyperspeed model.
Sounds About The Same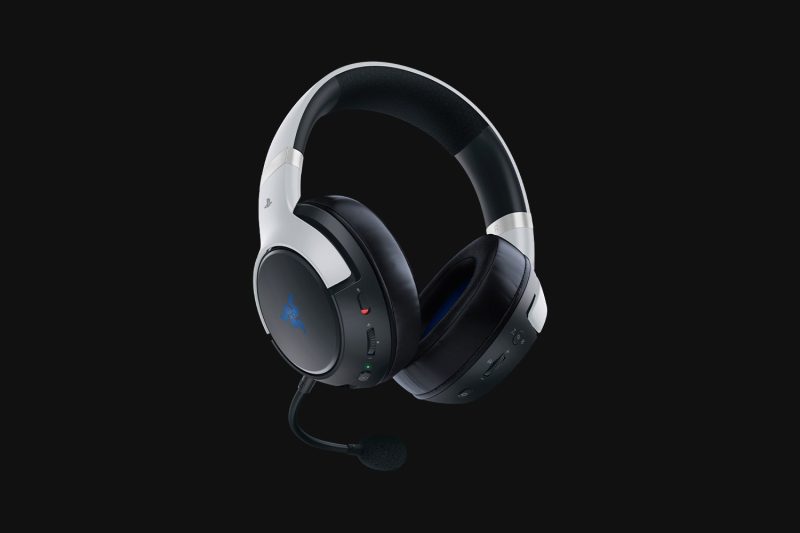 If you're currently daily driving the Razer Kaira Hyperspeed or Razer Kaira standard headphones, and would like to stick with Razer for your next pair, then you'll definitely hear a jump in quality moving onto the Razer Kaira Pro Hyperspeed's, or even just the Razer Kaira Pro.
But I'd argue its not nearly as much of a jump as it should be to really justify that price, and if you already have the Kaira Pro's, then you have absolutely no reason to make the swap to the Hyperspeeds.
From my own experiencing using both, they feel like the exact same headphones but one got a marketing upgrade. At least they're both listed at the same $199.99 price, so its not like the Hyperspeeds are trying to justify another price hike.
Related News – EPOS H6 Pro Open Acoustic Wired Headphones Review
So what makes the Hyperspeeds actually different? What feature can be pinpointed to that qualifies it having the word "Hyperspeed" tacked onto its title? According to Razer, that's the inclusion of what it calls, "Hyperspeed Wireless," though what that actually is still feels lost to me.
I know that the "Hyperspeed" technology in these headphones refers to the 2.4Ghz dongle for the lowest possible latency, instead of just using a standard Bluetooth connection.
But I found it difficult to discern the difference between using my regular Pro's and the Hyperspeed Pro's when it came to latency, and thus the whole use of 'Hyperspeed' took on less meaning to me.
Which leaves me very whelmed by these headphones more than anything. I was (potentially naively) hopeful that the Hyperspeeds would add something more than the standard Pro's, but that's not really the case.
The hypersense haptics are still a cool feature, in that they can add a whole new level of immersion when playing certain games, but become an annoyance if you're trying to play anything where you'd want a competitive edge.
They can even become annoying when playing the kinds of games you would maybe want to play with the haptics on, like Horizon Forbidden West where the roar of a Slaughterspine can suddenly take on new meaning.
Related News – Guide: How To Use Bluetooth Headphones On PS5
At least they began to feel annoying after extended use, and of course you can turn them off, but now you're not utilizing one of the main features that ups the cost of these headphones.
It all comes back to whether or not its really worth it to make the $70 or $100 jump from the Razer Kaira Hyperspeed or Razer Kaira's.
Taking Your Money At Hyperspeed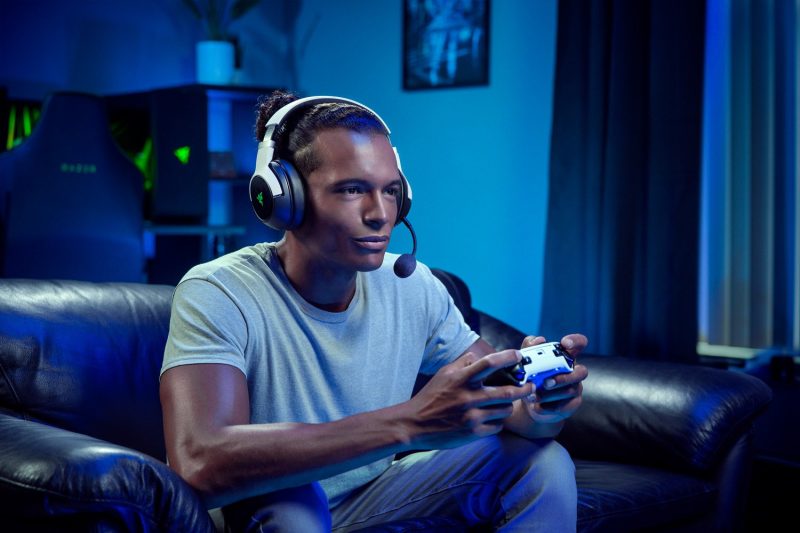 I want to be clear on this, the Razer Kaira Hyperspeed Pro's are a good pair of headphones, that'll serve you well if you want something to bring added immersion in your gaming experience through its quality sound and haptics, or give you the extra edge competitively in its FPS mode.
It'll even do the job when it comes to just having something to listen to your music, certain songs will even be given an added umph if you keep the haptics on while playing your tunes.
But like the Kaira Pro's, the Hypersense feature still feels like the thing that's really driving the cost, because its difficult to hear a huge leap in quality over the Kaira's or Kaira Hyperspeed non-Pro models.
Related News – Razer Enki Gaming Chair Review
My own battery life issues potentially being just my anecdotal experience aside, I can't say I would've been drawn to spend the money on these, especially because of just how good the Kaira's already sound at a much lower price.
They'll be a big upgrade over your bargain-bin headphones, and a minor upgrade over headphones like the Razer Kaira's, but if you're already looking to spend $200 or more on gaming headphones, then I'd say there are better products to look at.
The Razer Kaira Pro Hyperspeed Wireless PS5 headphones are available now for $199.99.
Review pair generously provided by Razer.