Severed Steel PS5 review. Essentially the acid tripped progeny of Superhot, Red Faction and Max Payne, I can promise you that you'll struggle mightily to find another shooter that makes you feel like more of a badass than Severed Steel. As Steel, a supremely agile one-armed engine of murder, each bite-sized level of Severed Steel's campaign essentially has you shooting up a bunch of increasingly powerful geared up dudes in the most flashily acrobatic fashion possible before moving onto the next area. Without giving the game away too early at this juncture, be assured that Severed Steel is just a whole heap of fun, OK?
Severed Steel PS5 Review
---
Superhot Meets Red Faction Meets Max Payne And They Were All Happily Married Forever And Ever
There has long been an argument that the FPS genre, itself an interactive extrapolation of the high-octane gunfights that captured the imaginations of cinema-goers the world over for the longest time, should place a premium on making the player feel overwhelmingly empowered. So often empowerment in the FPS genre has been drearily and predictably calculated at the beginning and the end of whatever firearm you happen to have in your mitts. Severed Steel on the other hand, looks to previous, less traditional entries in the first-person shooter genre to create something that feels equal parts refreshing and brutally satisfying.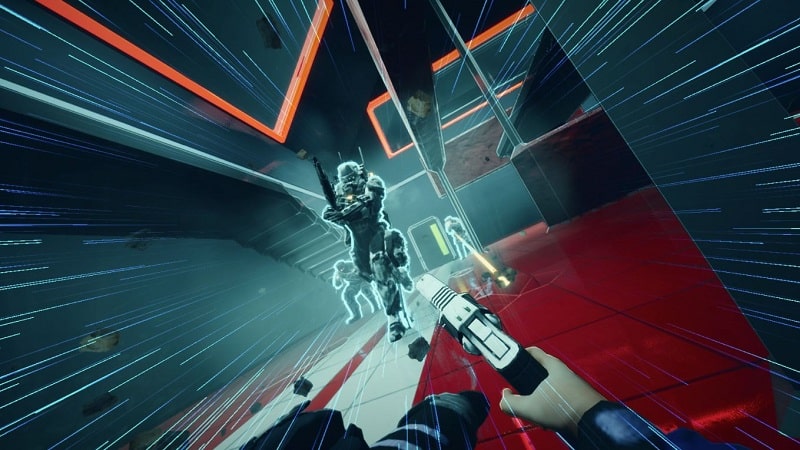 Though Severed Steel offers up the usual selection of pistols, sub-machine guns, rifles, grenade launchers and so on that you'd normally expect to see in any first-person shooter, where it differs from its other genre stablemates is in the vast freedom that it affords the player to employ them.
Rather than just being a run and gun shooter where the most physically taxing thing you'll ever do is go prone or mantle over something the height of your knees, Severed Steel instead invites players to unleash a veritable Pandora's Box of moves to devastate their enemies. Double-jumps, near endless wall-runs, a Vanquish-style baseball slide and Trinity style rooftop dives can all be combined to augment your first-person blasting and, somewhat unsurprisingly, it makes Severed Steel a whole lot of fun to play.
Further Reading – Best PS5 FPS Games Ranked – The Best First Person Shooters On PlayStation 5 In 2022
Severed Steel doesn't stop there though. In addition to all of those spirited acrobatics that the game actively encourages, Severed Steel also allows you to slow time down too, providing you with the canny ability to change your direction in mid-air, making the avoidance of incoming fire a relatively simplistic task as you pirouette through the air and avoiding enemy fire before crashing through the nearest window and returning some of your own.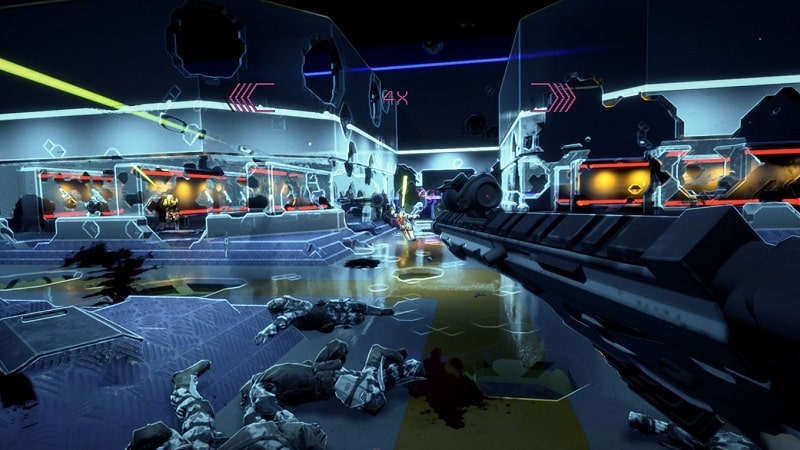 The topping on this parabellum encrusted cake are the destructible environments which add to the ingenuity of it all. Early on in Severed Steel's campaign you'll gain access to a very literal hand-cannon that slots into your anatomy where your left arm used to be. Able to fire off massive, though finite blasts of energy that basically punch holes in just about any surface you can find (hence the Red Faction comparisons), this adds just another string to your already extravagant bow when it comes to battle tactics, as you can quite literally blow the floor out from underneath enemies to surprise them, or if you're in a bind, punch a hole in the nearest wall in order to make a hasty retreat.
The end result of all this is the emergence of some truly spectacular moments as you fly around the place like some crazed, bullet-time drunk lucha-libre wrestler with an arsenal capable of destroying a small country. It really is exhilarating stuff and provides you with the sense of blissfully reckless freedom and empowerment that you just don't see in many other shooters. And this is where the whole Superhot comparison comes in, as Severed Steel beautifully echoes that almost breathless freedom that Supershot provides, truly making you feel like you're able to bend the laws of physics to accomplish whatever you wish.
What keeps Severed Steel feeling fresh without overexposing its flash and flair stuffed combat are the size of the levels in which you commit all of this heady ultraviolence. Each level in the campaign has a single objective, which usually requires you to reach a certain point in the level, or blow something up, but as a general rule, you can expect Severed Steel's numerous areas to provide minutes of play rather than hours, making everything feel appropriately snappy rather than overly drawn out.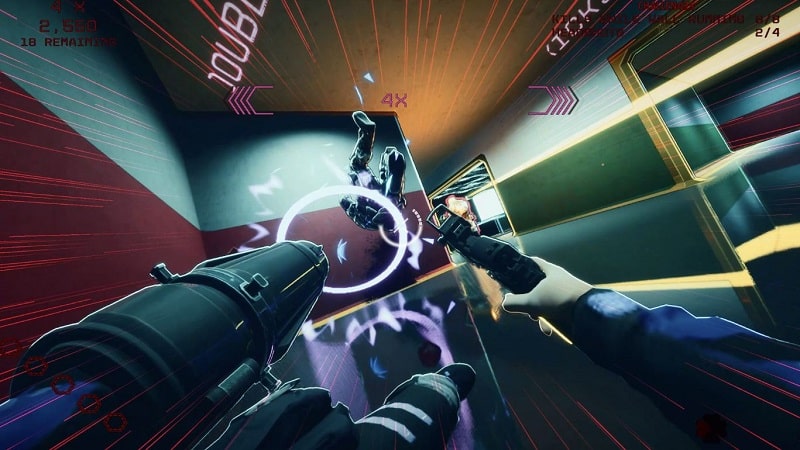 Though Severed Steel's campaign does certainly appear to be tailor-made for a quick bit of drop-in and drop-out play then, it's also reasonable to say that there is further value to gleaned elsewhere. Severed Steel also boasts a nifty challenge mode that has players tackling a series of unlockable maps and requiring that a series of special objectives are fulfilled in each one. Where things become especially spicy though is in the use of different modifiers that can massively alter the experience, resulting in enemies with bigger heads, higher enemy counts and more besides.
Sure, it's not exactly a ground-breaking addition to the core single-player campaign, but the fact remains that Severed Steel's excellence lay in its core mechanics and the challenge mode does a commendable job of distilling that essence into a compelling, bite-sized additional mode.
In terms of the audiovisual side of things, Severed Steel also impresses duly. With its bright neon colours, clean science fiction environments and never-break-a-sweat framerate, Severed Steel's visuals, though perhaps not obviously stuffed with next-generation graphical features, nonetheless suits the game perfectly, providing a hyper-responsive and graphically arresting spectacle that bolsters the manic on-screen action duly.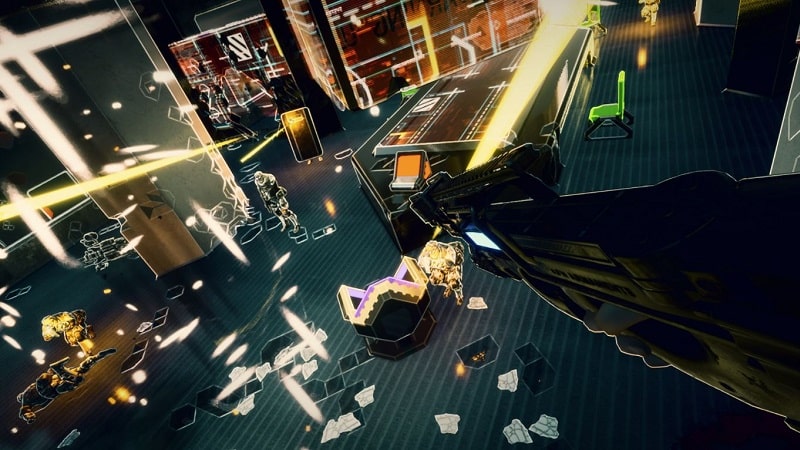 Aurally, Severed Steel also turns in a commendable effort thanks to a range of appropriately meaty sounding firearms and the sort of thrumming, pulse-pounding electronic soundtrack that serves as a perfect companion to the furious, first-person shooter madness that its shoulder rocking beats underpin.
Quite simply Severed Steel is one of the most downright entertaining shooters to come out this year. Sure it doesn't boast the most comprehensive offering from a content perspective and genre fiends looking for a token narrative to go with their serving of face-gunning may well be disappointed, but Severed Steel bends and in some cases breaks the traditionally rigid rules of the FPS genre to often giddy effect. The end result is the sort of gloriously freewheeling, acrobatic first-person shooting extravaganza which aims to demonstrate that innovation in the genre doesn't have to just begin and end at the the gun clasped tightly in your hands.
Severed Steel is out now on PS4 and PS5.
Review code kindly provided by PR.