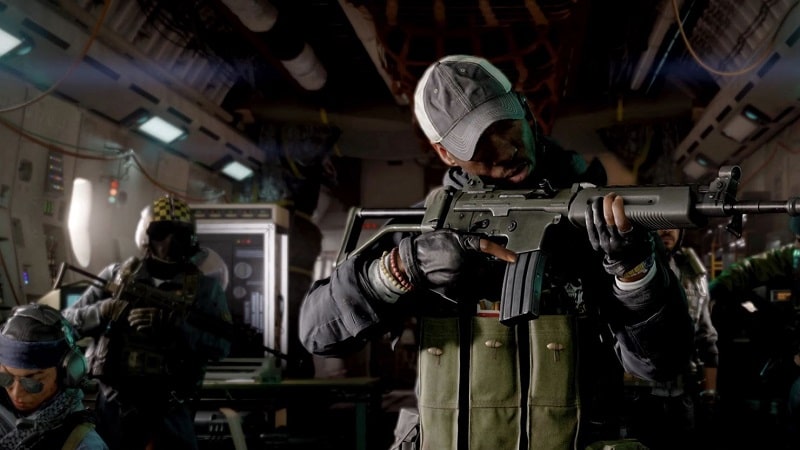 Just what are the best PS5 FPS games to play on Sony's PlayStation 5 console? Well, we've loaded up and blasted our way through a legion of bad dudes to bring you our constantly updated list of the best FPS games you can get on PlayStation 5. Elsewhere, we also have guides which detail the best PS5 horror games, the best PS5 racing games and the best PS5 fighting games. For additional reading, you can also catch up with our PlayStation 5 complete guide everything we know about PSVR 2 as well. Fans of indie games should also check out our best PS5 indie games article while our 2023 PS4 and PS5 release date article keeps you up to date on all the best upcoming PS5 and PS4 games.
Best PS5 FPS Games Ranked
---
Best PS5 FPS games:
1. Deathloop
---
While Arkane Lyon no longer make PlayStation games on account of their absorption into Microsoft's fold, it's perhaps then quite fitting that their swansong for PlayStation 5 is Deathloop, a stunningly ambitious FPS that blends together the studio's penchant for physical shooter goodness with elements of roguelike design.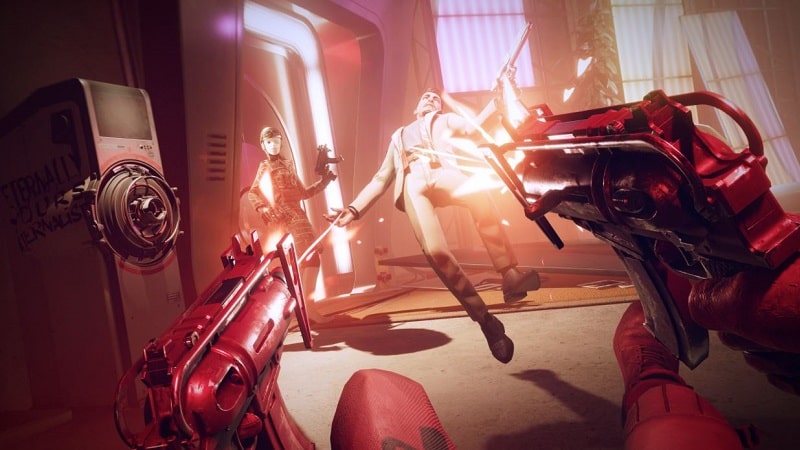 As an assassin looking to break a timeloop on an island tailor built for nihilistic hedonism, Deathloop has players re-living the same day over and over – but gaining new powers, clues and insights into the story with each rise of the morning sun. Witty, stuffed full of clever dialogue, endlessly experimental and dripping into retrofuturism, Deathloop is as essential as it gets.
2. Quake
---
Arguably one of the greatest first-person shooters ever and a true godfather to the genre, Quake returns on both PS4 and PS5, bringing with it that same rapid fire 3D shooter gameplay that made it such a classic to begin with.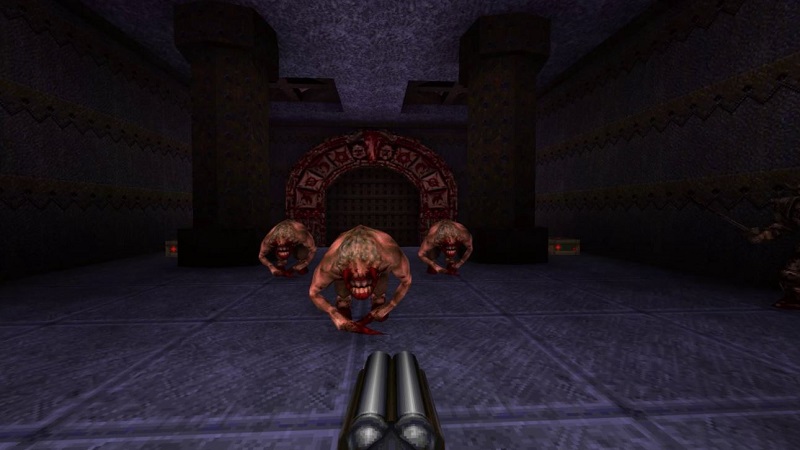 Add in all of the single-player content released to date in addition to a special single-player campaign designed by Wolfenstein developer Machinegames *and* a rollicking Nine Inch Nails soundtrack with local and online multiplayer co-op and competitive modes to boot, it soon becomes obvious that if you like shooters of any stripe than Quake demands your attention.
3. Metro Exodus
---
The third entry in 4A Games superb Metro series storms onto PS5 with stunning 4K, 60 FPS visuals combined with a stunning implementation of ray traced lighting and reflections to boot.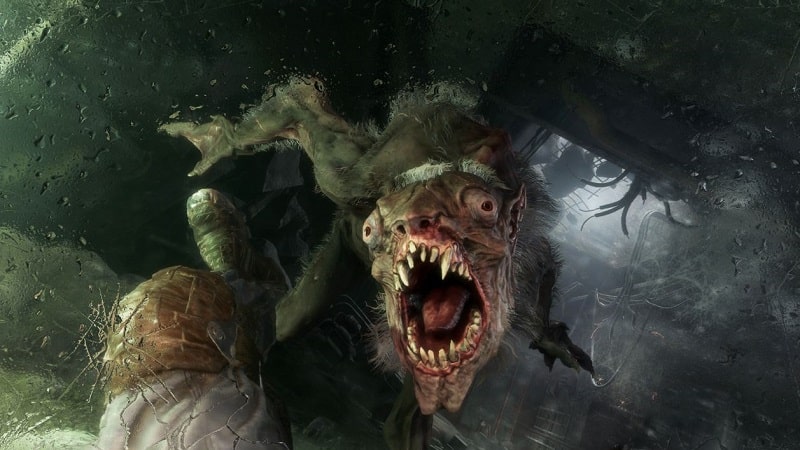 With added DualSense features, Metro Exodus on PS5 is the Russian post-apocalyptic horror FPS you never knew you needed in your life until now. You know what to do. It also doesn't hurt that if you own the PS4 version of Metro Exodus, you'll get the PS5 upgrade free of charge. Nice!
4. Isonzo
---
Shifting the action from both the muddy trenches of the Western Front and the snow-dappled rural expanses of the Eastern Front to the blood-soaked peaks of The Great War's arguably most sophisticated theatre of conflict, developers BlackMill Games and M2H have excelled themselves with Isonzo.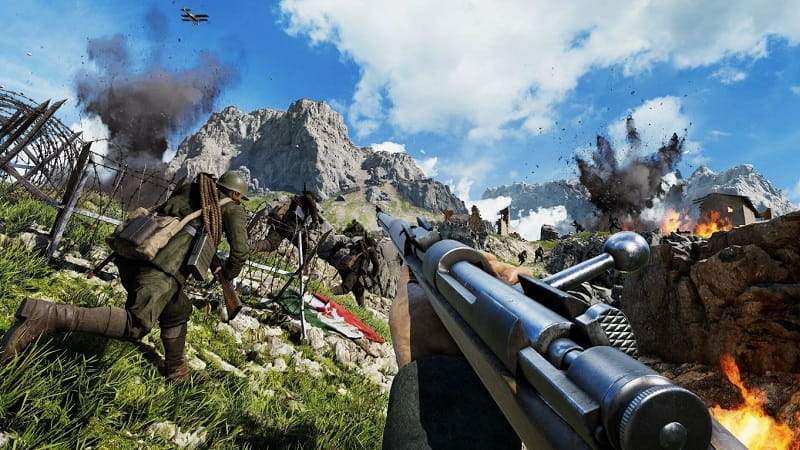 A thoroughly thoughtful and visceral first-person shooter where tactics and strategy are valued equally to a quick trigger finger, Isonzo isn't just the best entry in the WW1 Game Series to date, it also happens to be one of the best tactical multiplayer shooters full stop.
5. Back 4 Blood
---
The spirit of Left 4 Dead returns in Back 4 Blood – a spiritual successor to that classic zombie FPS of old that comes from the same developer no less. Strap up and strap in as you and up to three other players (or computer controlled bots) put your wits (and your substantial firepower) against a seemingly endless and surprisingly intelligent zombie horde.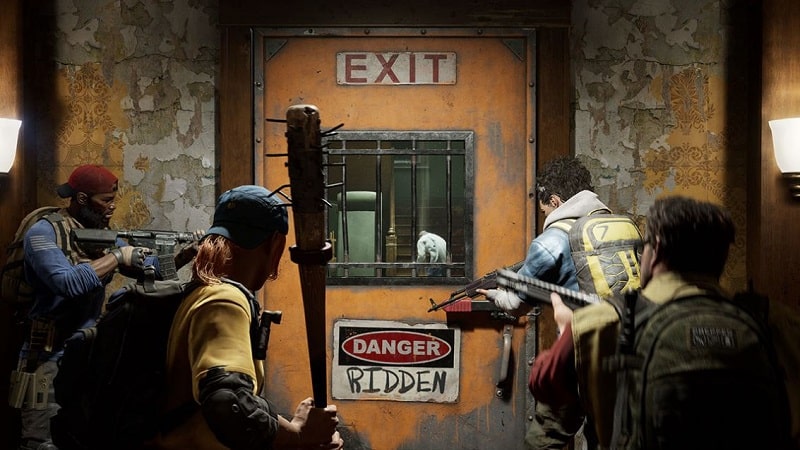 Throw in some stunning visuals, oodles of gooey horror and a clever card loadout system and it becomes clear that Back 4 Blood would make for a cracking time of shooting up zombies over the holiday period.
6. Battlefield 2042
---
Stepping away from the dusty battlegrounds of WW1 and WW2 respectively, Battlefield 2042 brings EA's marquee FPS franchise screaming into the near future. While 128 player encounters across massive maps with dynamic weather and destruction are certainly impressive to say the least, Battlefield 2042 really excels with its Battlefield Portal mode which allows players endless freedom to customise the action, pitting units and vehicles against each other from different time periods.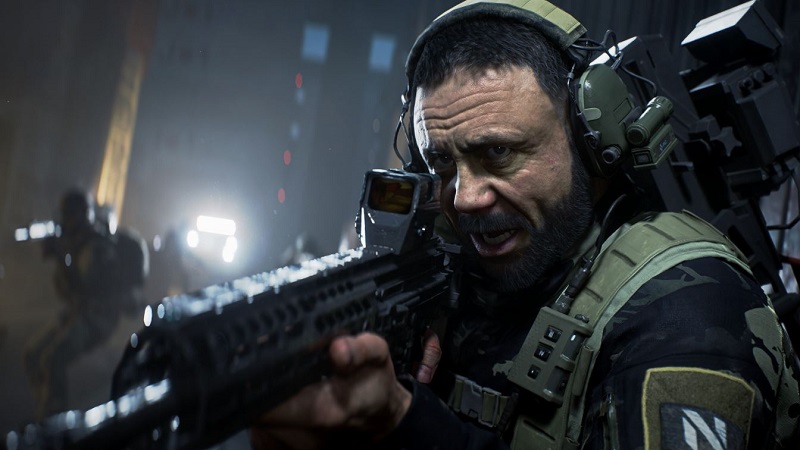 Want to see how well a WW2 Russian sniper fares against a contemporary specialist? Well, you can have at it. Battlefield 2042 is the deepest and most sprawling Battlefield game to date.
7. Call of Duty: Black Ops Cold War
---
Activision's latest entry in its long-running Call of Duty franchise also happens to be one of its best. Boasting a series best single-player campaign that whisks players back to the titular cold war of the 1980s, the return of Zombies and a series of interconnected multiplayer modes, Call of Duty: Black Ops Cold War is also the most featured stuffed instalment in the series to date too.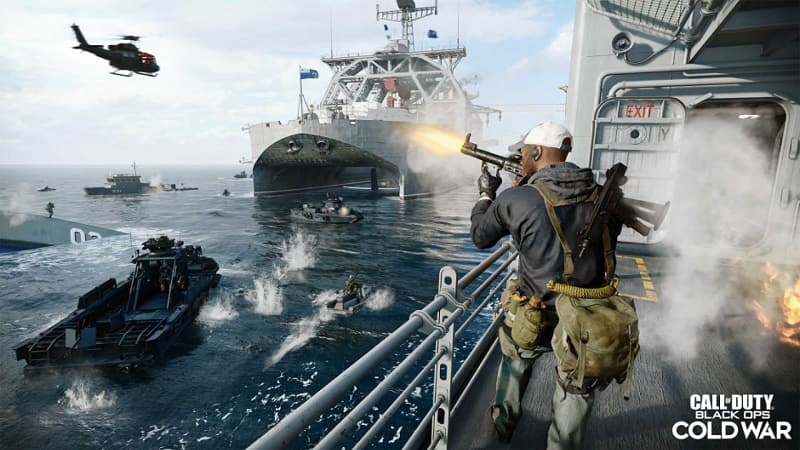 On PlayStation 5, Call of Duty: Black Ops Cold War absolutely sings too. This thanks in no small part to support for 120 FPS, ray-tracing at 4K resolution and full use of haptic feedback on the DualSense controller to make you feel the resistance and expulsion of every shot fired. As of right now, Call of Duty: Black Ops Cold War is the best PS5 FPS money can buy.
Further Reading:
8. Borderlands 3
---
It's fitting that one of the best looter shooters of the last generation of consoles, is also one of the best shooters on PlayStation 5 too. Bringing the action RPG/FPS formula of Gearbox Software's Borderlands franchise bang up to date, Borderlands 3 has players tearing across a wide range of alien worlds laying waste to bad dudes, scooping up their loot and cracking wise along the way.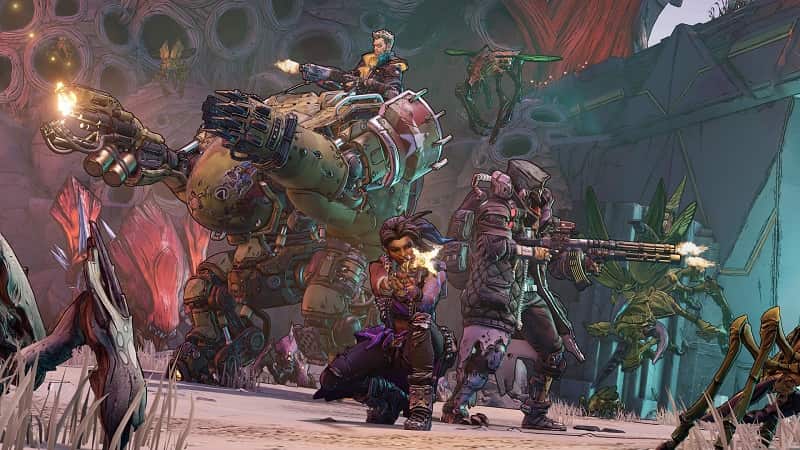 Being on PlayStation 5, Borderlands 3 benefits greatly from the leap to Sony's current generation console. If the embrace of 120 FPS visuals and DualSense haptic feedback weren't enough, Borderlands 3 also fully supports four player local co-op on PlayStation 5 as well. Simply put, if you want a rib-ejecting, looter shooter to play with your friends which will last hundreds of hours, you can't really go wrong with Borderlands 3 on PS5.
9. Destiny 2
---
Bungie's action RPG shooter hybrid Destiny 2 has gone from strength to strength since its launch in 2017. Deftly melding shooter RPG gameplay and mechanics with a deep, galaxy spanning narrative, Destiny 2 remains as essential now for shooter fans as it ever has.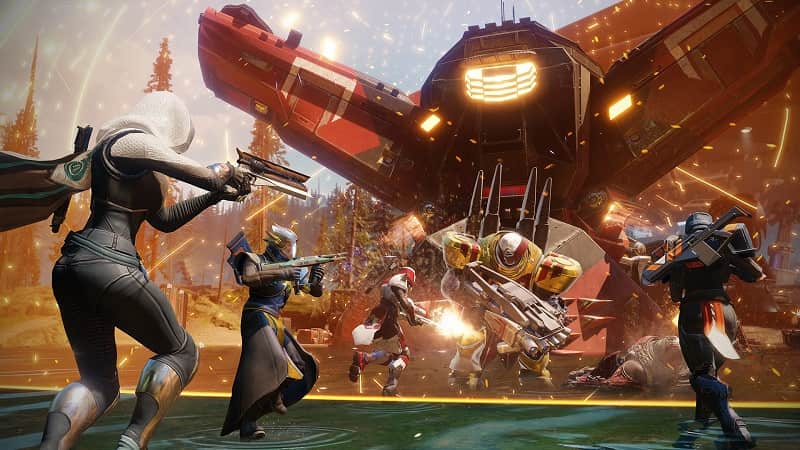 Freshly emboldened by greatly improved visuals and Destiny 2's new free to play options, Destiny 2 on PS5 remains a commendably great shooter for Sony's latest lump of gaming silicon.
10. Rainbow Six Siege
---
Arguably one of the most popular online shooters of the last console generation, Rainbow Six Siege storms onto Sony's PlayStation 5 console in fine, definitive form.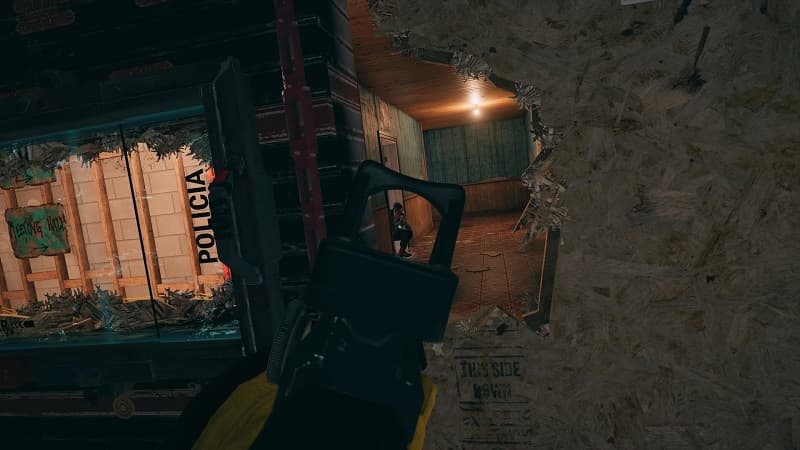 Still unparalleled as a tactical shooter, Rainbow Six Siege is an ocean deep squad based FPS where players must work together with one another to defeat the opposite team. Encompassing everything from wall and door breaches, to setting traps, using decoys and embracing different class and role types, Rainbow Six Siege is one of the most tense and thoughtful shooters you can get on PS5.
11. Severed Steel
---
Essentially the acid tripped progeny of Superhot, Red Faction and Max Payne, I can promise you that you'll struggle mightily to find another shooter that makes you feel like more of a badass than Severed Steel.
Quite simply Severed Steel is one of the most downright entertaining shooters to come out this year. Sure it doesn't boast the most comprehensive offering from a content perspective and genre fiends looking for a token narrative to go with their serving of face-gunning may well be disappointed, but Severed Steel bends and in some cases breaks the traditionally rigid rules of the FPS genre to often giddy effect. The end result is the sort of gloriously freewheeling, acrobatic first-person shooting extravaganza which aims to demonstrate that innovation in the genre doesn't have to just begin and end at the the gun clasped tightly in your hands.
There aren't many PS5 FPS games available right now, but stay tuned as we add more and more to this feature.