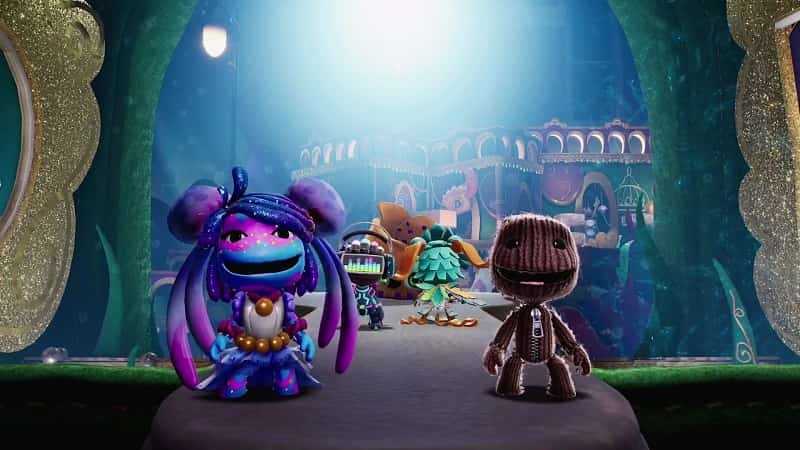 Just what are the best PS5 split screen and local co-op games? Playing games with a friend sat right next to you is always preferable to online in our opinion. You have the snacks, the drinks and the banter which separate it from the online multiplayer experience. Split screen and local co-op games are generally much more of a social and ultimately enjoyable experience and on PlayStation 5 there are already a load of games that fit the bill. So check out our constantly updated guide covering the best PS5 split screen and local co-op games ranked. For further reading, you can check out our guide on the best PS5 fighting games. Elsewhere, we have guides on the best PS5 racing games and best PS5 FPS games too. You can also catch up with our guide on the best free PS5 games available too. Finally, you can check out our feature which covers the best split screen games on PS4.
Best PS5 Split Screen, Local Co-Op Games Ranked
---
Best PS5 Split Screen, Local Co-Op Games Ranked
1. It Takes Two
---
From the same developers that conjured up the great Brothers: A Tale Of Two Sons and much more recent (but no less brilliant) co-op effort A Way Out, It Takes Two is easily one of the best split screen games you can buy right now on any system.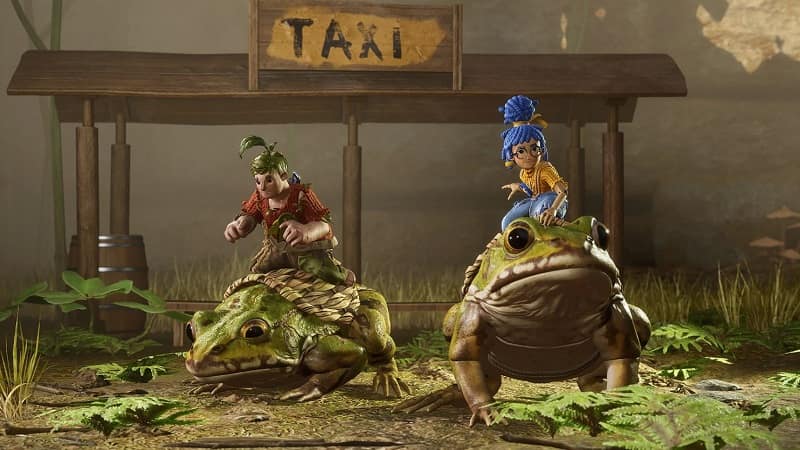 With each player cast as a squabbling parent that has been transformed into a diminutive child's doll, It Takes Two riffs on Honey I Shrunk The Kids as it presents players with a series of unique and deeply fun challenges that have you facing off with a band of rebellious squirrels, a deeply sarcastic book that's trying to help (but really isn't) and much more besides. The absolute embodiment of great split-screen gaming, It Takes Two is simply sublime.
2. Tiny Tina's Wonderlands
---
Tiny Tina's Wonderlands takes the looter shooter shenanigans of the Borderlands series to the next level, thanks in no small part to its heavy leaning on tabletop gaming tropes and a hefty, anvil-sized amount of whimsy and snarky humour.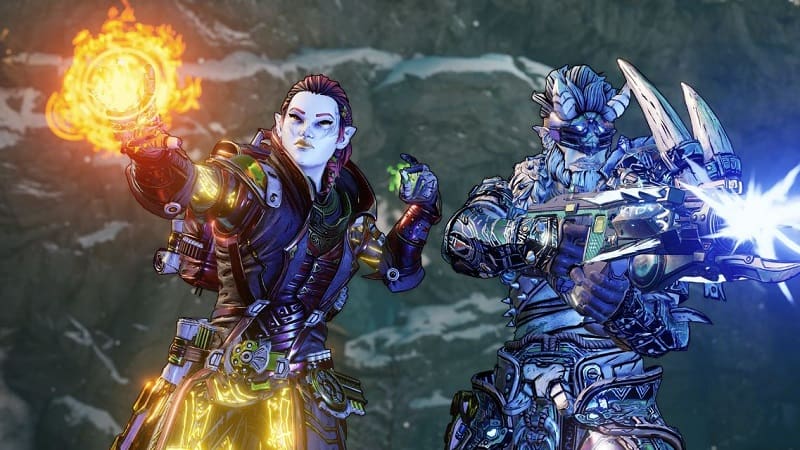 By embracing tabletop gaming (and a fantasy setting in particular), Tiny Tina's Wonderlands lets players not only slay all manner of evil goblins, trolls and dragons, but also choose from multiple blended class disciplines to boot as well. Throw in enough quests to refloat the Titanic and enough new weapons to tilt the Earth of its axis and you've pretty much got your next must have split-screen PS5 title in Tiny Tina's Wonderlands.
3. Borderlands 3
---
There's nothing quite like tearing across Pandora with a buddy, shooting and looting everything in sight as you wolf down snacks and bellow at the top of your lungs when a rare weapon finally drops.
More than that though, Borderlands 3 is simply a massive shooter with tremendous depth. Encompassing hundreds of hours of play, sophisticated progression systems and literally billions of weapons and gear, Borderlands 3 is quite simply the PS5 split screen experience you can have right now. Oh and the greatly improved visuals don't hurt either.
Further Reading:
4. Teenage Mutant Ninja Turtles: Shredder's Revenge
---
The appeal of Teenage Mutant Ninja Turtles: Shredder's Revenge is rooted far in the past, where young folks in the late 80s and early 90s would queue up to pump coins into side scrolling brawler games such as Final Fight and most particularly, Teenage Mutant Ninja Turtles: The Arcade Game.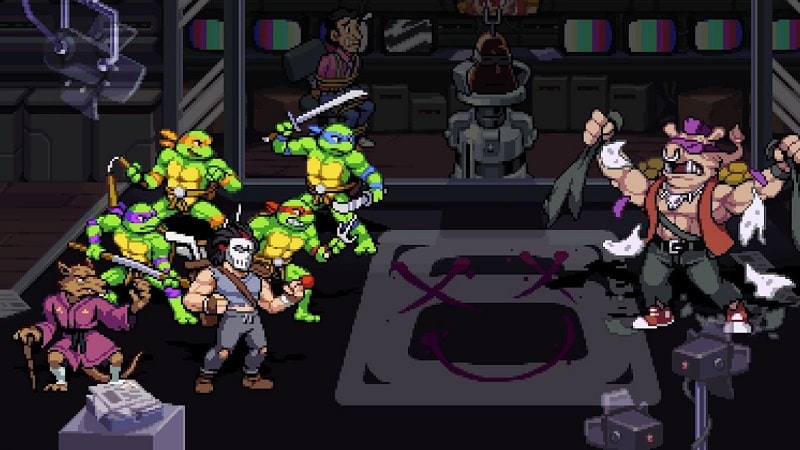 A modern day riff on that aforementioned Konami classic, Teenage Mutant Ninja Turtles: Shredder's Revenge takes that classic concept and brings it kicking and screaming onto PS5 with stunning retro visuals that do justice to the arcade originals, six player(!) co-op and enough charm and bone-breaking action to keep even the most fervent of side-scrolling fans happy. Honestly, there are few things better than hooking up a pair of controllers, grabbing a friend and just tearing through legions of Foot Soldier goons as Leonardo and Raphael.
5. Overcooked! All You Can Eat
---
As a team of chefs that must cut up vegetables, prepare meals and wash dishes against the backdrop of rocking ships and exploding volcanos, the Overcooked! games remain some of the best local multiplayer games you can buy today. There's nothing quite like watching a kitchen run just to schedule as everyone acts like a well-oiled machine, cooking meals and cleaning dishes. Of course, when it all goes the other way (as it so often does), that can be fun too.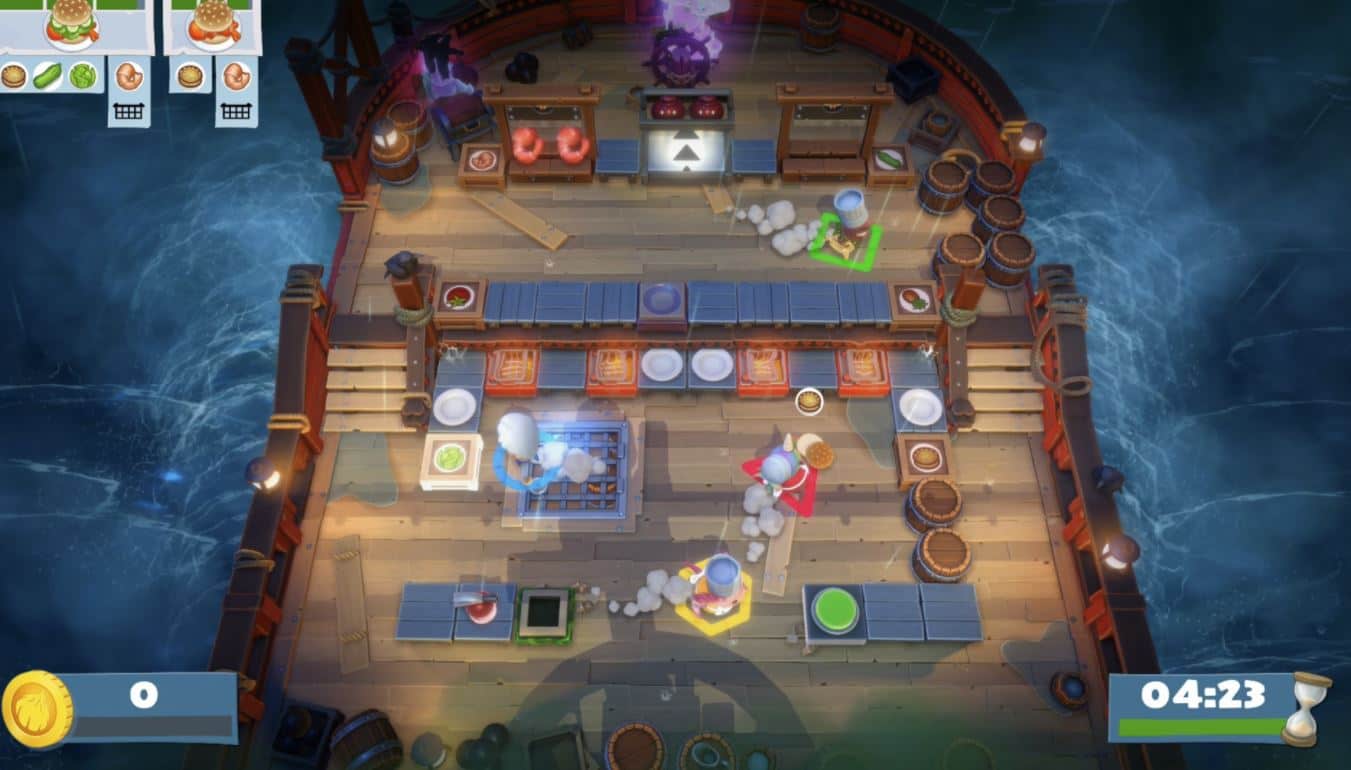 A frankly monstrous offering that includes both Overcooked! games and all the DLC, Overcooked! All You Can Eat is a superb PS5 split-screen game that everybody should play.
6. SackBoy: A Big Adventure
---
LittleBigPlanet's adorable mascot got his own platforming spinoff for PS5 and PS4, and it's bloody fantastic. SackBoy: A Big Adventure works fantastic as a single-player game if you fancy going it alone, but it really shines when it comes to its local multiplayer elements.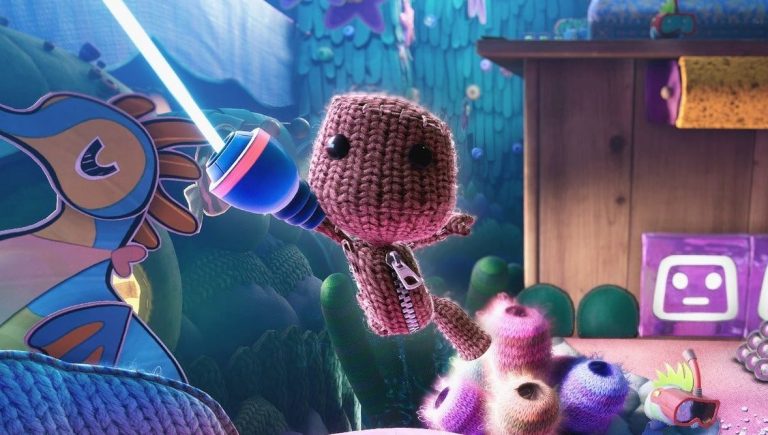 There's two versions of cooperative play available in the game, the first being the regular campaign levels where other players can jump in for some fun. However, if you want to take SackBoy: A Big Adventure to the next level in terms of multiplayer shenanigans, then there's also special missions that can only be played in co-op. They're unique, and more importantly, require the use of multiple SackBoys to conquer!
7. Dirt 5
---
A thunderous rally racer, Dirt 5 doesn't just look great, it also plays great too. Making things even better is that Dirt 5 doesn't just support split screen, it actually supports split screen for up to four players on PlayStation 5.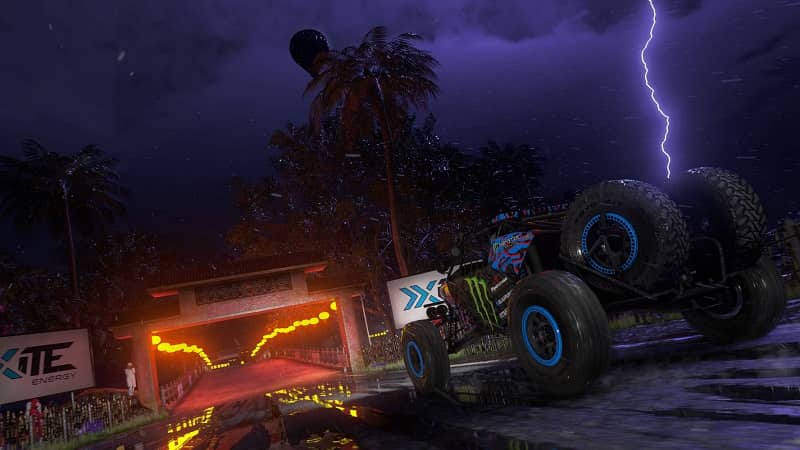 Even better still, players can choose to race against each other in one of Dirt 5's many competitive multiplayer modes, or elect to tackle Dirt 5's bombastic career mode. If you're looking for a great split screen racer on PS5, you need not look any further than Codemasters Dirt 5.
Further Reading:
8. Fortnite
---
One of the most popular games of all time, Fortnite can also be enjoyed in split screen on PlayStation 5. While you cannot split-screen in Solo mode (that would be cheating) or the creative and limited time modes, Fortnite on PS5 does let you wreak havoc with a friend in Duos and Squad modes.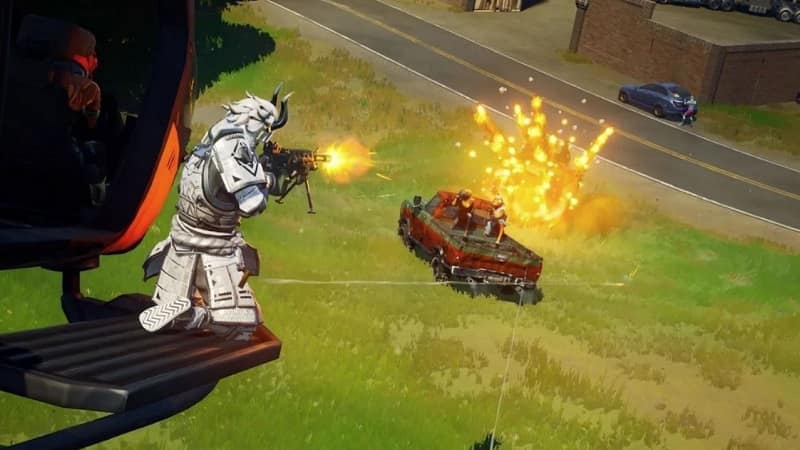 And guess what? Fortnite in split-screen is an absolute hoot when played with a friend. A big part of this is the experience itself too. Bolstered by the massive additional horsepower wielded by PlayStation 5, Fortnite not only looks great in split screen but it also runs brilliantly too. A split-screen experience that everyone in the family can enjoy.
9. WWE 2K22
---
In perhaps the most surprising wrestling return since Stone Cold Steve Austin returned to face Kevin Owens at WrestleMania 38, WWE 2K22 actually turned out to be not just good, but also one of the best WWE 2K titles of the last decade by a country mile.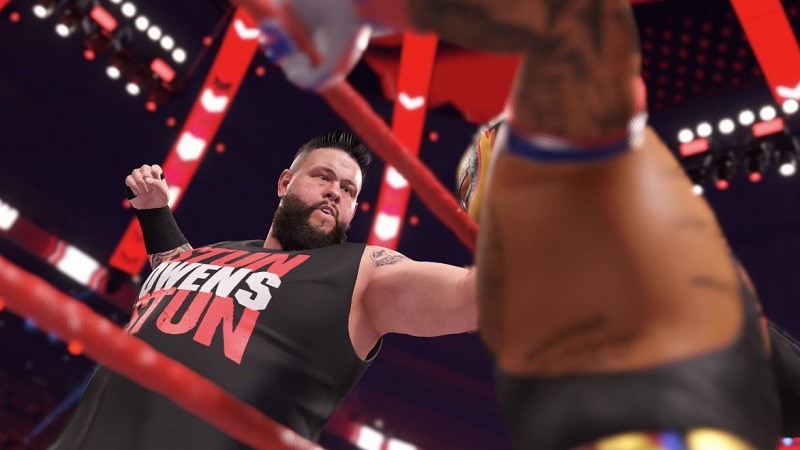 Emboldened by an all-new engine, refreshed roster, tightened up control system and the sort of polish that the most recent games have largely lacked, WWE 2K22 is finally a superb wrestling game that you can play locally with your friends, boasting all manner modes, matches and enough user created content to last you until 2087. Or something.
10. GigaBash
---
A resoundingly silly yet entertaining local multiplayer effort, GigaBash has players taking the reins of a multitude of different giant monsters and literally beating the stuffing out of each other while horrific collateral damage is inflicted on the city and urban areas that surround them.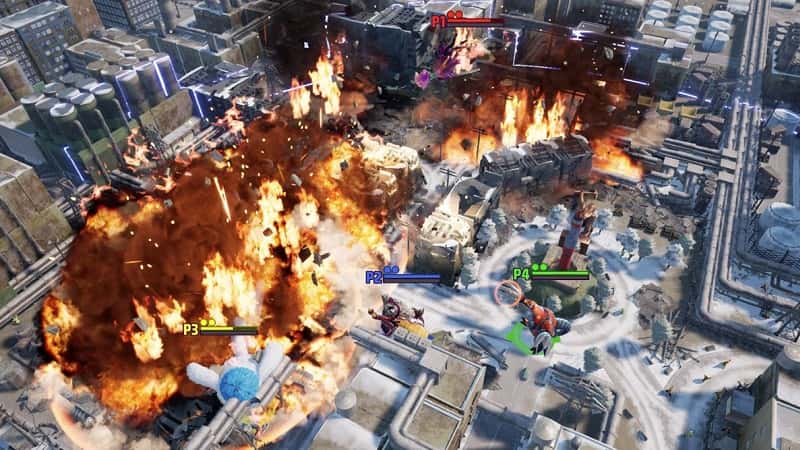 Easy to pick up and play, GigaBash's ten strong roster of different monsters combined with a deceptively deep combo system, all mean that there is a whole lotta life in this highly entertaining monster masher.
11. KeyWe
---
Don't let the super cute veneer of KeyWe fool you, for under its whimsical aesthetic lay a fiendishly compelling and challenging local multiplayer title that will keep you and your friends playing through into the early hours.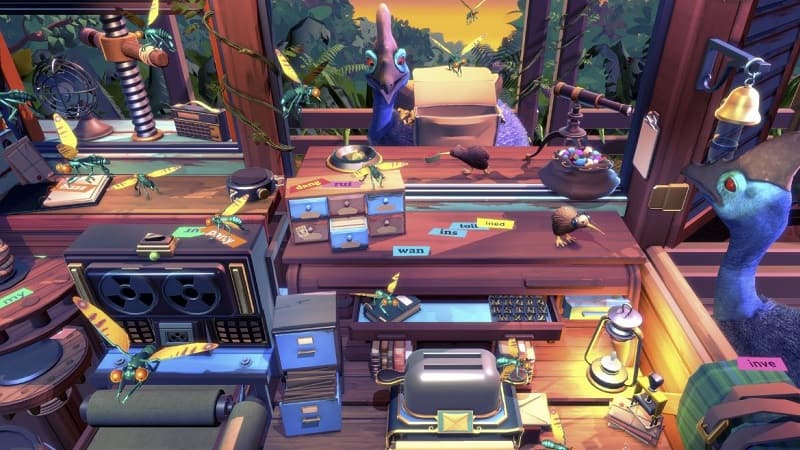 Putting players in the (very tiny) shoes of Debra and Jeff, a pair of diminutive kiwi birds that are working in a bizarre post office, KeyWe tasks two brave players with pecking, jumping, flapping and slamming their way through different levels as they attempt to get precious messages and mail delivered on time. A smart co-op puzzler with a sizable dollop of cuteness and cleverness in equal measure, KeyWe is absolutely worth your time.
12. Lego Star Wars: The Skywalker Saga
---
You can certainly count on the Lego games being great local co-op games and Lego Star Wars: The Skywalker Saga is no exception. A frankly mammoth offering which encompasses Star Wars episodes one through nine and with content from many of the 'side' movies and TV shows such as Rogue One, Obi Wan and The Mandalorian, Lego Star Wars: The Skywalker Saga is as comprehensive as it gets for fans of Star Wars and Lego.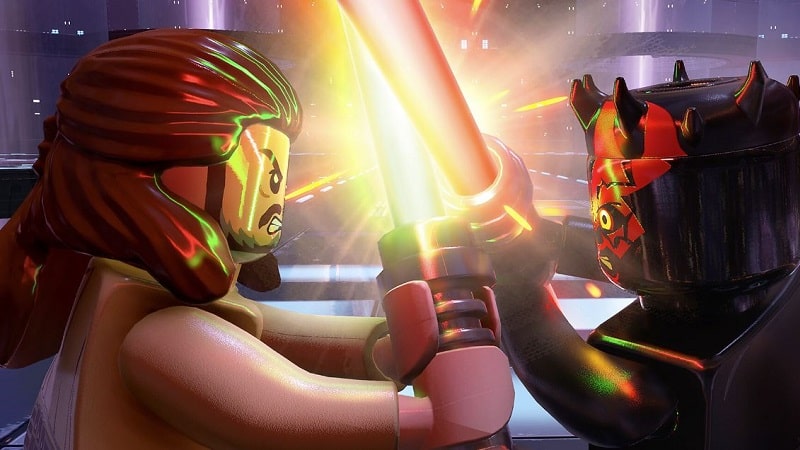 In practice, Lego Star Wars: The Skywalker Saga is also much more varied than its predecessors too, thanks to the inclusion of a number of third-person shooting, racing and flying levels (all of which can be tackled in drop-in and drop-out coop). Put simply, if you're after a local co-operative game that will last you absolutely ages, Lego Star Wars: The Skywalker Saga has your back and then some.
13. The Dark Pictures Anthology – House Of Ashes
---
The third entry in the roundly popular survival horror series known as The Dark Pictures Anthology, House of Ashes whisks players off to mid 2000s Iraq where warring American and Iraqi factions stumble upon the long buried tomb of a revered entity, before running foul of the monster that lay inside.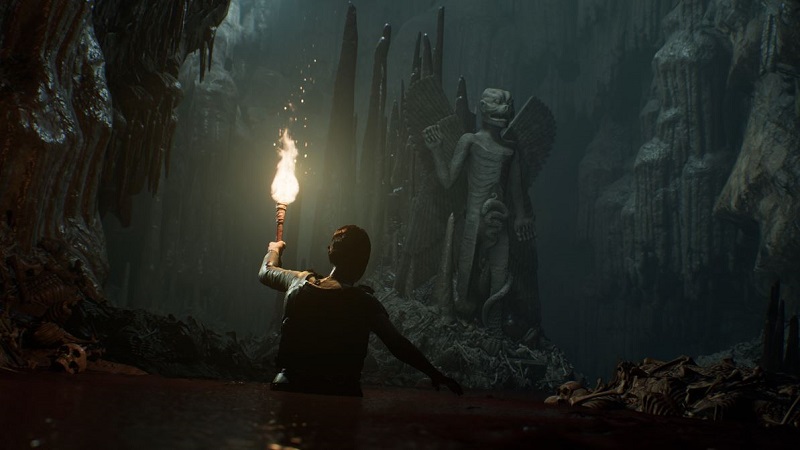 Much like the other entries in The Dark Pictures Anthology, House of Ashes is all about sniffing around the environment for clues, completing quick time events which require you to press a series of buttons at the correct time and most importantly, discover one of a multitude of different endings depending on the decisions that you and your friends have made with House of Ashes pass-the-pad local coop play.
14. The Dark Pictures Anthology – The Devil In Me
---
The latest title in The Dark Pictures Anthology franchise, The Devil In Me follows in the footsteps of the previous games, allowing players to direct and control the fates of multiple characters with a view to attempt to save as many of them from the jaws of death as possible.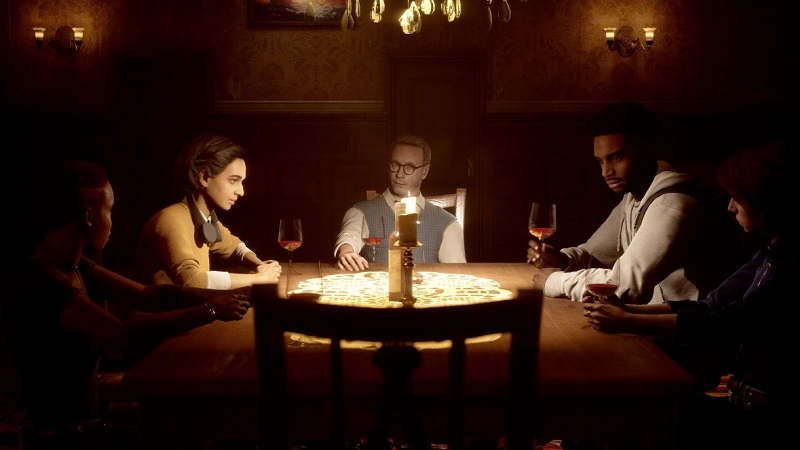 Taking place in a modern-day replica of serial killer H.H. Holmes 'Murder Castle', The Devil In Me puts players in control of a bunch of documentary filmmakers that feel themselves being pursued and stalked throughout the halls of the haunted residence. Though The Devil In Me isn't quite as accomplished as some of the previous entries in The Dark Pictures Anthology, thirsty horror hounds looking for their next fix of local co-op shenanigans will still find much to love here.
15. Call of Duty: Black Ops Cold War
---
Call of Duty: Black Ops Cold War continues the series proud tradition of bringing split screen gaming to the fore. Here, players can take on the wondrously cheesy 80's themed Zombies mode in cooperative split screen on PS5, or they can engage with Black Ops traditional Call of Duty multiplayer.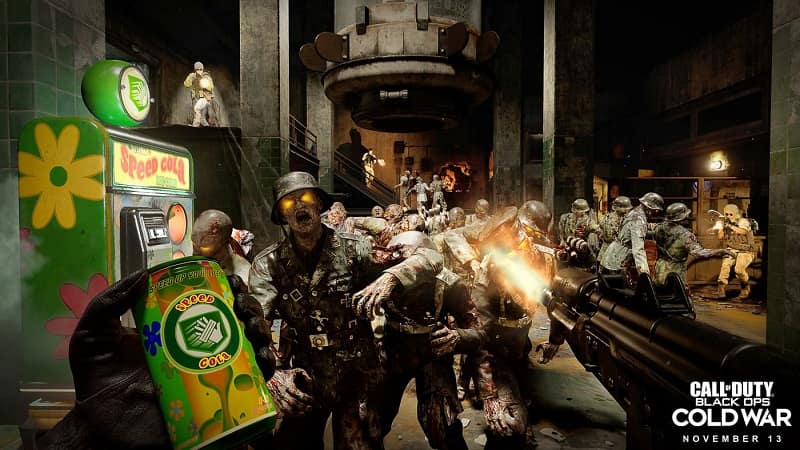 Where the traditional Call of Duty multiplayer side of things is concerned, players can choose from any of the modes that are on offer. However, if the game modes are taken online, each player will need to have an active PlayStation Plus subscription. Regardless, Call of Duty: Black Ops Cold War is a whole heap of fun when played split screen on PlayStation 5.
https://youtu.be/I5F963gHzUM