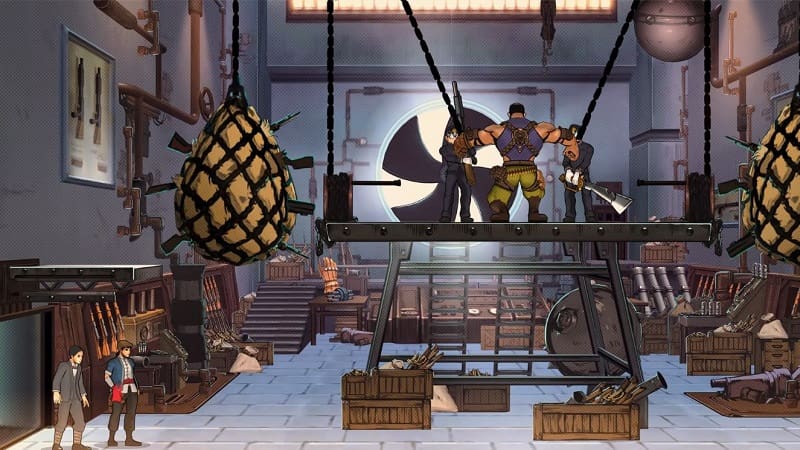 The Legend of Tianding PS5 review. Though Metroidvania efforts have seemingly been ten a penny since the great console indie revolution of the late 2000s and beyond, it's fair to say that only a chosen few have truly nailed the formula while also meaningfully iterating upon it in their own way. The latest entry in the genre, The Legend of Tianding puts its best foot forward as it not only echoes the mechanics of a genre great in Drinkbox Studios superb Guacamelee!, but it also brings players a completely fresh setting that just hasn't been done before.
The Legend of Tianding PS5 Review
---
A Solidly Constructed Metroidvania That Draws Inspiration From Guacamelee!
The Legend of Tianding is loosely based on the life and times of Liao Tianding, a Taiwanese Robin Hood styled figure that did everything he could to foil the Japanese rule of Taiwan at the turn of the nineteenth century. The Legend of Tianding (itself actually a remake of a web browser game that released all the way back in 2004), takes this story and runs wild with it, as the story of its heroic characters and dastardly colonial villains all unfold against a delectable comic book veneer and a super clean looking game world.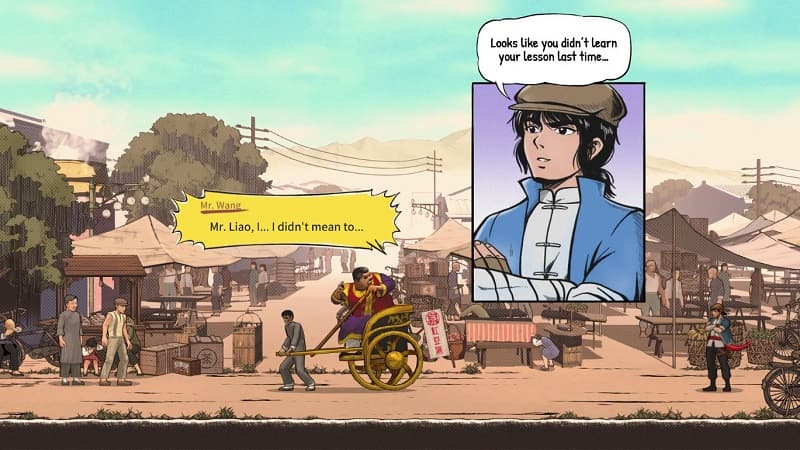 Casting players as the titular Taiwanese folk hero, The Legend of Tianding is a side-scrolling platforming action adventure where the action takes place against a two dimensional perspective, allowing the player to leap, roll and fight their way through its story about a grass roots uprising to an entrenched colonial power. Though the Robin Hood style comparisons and the fairly flat characters don't do a whole lot for The Legend of Tianding from a storytelling perspective, the super polished comic book style cutscenes coupled with what is a highly unique setting, all contribute to make The Legend of Tianding feel degrees fresher than its genre peers – at least from setting perspective anyway.
Once we get into how The Legend of Tianding plays, we begin to venture into more familiar territory, as the game certainly wears its Guacamelee! influences proudly on its digital sleeve. For a start, our hero Liao Tianding isn't just capable of smashing up enemies with his deadly martial art skills (kung-fu it seems, its an appropriate analogue to lucha-libre when it comes to comparisons with Drinkbox Studios opus), but he can also wrap them up in his sash and aim in a particular direction to throw them, allowing players to send enemies hurtling onto spikes, drown them in acid baths and more besides (though there's no real gore in the game, it must be said).
Further Reading – Best PS5 Indie Games Ranked In 2023 – 32 Of The Best PS5 Indie Games
In addition to such skull-smashing moves, our plucky folk-hero also boasts a handy evasion move that lets him roll through spike traps and tumble through toxic waterfalls without taking any damage. Much like Guacamelee! The Legend of Tiandiang wastes no time in crafting a series of increasingly more challenging obstacle courses that require split-second reactions and a comprehensive mastery of this evasion mechanic. Again, it's not exactly fresh stuff, but it's executed well here and dovetails nicely into the martial prowess possessed by our fistic protagonist (especially if you're lucky enough to own a 120 FPS capable display).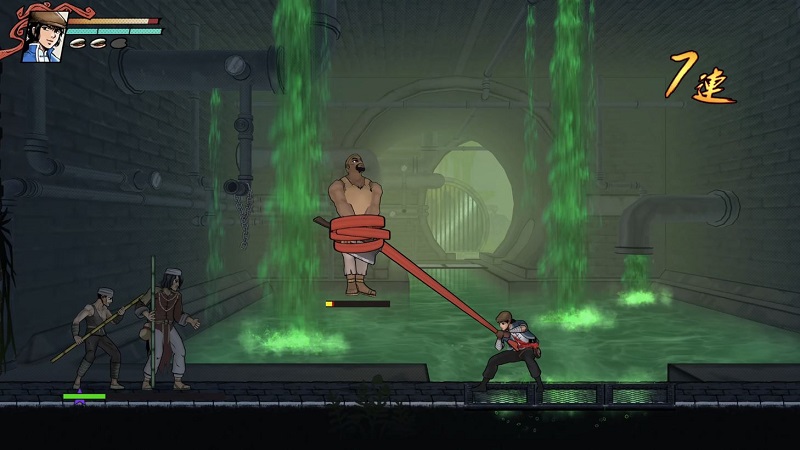 Beyond such obvious similarities to the Guacamelee! games, The Legend of Tianding does a roundly good job of nailing its face-smacking, platforming genre fundamentals too. Combat is equal parts acrobatic and snappily responsive, as players can manipulate Liao to dish out a banquet of thudding, combo based violence and use special moves to blast enemies across the screen and/or into whatever hazards that are littered about the place. Additionally, Liao's red sash can be used to spirit away that weapons of his enemies, allowing him turn them back on their former wielders for a finite number of highly damaging attacks (which can be upgraded by collecting treasure hidden throughout the game and bought from beggars on the street).
A keen test of The Legend of Tianding's enjoyable combat are the boss encounters. Exceptionally well crafted confrontations that do a great job of challenging the player to put to use everything they have learned up to that point, the boss encounters of The Legend of Tianding are roundly enjoyable and often epic encounters that rarely fail to satisfy. In particular, the final boss battle is a sight to behold and represents one of the best encounters I've played in any game for quite some time.
Further Reading – New PS5, PS4 Games Release Dates In 2023 And Beyond – All Upcoming PS5, PS4, PSVR2 Games
It's satisfying stuff for sure that's neatly augmented by the various martial texts that you'll discover dotted throughout the game, as they not only grant Liao a range of devastating special moves, but also the means to access previously inaccessible areas of the map to pick up treasures and loot that would have otherwise been missed. It's Metroidvania 101 and, much like the similarly well executed combat, it still feels satisfying to indulge in even though it's not really doing anything groundbreaking or especially new.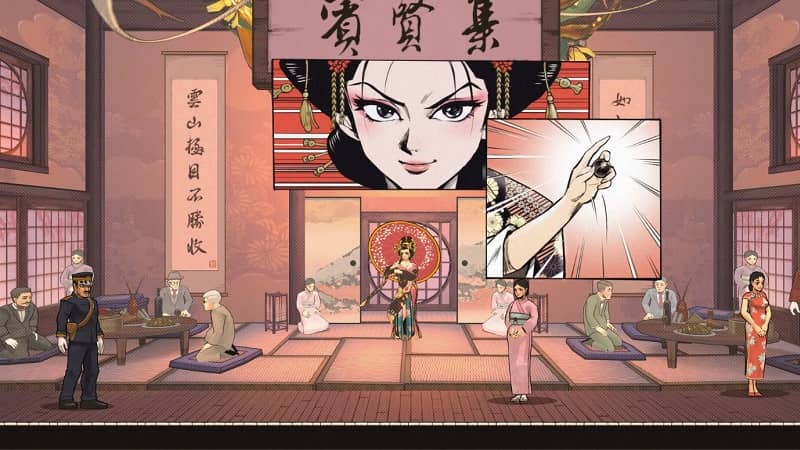 The Legend of Tianding then is a satisfying and handsomely constructed Metroidvania, albeit one that trades heavily on its ties to Taiwanese culture and history, with the various upgrades that you collect not only providing extra damage and coin drops from fallen enemies, but also providing various factoids on the setting of the time. It's clearly a labour of love, but it isn't without its flaws.
Much like Guacamelee! The Legend of Tianding lets players dash about hub area towns, cities and harbours. The problem is, these environments are quite sterile from a design perspective, offering just the odd rooftop to scale for some loot, rather than much more complex and satisfying building interiors of the Guacamelee! games, which were often as entertaining as the main levels themselves. Furthermore, the various NPCs that loiter around the streets are hardly worth speaking to either, as they often spout out recycled lines of dialogue that chips away at the believability of the world at hand.
Further Reading – Upcoming PS5 Games – The Most Anticipated PS5 Games Coming Soon In 2023
Another dent in The Legend of Tianding's armour is the length of the game. Topping out at just over five hours, with a little more added onto that figure if you're a completist that replays earlier levels to scoop up missing treasures, it's fair to say that The Legend of Tianding could have been more of substantive chunk of Metroidvania goodness than it currently is.
The Legend of Tianding is a highly enjoyable take on the Metroidvania genre that augments its smooth and satisfying action platforming beats with an uniquely historical setting that at once feels both refreshing and genuinely interesting. Though The Legend of Tianding could certainly do with a better hub area, a longer duration and maybe some more homegrown innovations, it nonetheless represents enticing morsel of polished and entertaining Metroidvania goodness that dependably enthrals for as long as it lasts.
The Legend of Tianding is out now on PS4 and PS5.
Review code kindly provided by PR.