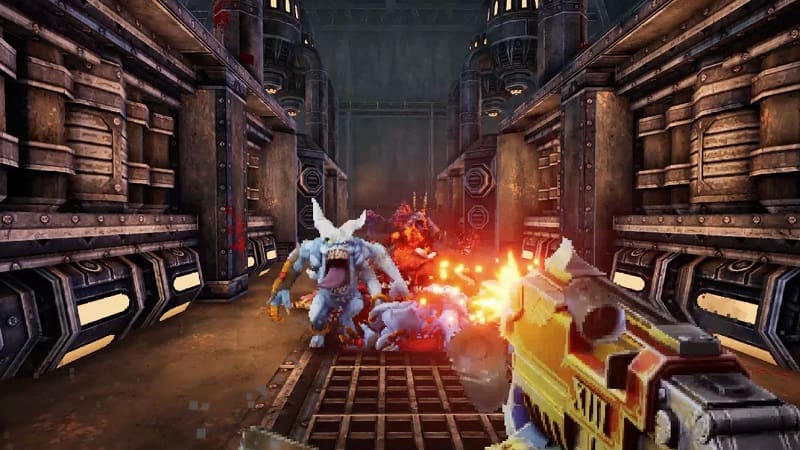 Warhammer 40,000: Boltgun PS5 Review. With Warhammer 40,000: Boltgun developer Auroch Digital has managed a most difficult feat in not only delivering one of the best Warhammer 40,000 titles in a good while, but also one of the best boomer shooters we've seen in ages too. A first-person, single-player only shooter set within the grim confines of Games Workshop's dark sci-fi Warhammer 40,000 universe, Boltgun actually turns out to be something unexpected – a sequel to 2011's Space Marine (and not to be confused with the next lineal entry in that franchise, the forthcoming Space Marine II).
Warhammer 40,000: Boltgun PS5 Review
---
One Of The Best Boomer Shooters Money Can Buy
Putting players in the blue stompy murder-boots of Malum Caedo, a resolute Ultramarine sent to, in his words, "finish the work Captain Titus started" in the original Space Marine title, Warhammer 40,000: Boltgun wastes no time in getting started with its gun-roaring, blood-splattered retro shooter spectacle. Y'know, as it should be.
Though the term 'boomer shooter' covers a broad swathe of classic blasters throughout the 1990s, it's also worth remembering that the genre went through fits of furious evolution during that same period of time. For example, Quake with its full 3D, polygonal worlds and foes represented an almost quantum leap over the largely sprite-based DOOM in terms of technology and game mechanics – despite only being released three years apart. Warhammer 40,000: Boltgun falls almost squarely between the two, embracing the sprite-based enemies of fare like DOOM and Duke Nukem 3D but combining it with the fully realised three dimensional slaughter realms envisioned by Quake.
Should you find yourself not initiated in either the sprawling lore of the Warhammer 40,000 universe or even just unaware of the events depicted in 2011's Space Marine it matters not, Boltgun can be played and certainly enjoyed without any prior knowledge of either. Quite simply, you're an Ultramarine sent to rid the cosmos of 'Heretics', a handy catch-all descriptor which includes everything from gun-toting cultists all the way through to Nurglings, Plague Toads, Chaos Space Marines, Chaos Terminators and everything in-between.
Further Reading – New PS5, PS4 Games Release Dates In 2023 And Beyond – All Upcoming PS5, PS4, PSVR2 Games
Structurally, Boltgun plays similarly to its classical inspirations. Each map is a non-linear affair in which a myriad of enemies must be blasted into bits, health and armour pickups can be scooped up, coloured keys must be collected to gain access to previously inaccessible areas, secrets can be discovered and sizable, health-sapping bosses must be overcome. It is unapologetically the stuff of 1990s, yet developer Auroch Digital has augmented its retro design DNA in a number of clever and satisfying ways to make Boltgun stand shoulder to shoulder with some of the best in the genre.
Every first-person shooter, regardless of its era, should be judged on the simplest and most straightforward of criteria – how do the guns feel and sound? Is it satisfying to lay waste to your enemies? Are the enemies varied? Are the maps designed intuitively to make you want to both explore them and utilise elements of their design during combat? In answer to all of these questions, Boltgun gives a sterling account of itself.
For a start, Boltgun does a great job of really making you feel like you're an absolute unit of an Ultramarine. There's a palpable sense of weight as you nosily stomp about the place and turning, while still super responsive, feels appropriately deliberate and considered. Elsewhere, falling on enemies from a great height causes them to explode into a shower of messy chunks (more on that in a bit), while each and every stomp and double-footed leap keenly reverberates through the DualSense controller courtesy of the haptic feedback technology duly earning its keep.
Further Reading – Upcoming PS5 Games – The Most Anticipated PS5 Games Coming Soon In 2023
Despite the fact that you're seemingly locked into a hulking suit with heft to spare, Boltgun prescribes a surprising amount of acrobatic freedom. In addition to a chunky and very long range leap, you can also close long distances by performing a burst charge into enemies while a handy mantle ability allows you to clamber onto both near and faraway surfaces. Brilliantly, many of the maps are built around this sort of agility with a range of different surfaces at different levels, encouraging players to be far more creatively spry than the seemingly clunky gait of the Ultramarine might initially suggest.
When you kick off Boltgun's campaign, you begin with the Chainsword, a potent chainsaw/sword hybrid (the clue is in the name, I guess) that can be revved up and subsequently used to saw your enemies into thick chunks of crimson jelly in short order. Of course it isn't long before you get your hands on some ranged weapons and, somewhat predictably, the first of these is the titular Boltgun itself. A hugely satisfying firearm, that Boltgun proves effective at all ranges, capable of wreaking havoc on enemies both close and at a remove, each and every shot rattles through the DualSense controller and does a great job of making you feel like you're wielding a weapon of considerable heft, power and impact.
Beyond the not-so humble Boltgun, the availability of other weapons is appreciably large. From the wide spread and violent stopping power of the Shotgun, through to the heavy, on-going thrum of the Heavy Bolter, to the enemy displacing Grav Gun, a searing Plasma Cannon and a whole bunch of different grenades to name just a few, Boltgun's arsenal is as sizable and resolutely satisfying as any of its genre stablemates. Happily, I can also report that the application of these various weapons in the grand endeavour of laying waste to your heretical enemies produces some gloriously violent results.
Best PS5 FPS Games Ranked – The Best First Person Shooters On PlayStation 5 In 2023
Violence in Boltgun is quite simply gloriously goopy with chunks of crimson meat splattering on ceilings and slowly sliding down walls. Not only do mangled corpses of your defeated foes remain after death (often creating a veritably persistent field of crimson carnage as a result), but the physics that govern the grim array of giblets and goblets of blood, sinew and organs which manifest after a kill all make Boltgun a supremely violent prospect that even the most ravenous gore hounds wills surely appreciate. Even more subtlety, there's a distinct crunch whenever the rounds from your Boltgun, or indeed any other firearm, make contact with the flesh of your enemies – lending Boltgun a keenly palpable layer of violence that few other first-person shooters are able to match.
Running on Unreal Engine 4, Boltgun is a treat visually to say the least. Not only does it deftly balance the use of sprite-based enemies with 3D flourishes (the whipping tongue of the foul Plague Toads for example is seemingly rendered as a full 3D object) and fully realised worlds, so too is there both ample size and variety in the environments too. Boasting complex architecture that takes in all manner of massive towering statues, destroyed monuments, sprawling keeps and more, Boltgun is a treat for the eyes, certainly. There's also a surprising amount of visual variety on display too, with the typical grimdark gothic stylings of the Warhammer 40,000 universe giving way to sun-bleached deserts, sandstone caves and other different environments in Boltgun's later episodes.
Notably, one somewhat baffling omission comes to light when exploring the width and breadth of Boltgun's levels – there is no in-game map (or at least as far as I could tell after nearly 20 hours of play). Now while you can usually traverse around Boltgun's various levels with ease, in the later episodes where the levels increase in both size and sophistication, a map would prove to be very handy indeed.
Something else that developer Auroch Digital has done to meaningfully separate Boltgun from its classic inspirations is to provide its central protagonist with a personality and words of his own. Unlike DOOMGUY (whose Chuck Norris esque lore arguably was fostered more among fans than it ever was directly from developer id Software's otherwise sterile blueprint of a badass, though mute protagonist), Malum Cadeo, the Ultramarine you play in Boltgun actually has a personality of his own.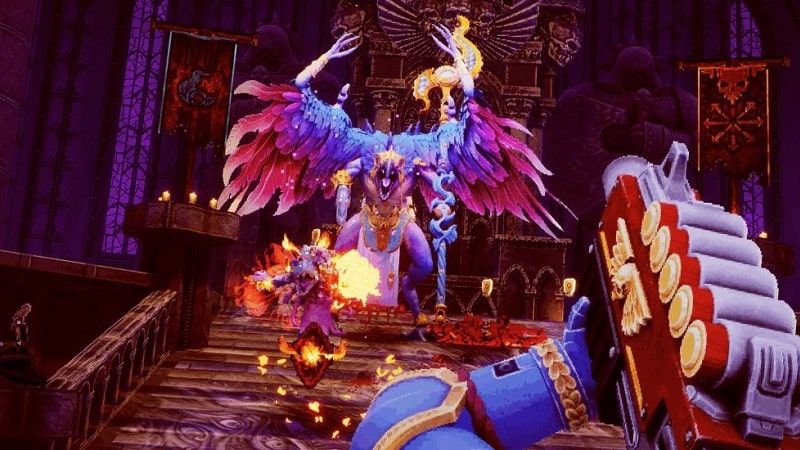 Voiced by fan-favourite actor (and massive Warhammer fan) Rahul Kohli, Malum Cadeo can express his disdain for his enemies simply through a dedicated taunt button which causes him to point at his foes, raise his fist and crack his knuckles depending on what he says. And what he says can be quite an epic mixed bag of proclamations – ranging from such delightfully motivating phrases as 'I purge again!' to 'my sword is hatred' and 'FOR THE GLORY OF ULTRAMAR!', it's fair to say that Kohli goes all in on embodying the furious zeal that one would expect from a rampaging Ultramarine with a fetish for the murder of evildoers.
If anything, the only slightly disappointing thing about it is that Cadeo will only speak if prompted by the player, rather than automatically after doing certain actions like Duke Nukem. Oh and added nice little touch is that if you leave Cadeo idle for a spell, he bring out his holy compendium and flip through the pages up until the player resumes his vocation as a murderous engine.
The best boomer shooter I've played in a long time, Warhammer 40,000: Boltgun is weapons-grade catnip for genre fans and Warhammer 40,000 fans alike. Indeed in retrospect, crafting a retro style FPS in the Warhammer 40,000 universe feels like something we should have had long before now – so perfect is the fit of form and function. In the Warhammer 40,000 universe there is only war. Apparently there are also supremely great shooters too. Warhammer 40,000: Boltgun is a riotously violent and thoroughly entertaining shooter that everybody needs to play.
Warhammer 40,000: Boltgun is out now on PS4 and PS5.
Review code kindly provided by PR.