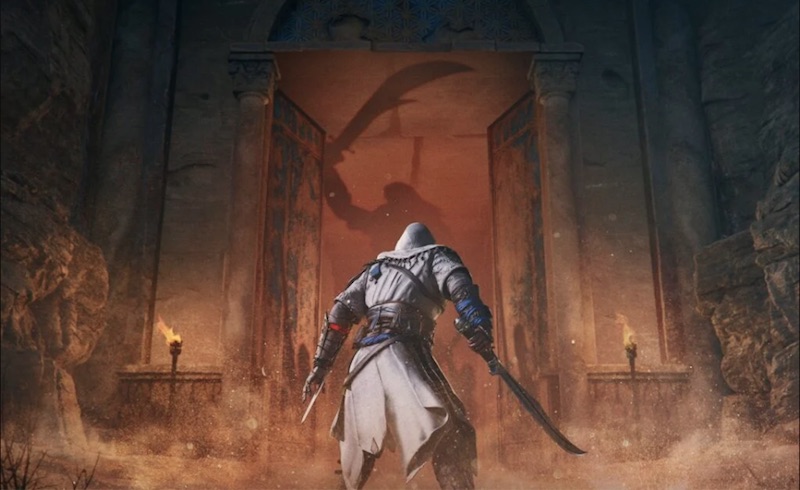 The first reported image of Assassin's Creed Mirage, the rumored next instalment in Ubisoft's stealth-action series that's launching in Spring 2023, has leaked online in the shape of art for The Forty Thieves mission.
The art work features the 'A Ubisoft Original' branding on the top and is taken from the Ubisoft Store. In it, we see what is presumably the main protagonist, Basim, approaching a doorway where the ominous shadow of someone wielding a sword can be seen.
The Forty Thieves is of course a popular tale in Arabic folklore, and is based on the story of Ali Baba and the Forty Thieves. If the image is authentic, then it looks like Ubisoft is looking to adapt it for Mirage.
https://twitter.com/Mr_Rebs_/status/1565271960917000193?ref_src=twsrc%5Etfw%7Ctwcamp%5Etweetembed%7Ctwterm%5E1565271960917000193%7Ctwgr%5Ec3d7aa24e46afc7083ddcaf8966e060e9b62011a%7Ctwcon%5Es1_&ref_url=https%3A%2F%2Fwww.redditmedia.com%2Fmediaembed%2Fx33kfz%3Fresponsive%3Dtrueis_nightmode%3Dfalse
Related Content – Sony PS5 Complete Guide – Everything Explained On PlayStation 5 For New Users
The image follows reports yesterday that Assassin's Creed Mirage (the name or game itself hasn't been announced by Ubisoft yet) will be a 'back to basics' entry in the series that eschews much of the RPG mechanics from the past few games .
In addition, the same leak claimed Ubisoft is working on an Assassin's Creed Remake, which will utilise many assets from Mirage.
Beyond that, Ubisoft is working on the ambitious Assassin's Creed Infinity, which is a live service affair that will feature multiple time periods. Rumors suggests that one of these will be the much-requested Japanese setting, which reportedly forms one of two launch settings for the game.
Ubisoft has confirmed that it will be hosting an event this month to detail the future of Assassin's Creed, which celebrates its 15th anniversary in November.