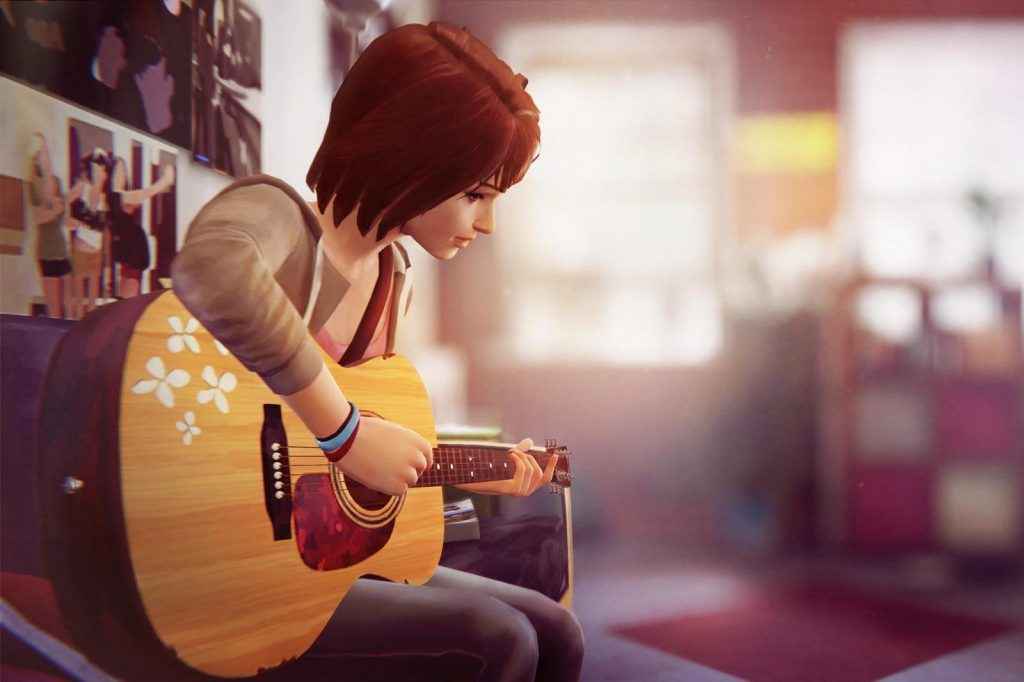 What makes for the best PS4 soundtracks?
Music in video games can be just as effective as any mechanic, script or performance in making you invest in a game's world, story and characters. A well-timed orchestral swell as an epic battle reaches its conclusion acts as the cherry on top. A dreamy piano performance alongside a heartbreaking moment makes you all misty-eyed, and a pulsating synthwave beat makes shooting waves of alien scum all the more exciting.
It's not as easy as just sticking a few Hans Zimmer horns into every important scene though. A great video game soundtrack has to have something distinct to it. Something that encapsulates the onscreen action perfectly. It can be orchestral, synthy, licensed alt-rock or even good-old-fashioned 8-bit chiptune. If it fits the game well, it's off to a winning start.
So we begin selecting the best PS4 soundtracks with five different examples of the medium, which we'll add to over time. Of course, feel free to suggest your own favorites (suggestions preferable over screaming 'why is soundtrack x not in here? #FakeNews instead)
18/5/18: Added Yakuza 0 
We kick off
Best PS4 Soundtracks – Dying Light
Dying Light's early hours are deeply rooted in Romero's zombie film saga with a pitch-perfect atmosphere. A huge part of that is down to the soundtrack that steals the synth-based menace of Day of the Dead and John Carpenter's The Thing. The way it fades and shifts during certain missions and actions complement each tone it tries to portray.
Standout Track: Soldiers
Best PS4 Soundtracks – Persona 5
Persona 5 is all about style where presentation is concerned. The visual flourishes are sumptuous, and the music? Oh, the music is nothing short of sublime!
From jazzy upbeat vocal tracks to wistful, dreamy slow numbers, Persona 5's soundtrack has incredible variety yet also manages to keep it tied together as a cohesive as a whole. There are good soundtracks, and then there are ones with melodies that burrow into your ears and take up residence for months. Persona 5 is definitely the latter.
Standout Tracks: Last Surprise, Beneath the Mask
Best PS4 Soundtracks – Nex Machina
Nex Machina is a pulsating, adrenaline-fueled throwback with influences that include the likes of SMASH TV. So it comes as little surprise that it has a pulsating, adrenaline-fuelling soundtrack to accompany the action. Composer Ari Pulkkinen merges retro game sounds with thumping EDM/synthwave beats time and again for the ultimate modernized arcade shooter.
Few things in life bring such unbridled joy as playing Nex Machina on a 4K TV with a meaty sound system in place. It's a transcendent experience and massively underappreciated as soundtracks go.
Standout Tracks: Let Me Save You, Crystal Mountain
Best PS4 Soundtracks – Life is Strange
From the moment Max Caulfield puts her earbuds in before walking along the corridor of her high school and Syd Matters' 'To All of You' starts up, you get a clear idea of the relationship between DONTNOD's indie time-twisting drama and its music. This is a soundtrack filled with alt-indie music that serves as the perfect accompaniment to so many of Life is Strange's tender, emotional moments.
In particular, the choice of 'Mt. Washington' by Local Natives for the end of episode two really helps deliver the moment it's paired with beatifully. No mean feat considering it's a moment that can go one of two ways.
Standout Tracks: Obstacles, Mt. Washington
Best PS4 Soundtracks – DOOM
Does there need to be an explanation as to why DOOM 2016's soundtrack makes this list? It's a tour de force of raw aggressive metal that sits alongside the fluid, brutal combat of the game itself and makes a mesmeric ballet out of ultra-violence.
Just take a listen to the track below and just try not to imagine smashing hellspawn into oblivion. In fact, just listen to the whole bloody thing.
Standout Track: All of it
Best PS4 Soundtracks – Rogue Legacy
Unlike many of the other selections on this list, Rogue Legacy harks back to video game past for its inspiration. A classic chiptune soundtrack that wouldn't be out of place next to the greats of the 8 and 16-bit eras. That you will hear the opening track an awful lot and still find it endearingly charming even after the two hundredth time is a testament to the quality of it.
Standout Track: Trilobyte (Castle)
Best PS4 Soundtracks: Nier Automata
While Nier Automata is revered for its storytelling and design, there's no denying that the superb soundtrack is an important and breathtaking part of the game.From grandiose operatic boss battle music to dreamy drumbeat tribal thumps, Nier Automata's musical score manages to consistently compliment the in-game mood with suitably-chosen musical styles.
The highlight comes from the first visit to the Amusement Park. The imagery tied to the lilting vocal work and string arrangement of the musical score is a thing of beauty.
Standout Track: Keigo Hoashi feat. Emi Evans – Amusement Park
Best PS4 Soundtracks: Yakuza 0
Set in the Japanese economic boom of the late 80s, Yakuza 0 is very much a full-fat depiction of that era and perhaps nowhere else is that sense of time, place and stylish braggadocio better reflected than in its soundtrack.
A rollicking ensemble and aural cornucopia that combines cracking guitar, percussion and drum work to create a truly memorable soundtrack, it's arguably in 'Twin Dragons', the soundtrack to the game's final fight, that Yakuza 0's soundtrack stands out as one of the best things you can treat your ears to on PS4 right now.
Standout Track: Twin Dragons, Oath of Enma 
If you enjoyed this feature on the best  PS4 soundtracks, why not check out some of our other 'best of' features, such as the best free PS4 games, best PS4 exclusives, best PS4 indie games, best PS4 fighting games and best PS4 PSVR games that money can buy.