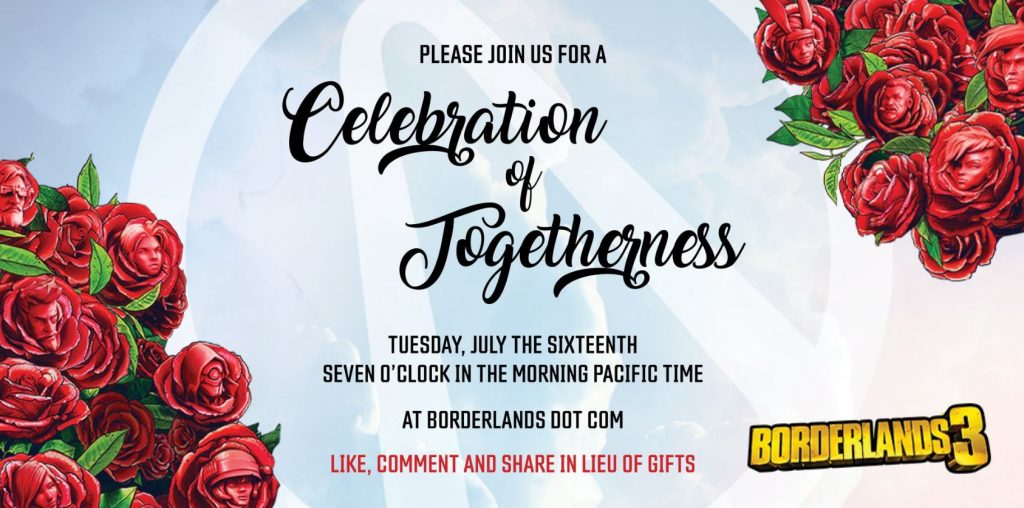 Update 15/07/19 20:40 – Gearbox CEO Randy Pitchford has confirmed that this event tomorrow will not be announcing crossplay. However, the team want to implement it into the game as soon as possible.
Some folks may be speculating that this thing tomorrow may be about cross play. Tomorrow's thing is awesome, but *not* about cross-play. But, Good News: We are committed to supporting cross-play for Borderlands 3 with our partners as soon as practicable after launch. #talklater https://t.co/XtUzrBpySP

— Randy Pitchford (@DuvalMagic) July 15, 2019
Gearbox has announced a Celebration of Togetherness for the upcoming Borderlands 3. This could be teasing crossplay among some other features.
The announcement is set for 07:00 PST / 12:00 EST / 15:00 BST on Tuesday, July 16, 2019. The invitation for this Borderlands 3 Celebration of Togetherness is fashioned like a wedding invitation possibly teasing a collaboration based on unity and love for one another, a.k.a Crossplay.
Crossplay for the game would be a big deal, as it would mark the first big Triple-A title to release featuring crossplay on the PS4, with most titles being smaller independent games with passionate fanbases. Gearbox CEO Randy Pitchford has also been teasing the announcement on Twitter.
Please consider taking a moment to visit with us on Tuesday, July 16th. We'd be honored for you to take this moment to celebrate our togetherness and we anticipate that what we have prepared for you can create a shared moment of happiness, joy and wonder. https://t.co/9VmovXwiMx

— Randy Pitchford (@DuvalMagic) July 12, 2019
This certainly seems like a big deal and it is a very Gearbox way to announce a feature like this, given the announcement's wedding invitation like style is a little wacky, off-the-wall, and strange.
With crossplay, you will be able to utilise some of Borderlands 3's new social features with friends, such as Twitch integration, a Ping System, and more. This will all be a part of a 35-hour long experience, providing you avoid all of the side content and extra challenges. With your friends, you will be able to customise and change the outfits and colors of your Vault Hunter. The game will offer this through in-game items as well as cosmetic microtransactions, which will cost real money.
We got the chance to check out Borderlands 3 at the gameplay reveal event back in May. We found it was a fresh update to the formula, with new an improved features that help bring the game into the modern era. You can read our full impressions here.
Borderlands 3 is set to release for PS4 on September 13, 2019.
What are your thoughts on Borderlands 3 possibly getting crossplay? Do you think this announcement is for that or something else?