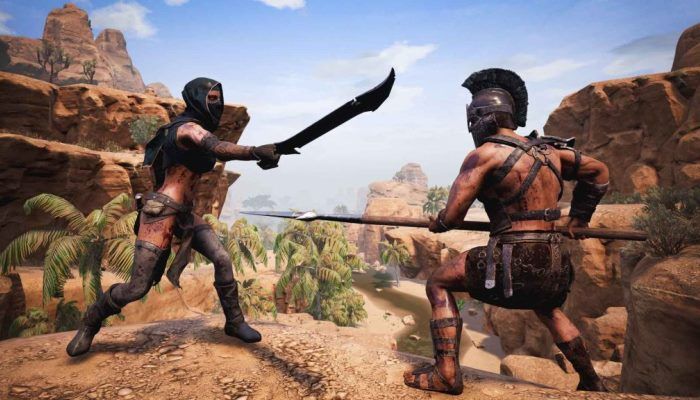 Funcom has announced that it will release a new Conan Exiles update for PlayStation 4 this week to mark the game's one-year anniversary.
Conan Exiles Update Adding Free Content
The new Conan Exiles update includes a wealth of free content for the popular title, including an additional dungeon known as The Sunken City. Geared towards 'high-level' players, this dungeon will see you slugging it out with a mysterious evil that lurks within, and is accessed via a boat found in Dragon's Embrace.
Elsewhere, players are now able to tame Frost Giants and scorpions, as well as calling upon Wights and skeletons thanks to the new Witch Doctor Feat. In addition, various locations in the game have been repopulated with fresh NPCs and bosses, including The Summoning Place, the Volcano, and New Asagarth.
Finally, the update applies a wealth of fixes across a broad range of mechanics, including combat, crafting, AI, animation, UI, and more. Have a gander at the full patch notes for the latest Conan update here.
Conan Exiles' most recent update, released earlier this month, improved the game's performance on PS4 Pro, as well as ironing out a number of crashing issues and an input spam exploit. Funcom confirmed late last year that a single-player mode for the popular survival title is not in the works.
Conan Exiles was released on PlayStation 4, PC, and Xbox One exactly one year ago today, and has received a steady stream of updates ever since.
In a nutshell, the game tasks players with surviving the fictional Hyborian Age after their character is sentenced to death under the baking heat of the desert sun. You're quickly rescued by Conan, however, and must set out and fend for yourself in The Exiled Lands. Aside from picking your own race, there's tons of mechanics to tuck into, including managing hunger and thirst, battling enemies, and evolving your character through a traditional progression system.