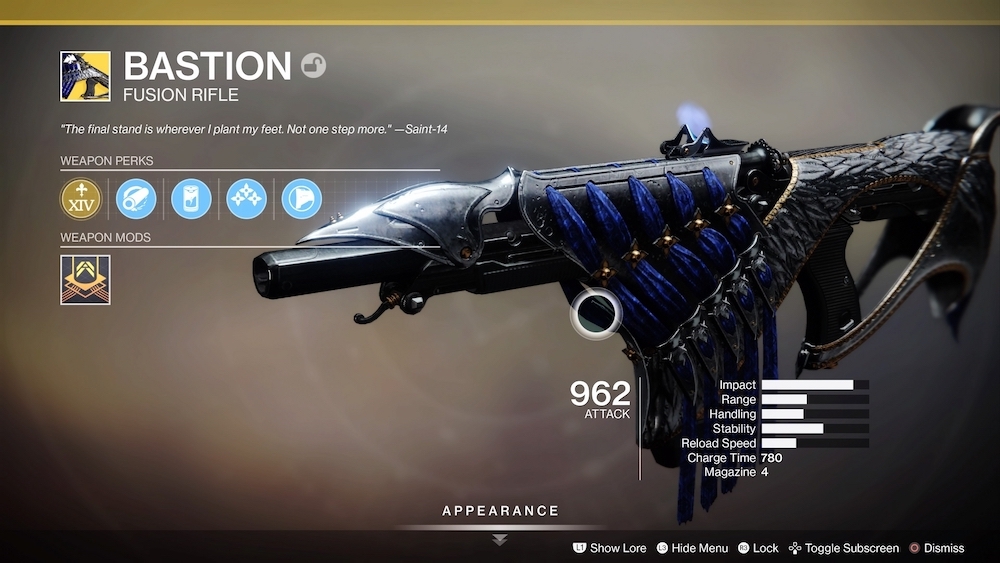 Bastion was announced when Bungie mapped out the Season of Dawn. Like Leviathan's Breath, this is the Exotic weapon that you can only obtain if you own the season pass. Because of this, when Bungie released a secret puzzle, nobody assumed it would be Bastion. The community obsessed with solving this puzzle to get this new Exotic. Unfortunately, the hard work the community put out was rewarded with Bastion. A week early.
The build-up and excitement of solving the Infinite Forest puzzle feels like an empty reward. This is a weapon we knew was coming, and one we would have gotten regardless of the community solving the puzzle. Either way, Bastion is an excellent Fusion Rifle. If you want to get your hand on this weapon early thank the community who forced the weapon into existence.
---
Step 1: Run through the Infinite Forest, or talk to Saint-14
The quest can be accessed from the Infinite Forest. If you follow this path, you will receive the next quest step and dialog lore as to what this weapon is. I recommend this way, especially for veteran players.

Or
Talk to Saint-14.
Step 2: Collect Fallen Intel
Hunt down Fallen Captains and Servitors on The Tangled Shore.
Step 3:
Complete Lost Sector The Empty Tank
Step 4:
Talk to Spider
Step 5: Memento
Spider Bounties 0/10
Challenging Enemies 0/30
Public Events 0/8 *Heroic Public Events count as two*
Step 6: Grave Investigated
Complete the Lost Sector Trapper's Cave
Step 7: Complete Mission
Complete mission The Hollowed Lair, Momento. This is a reimagined version of the Fanatic Strike.
Step 8:
Talk to Saint-14
---
For how much work the community did to get this weapon, it could be better. Streamers like Gladd, SayNoToRage, AyyItsChevy and more not only lead the fight but also were up for 40+ hours at a time. This community really came together and did something special. I commented them all for everything they did. Thank you, from all of us.
---
Nevertheless, Bastion is still a fairly good Fusion Rifle and is the first of its kind in the Primary slot. In the right hands, this weapon could devastate in modes like Competitive Crucible or Iron Banner. So go out and have fun with it, Guardians, and remember all of the community who sacrificed hours of sleep for this weapon.
For all news, guides, and information regarding Destiny keep your eyes up to PSU, Guardians.
How to Get: