Polaris Lance was introduced in Destiny 2: Warmind. For a very long time, Polaris Lance was my favorite weapon in the game. This scout rifle is more of a highly explosive sniper rifle. Taking out spider walkers will never be easier, and using it in the Black Armory Bergusia Forge will be a great substitute to Whisper of the Worm. However, this is mostly because of the Whisper nerf, but that's beside the point. Let's get the Polaris Lance.
---
*After completing each step, you will be required to go back to Ana Bray to input them into her servers.
Step 1
Nascent Dawn 1/5
Complete three Patrol mission
Complete one Lost Sector
Find the first Sleeper Node in Dynamo Approach
Step 2
Nascent Dawn 2/5
25 Javelin kills
Complete "Psionic Potential" Adventure on Heroic
Collect cache in Mad'adim Subterminal
Step 3
Nascent Dawn 3/5
Complete 10 levels of Escalation Protocol
Complete 3 Vanguard Strikes
Collect cache in Olympus Desert
Step 4
Nascent Dawn 4/5
Get 5 precision multi-kills without reloading, and 20 additional kills
Complete the "Fury' Mission in IO
Collect cache in Mindlabs: Rasputin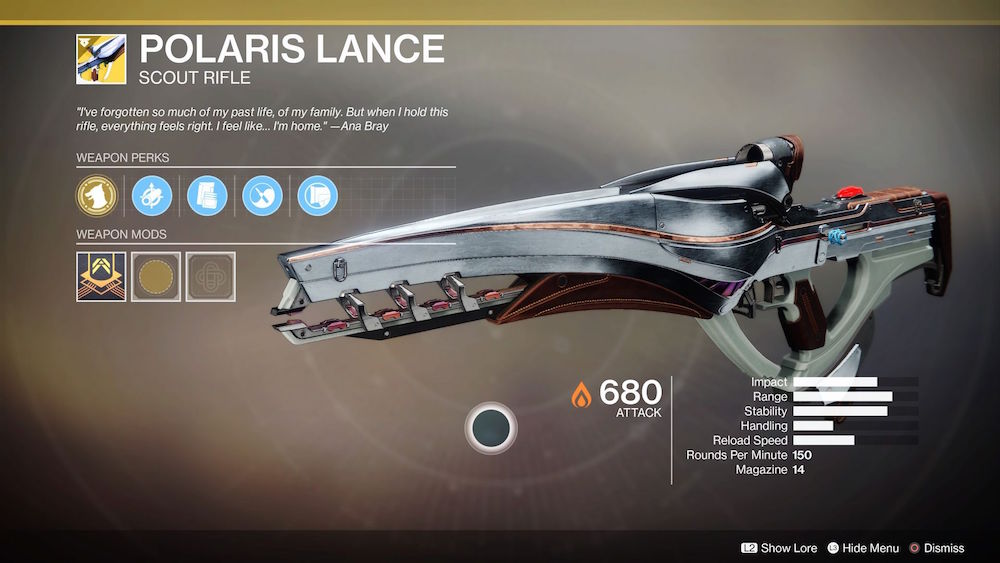 Congratulations! you are now the owner of the Polaris Lance. However, like Legend of Acrius, you aren't done with the quest even though you have the gun. Step 5 is still active to get the catalyst for this weapon, and it's worth it.
Step 5
Nascent Dawn 5/5
15 Javelin multikills
Complete three Crucible matches
Compete the "Strange Terrain" Mission
Collect cache in Alton Dynamo
---
Althjough MIDA Multi-Tool is the scout rifle of the Crucible, Polaris rules the PVE space for Scouts. With its explosive payload and bullet return, it's hard to beat it. Below is a list of some more of our Exotic Quest along with the three exotics mentioned earlier, Whisper of the Worm, Legend of Acrius, and MIDA Multi-Tool.
For all things Destiny, keep your eyes up to PSU, Guardian.
How to get: