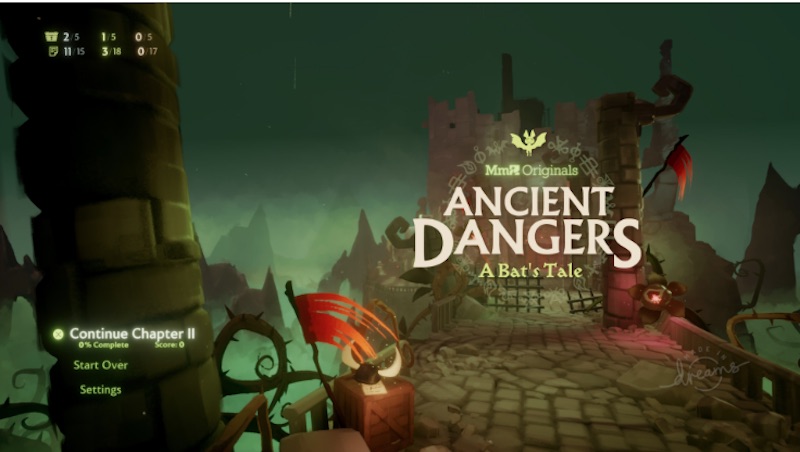 Media Molecule has conjured up the Dreams update 2.47 patch notes for your consumption, and it's mainly targeted at improving the Ancient Dangers: A Bat's Tale. You can read up on what's new in the latest Dreams patch notes below.
Related Content – Sony PS5 Complete Guide – Everything Explained On PlayStation 5 For New Users
---
Important Note
We are aware of a bug introduced in this update affecting text gadgets within creations which are set to In Scene. The bug causes text to display incorrectly when the camera moves behind the text gadget's position. If you notice an issue with text gadgets in your creations, we recommend you do not attempt to fix these. We will be addressing this bug in our early July update, ensuring that the bug does not affect booths on display at DreamsCom '22.
Please do let us know of any issues you encounter when playing and creating in Dreams on our forums
.
Ancient Dangers Updates
Here for Glory difficulty setting no longer has a three-life limit. We also removed the now-superfluous Game Over screen.
Added a Continue option in the menu, allowing players to pick up where they left off.
The game will now detect whether the player has already completed the training for either setting, and will not force them to redo it.
Introduced a more prominent Skip Cutscene option, requiring a 1 second button hold to do so.
If a player skips the opening market cutscene, they'll be taken straight to the training level.
Removed the pop-up prompt that asked players to restart depending on their difficulty setting.
Added all the names of our QA team to the credits.
Added a counter in the main menu that displays the number of chests and Fallen Hero Notes that have been collected, as well as listing them per chapter. Individual chapter times are also now displayed once the game has been completed in Here for Glory.
An image of the updated main menu, featuring the Continue button and counters for discovered chests and Fallen Hero Notes.
New Boot Image
As we mentioned a couple of months ago, each update to Dreams will bring with it a brand new boot image – something lovely to look at each time you start the game. This month's image comes from our artist Dan Goddard!
[Source – Dreams]