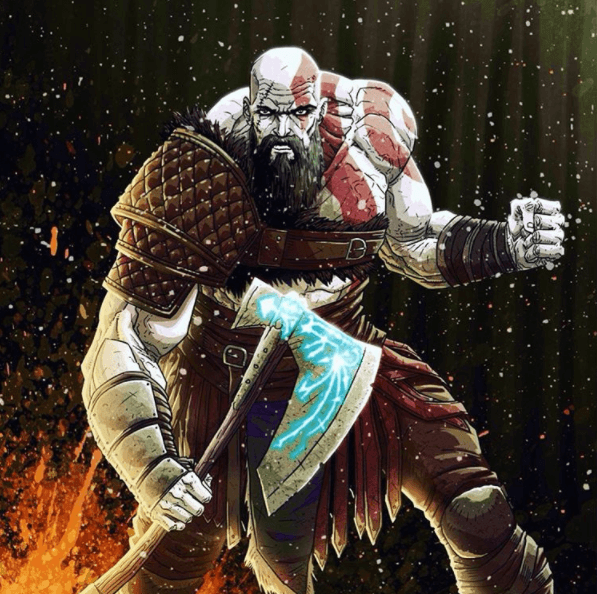 One of the best things about a community forming around a video game is the creative ways it expresses itself. Fan art is one such way, and the latest God of War has plenty of it.
Santa Monica Studio, the developer behind God of War, have been running an ongoing fan art contest for the game, with the prize of a rare Huldra Bros coin for the contest winners. The most recent winners made some pretty ace fan art which you can check out below.
? BIG congrats to our latest #GodofWar #fanart contest winners

Check them out at https://t.co/32fqFNDuni & don't forget to send your artwork to [email protected] to enter to win a RARE Huldra Bros coin pic.twitter.com/yMlZLKT9Zd

— Santa Monica Studio (@SonySantaMonica) January 18, 2018
It's amazing how much a game that isn't even out yet can inspire people to create art about it. Of course, we probably aren't that far off finding out when God of War is coming. There have been plenty of threads that lead towards a potential release of March 22. That date being both a Thursday (Thor's Day) and the date the original God of War launched.
Kratos is not alone for his upcoming Norse adventure. He is joined by his son Atreus, who acts as an extension of Kratos' moveset. Despite concerns over having to babysit the boy instead of ripping Norse Gods asunder, Santa Monica Studio reassured fans that Atreus cannot be harmed in combat.
When not bonding Father and Son in combat-related shenanigans, Kratos and Atreus are going to spend a lot of time on a boat. Hunting and fishing with a surly, uncaring Dad? Why must art imitate life.
Check out all the fan art submitted so far here. Also, if you want to send your artwork in head to [email protected] to enter to win a RARE Huldra Bros coin.