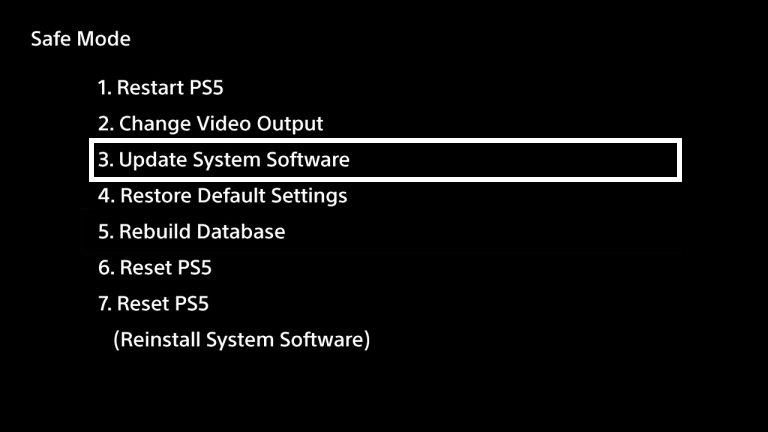 If you cannot start your PS5 into Safe Mode, we've got a few steps for you to try so that you can get Safe Mode working on your PlayStation 5 again.
On this page:
Try Starting PS5 In Safe Mode Again
---
Sometimes, all it can take is attempting to restart the PlayStation 5 in Safe Mode to cure the problem. As seen previously, the steps to do this are as follows:
Turn off your PS5 console by pressing the power button. This is the largest of the two buttons on the front of the console. The power indicator will blink for a second or two before turning off completely.
With the system completely off, press and hold the power button again. Release it after you hear the PS5 make a second beep. The first beep will sound when you first press the power button. The second will occur and roughly seven seconds later.
Connect the controller with the USB cable and press the PS button on the controller.
Your PS5 has now started in Safe Mode.
Related Content – Sony PS5 Complete Guide – A Total Resource On PlayStation 5
Ensure That All HDMI, Power And USB Cables Are Connected Properly
---
Sometimes the PS5 can refuse to boot up correctly if the cables aren't connected properly and functioning correctly. Here are some cables and attachments to check by unplugging and plugging them back in:
HDMI cable connecting the PS5 to the TV.
Power cable connecting the PS5 to the mains.
USB cables connected to external storage devices.
USB Bluetooth dongles.
Power Cycle Your PS5 Console
---
If attempting to restart the PS5 in Safe Mode doesn't resolve the issue, and all of the cables are working and connected properly, you can try power cycling to remedy the problem.
Completely turn off the PlayStation by holding the power button.
When the power light stops flashing, remove the power cable and leave the system turned off for no less than 20 minutes.
Turn on the PS5 and attempt to launch Safe Mode.
We hope you found this guide useful!