With the PS5 out now, many folks are not only asking how to put the PS5 into Safe Mode, but also how to update the PS5 system software in Safe Mode too. To help, we've put together this handy guide which shows you how to do just that and much more.
On this page:
How To Start PS5 In Safe Mode
---
Turn off your PS5 console by pressing the power button. This is the largest of the two buttons on the front of the console. The power indicator will blink for a second or two before turning off completely.
With the system completely off, press and hold the power button again. Release it after you hear the PS5 make a second beep. The first beep will sound when you first press the power button. The second will occur and roughly seven seconds later.
Connect the controller with the USB cable and press the PS button on the controller.
Your PS5 has now started in Safe Mode.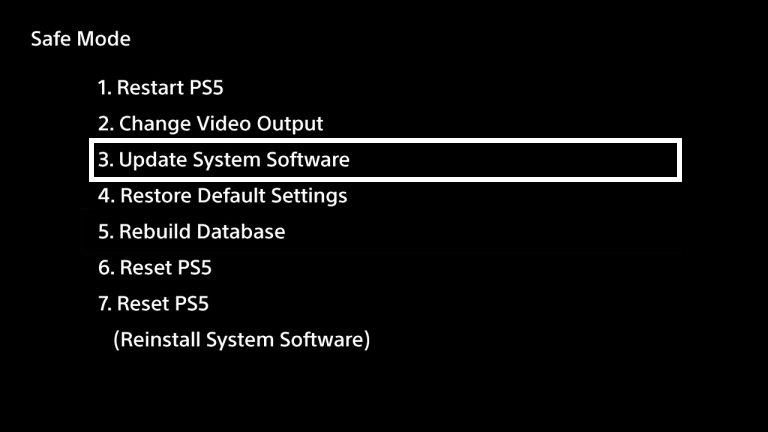 PS5 Safe Mode Doesn't Work – What Can I Do?
---
In some rare cases, your PS5 will not be able to boot into Safe Mode.
In order to sort this, there are a number of things that you can try in order to get your PlayStation 5 booting up in Safe Mode. Check out our extended guide on PS5 Safe Mode troubleshooting for further reading.
Related Content – Sony PS5 Complete Guide – A Total Resource On PlayStation 5
What Are The PS5 Safe Mode Options?
---
These are all of the PS5 Safe Mode options that are available to you once you boot your PlayStation 5 into Safe Mode:
Restart PS5 – Exits Safe Mode and restarts the PS5 console in its normal condition.
Change Video Output – Changes the native display resolution. This option can be helpful when troubleshooting issues with blank screens and other display problems.
Update System Software – Allows you to update the PS5 system software via direct download or if you have a PS5 system update stored on a connected USB storage device.
Restore Default Settings – Restores the PS5 console to the default factory settings. Restoring Default Settings will not delete the saved data on your system storage.
Rebuild Database – Scans the drive and creates a new database structure of all content on the system. This option is worth selecting if you find yourself running into the infamous PS5 download queue bug.
Reset PS5 – Deletes all user data and restores the PS5 to its original factory state. This is what you want to do if you want to factory reset your PS5 to either give it a clean slate or sell it onto another user.
Reset PS5 (Reinstall System Software) – Deletes all user data and removes PS5 system software. This will reset the PS5 system software to its original launch factory firmware state.
How To Update The PS5 System Software In Safe Mode
---
If your PS5 console has lost connection to the internet midway through downloading a system update, or has been offline for a long time, you can manually update the PS5 system software through Safe Mode.
To do this, you can download a PS5 system update directly to your console or via a USB storage device.
Check out our guides below to see the next steps:
We hope you've found this PS5 Safe Mode guide useful!