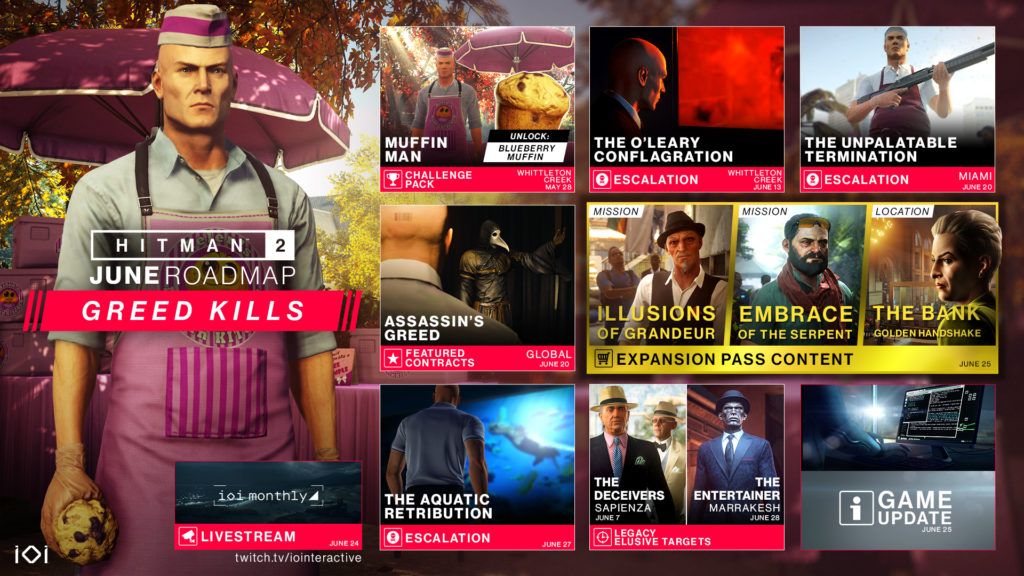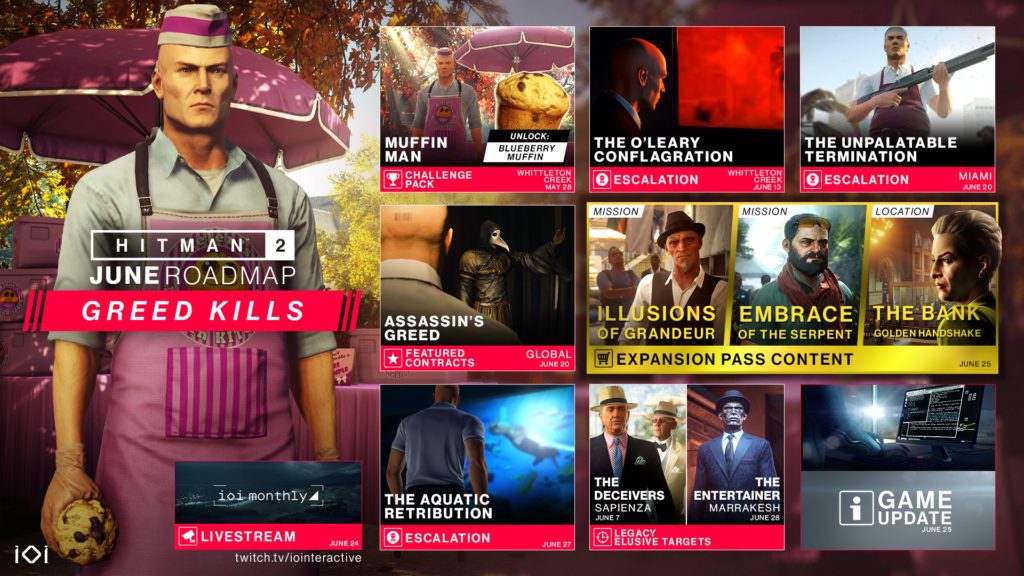 The Hitman 2 June Roadmap has just been released by IO Interactive. The roadmap reveals a selection of new content, including new Missions, Escalation Contracts, Game Updates, Elusive Targets, and Expansion Pass Content.
'The Bank' is a brand new mission arriving on June 25. The Bank encompasses a brand new campaign mission as well, called 'Golden Handshake.' Also, as a part of the Expansion Pass, players will get two new Special Assignments. 'Illusions of Grandeur' will take you back to Mumbai, whilst 'Embrace of the Serpent' will mark Agent 47's return to Santa Fortuna.
Live right now in-game is the Muffin Man Challenge Pack. The goal is to get your hands on the Muffin Man outfit in the Whittleton Creek mission and complete a special set of challenges revolving around using various baked goods in deadly ways. Upon completion, you will unlock the Blueberry Muffin as an item.
The Deceivers, two Legacy Elusive Targets, are entering into Agent 47's sights once again, when they return to Sapienza on June 7. Another Legacy Elusive Target, The Entertainer, makes his way to Marrakesh on June 28.
The O'Leary Conflagration is a brand new Escalation Contract arriving on June 13, focusing on burning people. June 20 sees the introduction of another Escalation Contract, The Unpalatable Termination. Set in Miami, you have to take on the mission in a Food Vendor Disguise and carrying nothing but a Shotgun. The final Escalation Contract, The Aquatic Retribution, arrives on June 27.
As you can see, a lot is on the way for Hitman 2. On top of all this new content, the game will receive a brand new update and some new Featured Contracts. Recently, the developers, IO Interactive opened a new studio to assist with content delivery for Hitman 2.
Hitman 2 is available now on PlayStation 4.
Will you be jumping back into the game? What are you most excited for this month?