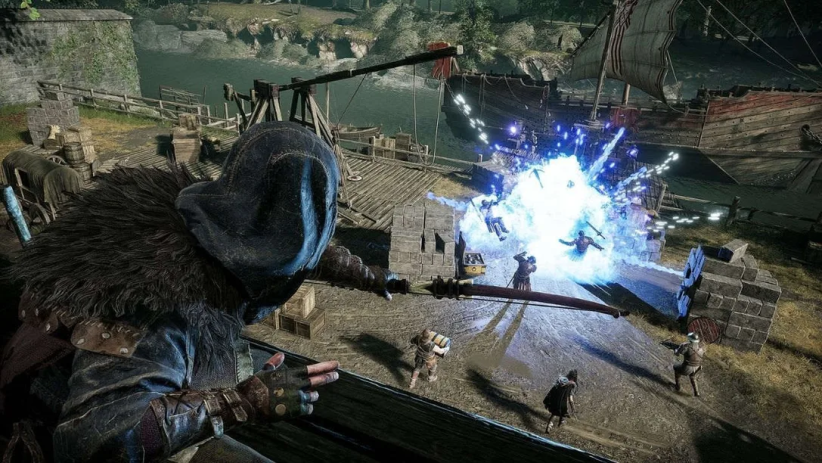 The developer behind Hood: Outlaws And Legends has revealed full details on how the game will utilise the PS5 DualSense controller, with both haptic feedback and adaptive triggers out in full force to enhanced the experience.
Firstly, the DualSense gives you a greater sense of feeling when using a weapon such a bow, as it will add resistance via the adaptive triggers to emulate the sensation of pulling back on the string when lining up a shot.
You'll also receive feedback when dealing and receiving damage, and as your stamina depletes in combat, you'll feel a strain on the tigger as the effectiveness of your actions are reduced from battle fatigue.
As mentioned, the DualSense's unique features will also be employed when traversing the game world. For example, Sumo Digital highlights that when transitioning into a slide from sprinting, there's feedback when grinding against the 'coarse gravel that litters much of the world.'
Related Content – Sony PS5 Complete Guide – A Total Resource On PlayStation 5
Each character's abilities are also further amplified via the DualSense, such as the Brawler, who is able to lift and soak up the weight of a portcullis. "The DualSense controller supports the unrivalled strength and power required to perform such a feat which synergises with the interaction."
Hood: Outlaws And Legends is scheduled for release on May 10 for PS5, PS4, PC, Xbox Series X/S and Xbox One. Watch the latest gameplay footage of the medieval multiplayer title in action here.
[Source – PlayStation Blog]