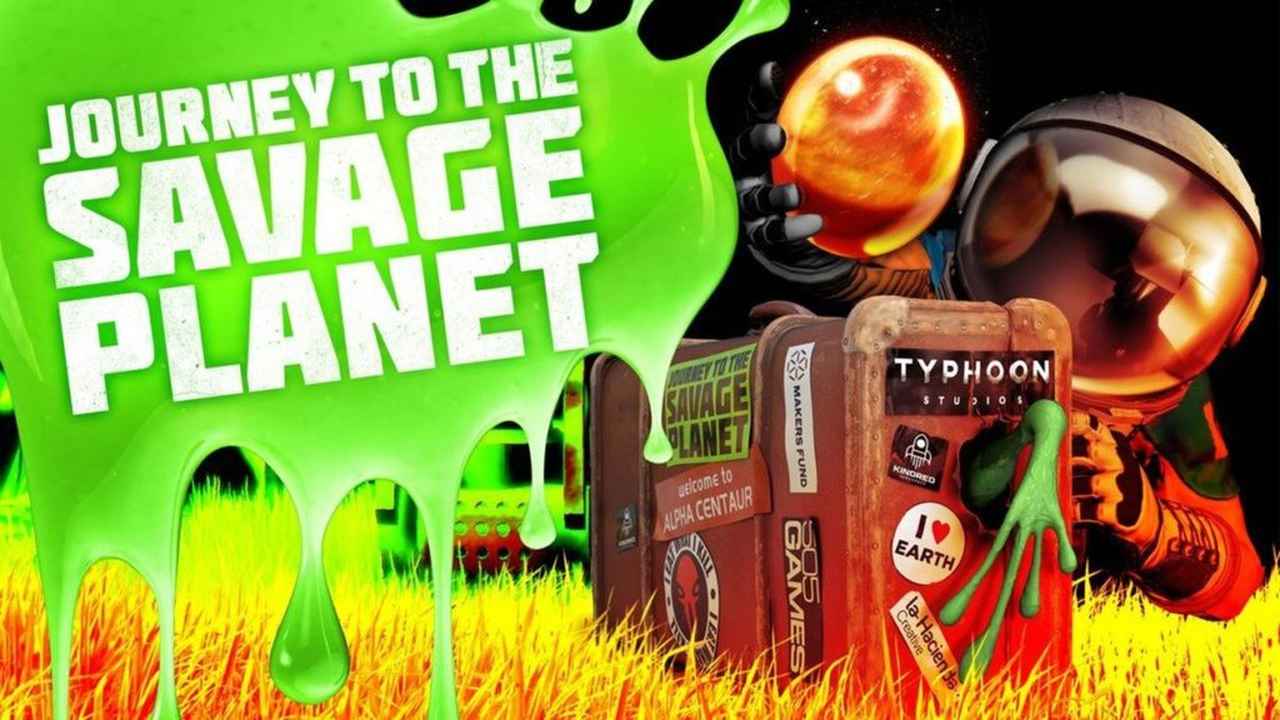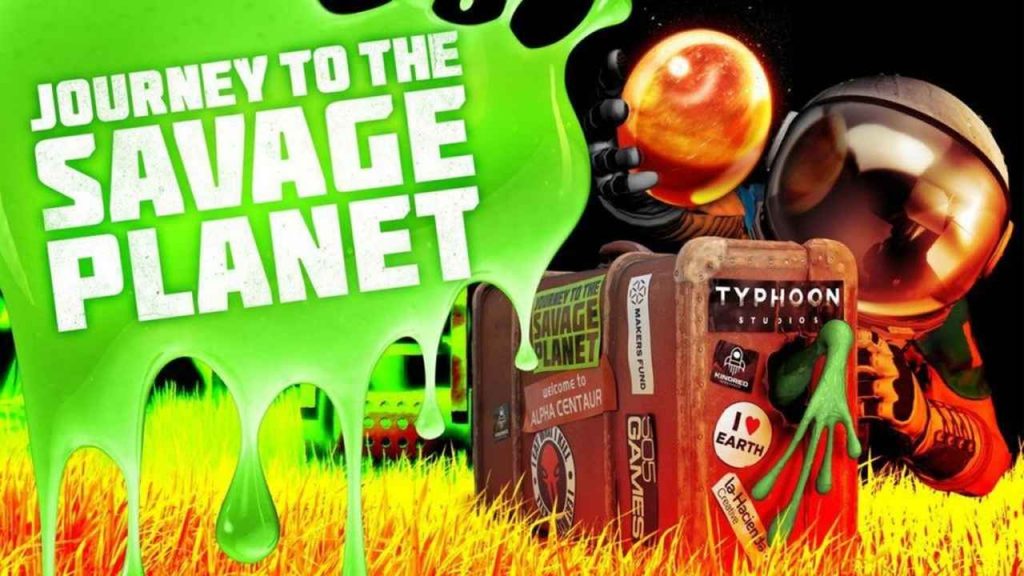 Last week at GDC I was given a preview of Typhoon Studios upcoming first person adventure and exploration game, Journey To The Savage Planet. The game will be published by 505 Games, and is set to be released sometime in early 2020 for PS4, Xbox One, and PC.
My GDC preview was hands off, which meant that I didn't get to play the game for myself, but instead got to chat with a few of the devs as they played through a demo that they hope to have playable by E3. It was actually quite excruciating to not be able to grab that controller and explore the very colorful and beautiful planet which is inhabited by all kinds of unique animals and plants.
Journey To The Savage Planet is a space exploration adventure that places you in the role of an employee of Kindred Aerospace, who is proud to brag about its average rating of being the fourth best Interstellar Exploration Company. I asked if the company was secretly a malevolent corporation such as Aperture from Portal, but it tuns out they are just fiercely incompetent.
You are dropped onto an uncharted planet known only as AR-Y 26 located in a galaxy far, far, away. As a representative of Kindred Aerospace, you are there to explore, and catalog the alien flora and fauna to see if the planet is suitable for humans to inhabit. However, working at the mediocre Kindred Aerospace, you aren't really well equipped or trained to carry out such a task.
Unlike that other space exploration game, No Man's Sky, Journey To The Savage Planet is a much more linear experience that has a beginning and end that is designed to be finished within ten to twelve hours of gameplay. Although a price point has yet to be determined, the guys from Typhoon said that it will not be a sixty dollar title.
The level I was shown has you gathering various ingredients to craft a grappling hook that lets you access an area that was previously blocked. With Journey To The Savage Planet's bright colors, art style, cool gadgets, and humor, I was immediately reminded of Ratchet and Clank. Everything from Metroid Prime, Far Cry, Subnautica, to Borderlands, and even a Yes album cover was discussed as either an influence, or likeness.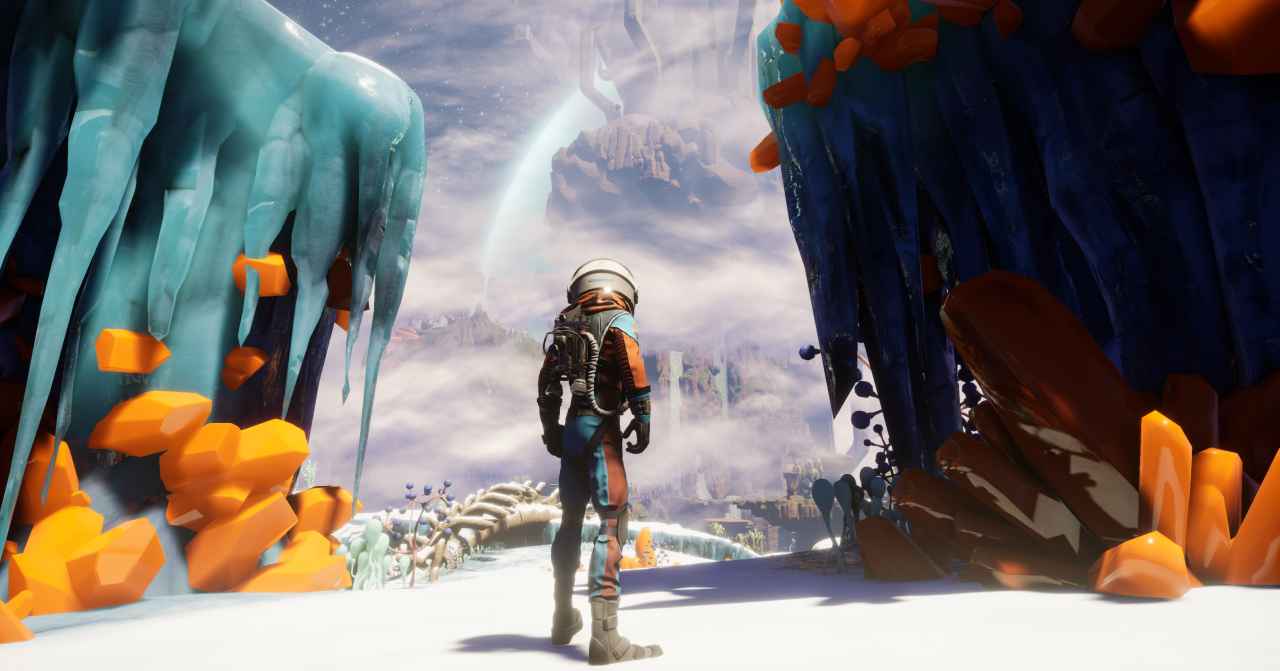 Gameplay is largely based on exploration and mining resources but along the way you will encounter combat and puzzle challenges. While your right hand's weapon never changes, your left hand can cycle through various gadgets and items, including goo that can be used as a jump pad and a grappling hook.
While my time with Return To The Savage Planet came to an end much too soon, I left the preview with the feeling that the game is going to be something special and I can't wait to see more of it in the coming months. To hold us over, Typhoon Studios has released a new environmental teaser video, along with the following press release:
Journey to the Savage Planet is an aspirational and upbeat first-person adventure and
exploration game set in a bright and colorful alien world filled with weird and wonderful
creatures. As an employee of Kindred Aerospace, which proudly touts its rating as the "4th Best
Interstellar Exploration Company," players are dropped onto the uncharted planet AR-Y 26,
deep in a fictitious, far-away corner of the universe. Launched with high hopes but little
equipment and no real plan, players are invited to explore, catalog alien flora and fauna and
determine if this strange planet is fit for human habitation.
"As a studio we have a deep love of Golden Age science fiction, but it feels like some of the
positivity and sense of adventure has been lost in recent years," said Alex Hutchinson, creative
director and Typhoon Studios co-founder. "There are too many dystopias for my tastes, so we
wanted Journey to the Savage Planet to give space exploration its sense of adventure back in
homage to those early sci fantasies and add a comedic twist. This teaser is just a small taste of
what we've been working on; we can't wait to show off more in the coming months."
Global videogames publisher 505 Games will bring Journey to the Savage Planet to PlayStation
4, Xbox One and the Epic Games store for PC in early 2020.
Typhoon Studios are a new studio based in Montreal Canada co-founded by Reid Schneider, Alex Hutchinson, and Yassine Riahi. Between the three of them, they have worked on several blockbuster franchises like Arkham Origins, Assassin's Creed, and Far Cry. Return To The Savage Planet will be the first game from the studio.
Return To The Savage Planet will be published by 505 Games.
Big thanks to both Typhoon Studios and 505 Games for showing me an early preview of the game at GDC.