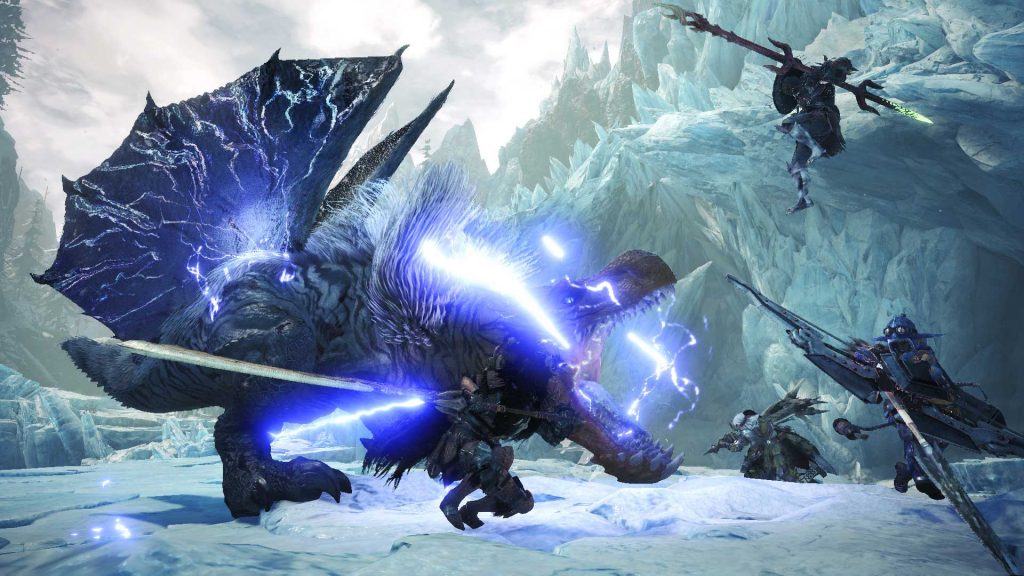 Capcom has lifted the wraps off a Monster Hunter World Iceborne developer diary, offering a deep dive into the upcoming expansion with team members Ryozo Tsujimoto, Kaname Fujioka and Daisuke Ichihara. The video also offers a gander at a returning monster in the shape of Glavenus.
Monster Hunter World Iceborne Dev Diary #1 Out Now
Here's what the studio had to say about Glavenus:
It has a unique red and blue appearance, with its tail undoubtedly being its most distinguishable feature. Its tail is shaped like a great sword, which it wields as means of hunting its prey. Similar to its previous appearance, we kept elements off its tail heating up or going blunt, and of course adding additional actions fitting of Monster Hunter World.

Fundamentally, its basic attacks revolve around heating up its tail and swinging it around for some devastating hits. And it also builds up fire, too. It can also use the heat stored up in its throat to fire-attack the player. That fire itself has some features not seen in Monster Hunter Generations.
Check out the Monster Hunter World Iceborne dev diary below.
Monster Hunter World Iceborne is slated for release on PlayStation 4 and Xbox One in September, with a PC version following later in the year. Capcom has revealed that Iceborne will be the only major expansion for the game.
The base game came out on consoles in January 2018, and was a massive success globally, becoming Capcom's best-selling game of all time. It also dramatically increased the Monster Hunter brand's popularity in the US and UK, something which Capcom attributes to a number of reasons.
The Japanese giant recently confirmed that it has prepped its RE Engine — the tech that powered the likes of Resident Evil 7: Biohazard and Resident Evil 2 Remake — for the PS5 and Xbox One. As such, we expect it already has a number of titles in the works for next-generation systems.
Resident Evil 3: Nemesis Remake, anyone? A new Monster Hunter? Fingers crossed!