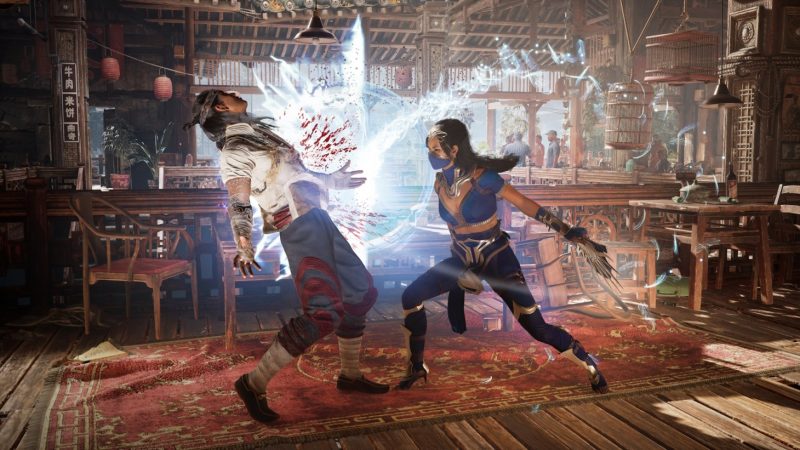 The full Mortal Kombat 1 trophy list has been revealed one week ahead of its release date on September 19, 2023. Fighting game fans can expect a challenge to earn the platinum trophy, to say the least. Players will have to invest in certain game modes, reach damage outputs, achieve 100% in the game's story mode, and more in order to grab everything from the Mortal Kombat 1 trophy list. Check out the full list down below;
Platinum:
Kompletionist – Komplete All Trophies
Gold:
What Just Happened?? – Komplete 100% Of Story Mode
Silver:
Eye Of The TaiGore – Spend A Total Of 1 Hour In Practice
Who Was That??? – Komplete Chapter 15 Twice
Deadly Assassin – Perform 20 Different Fatalities
Give A Koin – Spend 10,000 Koins On The Shrine
King Slayer – Dethrone A King
Rollin' With My Krew – Komplete Mastery With 5 Kameo Characters
Juggernaut – Reach Invasions Level 20
Vanquished – Defeat The Final Boss Of An Invasions Season
Made It Out Alive – Komplete A Survival Encounter
Found You – Unlock A Secret Fight
High Score, Is That Good? – Obtain A Total Score Of 5,000,000 In Gateway Towers
Happy Endings – Unlock 10 Tower Endings
Big Spender – Spend 10,000 Seasonal Kurrency
Total Disrespect – Perform A Taunt Without Being Interrupted During An Online Match
Thank You For Being A Fan!!! – Watch The Kredits
Bronze:
Become A Ninja In No Time – Komplete The Basic Tutorial
A New Timeline – Komplete 50% Of Story Mode
Titan – Deal 10,000 Damage To Opponents
Beaten And Broken – Spill 5,000 Pints Of Blood
It Has Begun!!! – Komplete Cage Mansion Tutorial
Kontender – Play 5 Kombat League Sets
Karnage – Perform 10 Different Brutalities
Annihilation – Perform 10 Different Kameo Fatalities
Making Friends Is Easy – Use 10 Different Kameo Characters
Puppet Master – Komplete A Klassic Tower With 5 Different Characters
Test Your Might – Komplete 5 Unique Test Your Might Encounters
So I Just Kill Stuff?? – Komplete 5 Unique Encounters
Adventure Time – Komplete 25 Unique Encounters
Buddy System – Komplete Mastery With 1 Kameo Character
Where's Blanche – Trade For An Item From An Outworld Shop
Take And Deny – Trade For An Item From An Earthrealm Shop
Ultimate Power – Use A Talisman
Talis-Mania – Use A Talisman 10 Times
Running On Empty – Recharge A Talisman
So Krafty – Forge A Talisman
Feeling Stronger – Reach Invasions Level 5
Unstoppable – Reach Invasions Level 10
Not So Big Now Are You?? – Defeat A Mini Boss In Invasions
Who Da Boss?? – Defeat A Major Boss In Invasions
Always Accessorize – Equip A Relic
Kollector – Equip 3 Different Relics
The Mighty Have Fallen – Komplete A Titan Battle
ABACABB – Use A Key
Make Way, I'm Koming Through – Klear An Obstruction In Invasions
Stop Hiding – Survive An Ambush
Quest Master – Komplete 3 Daily Quests
Working Overtime – Komplete A Weekly Quest
There Is No Knowledge That Is Not Power – Use 10 Single Use Items
Witness Me!!! – Change Your Kombat Kard Player Module
As we approach the release of the game, there is a lot happening for the game that fans will appreciate. Recently, NetherRealm unveiled Jean-Claude Van Damme will be featured in the game and also that actress Megan Fox will play Nitara. In addition, this entry in the series will serve as a "narrative springboard" for the franchise. Further afield, Homelander and Omni-Man will appear in the game's roster with their movements completely unique to them. Finally, Mortal Kombat 1 will feature a new mode that will play like a board game with RPG elements.
Mortal Kombat 1 releases on September 19th, 2023.
Source: PowerPyx