While the PS Plus PS4 line up for North America and Europe has yet to be officially announced (we'd look to next Wednesday for that), the PS Plus Asia and Japan free games for May 2019 have been announced.
PS Plus Asia Free Games – May 2019
Folks who subscribe to PlayStation Plus in Asia will score Metal Gear Survive – a survival sandbox take on Konami's legendary IP which sends players into a hostile, alien wilderness where they must do everything they can to stay alive, all the while fighting of a range of nightmarish creatures. In our Metal Gear Survive review we awarded the game 8/10 and said "Metal Gear Survive is a good survival game underneath the grime of its controversial existence.
The other title that PS Plus Asia subscribers will receive is The Witness, a sprawling and challenging puzzler that packs in hours of gameplay. In our review of The Witness we awarded the game 6.5/10 and said The island is gorgeous and memorable while the gameplay itself is as smooth as silk."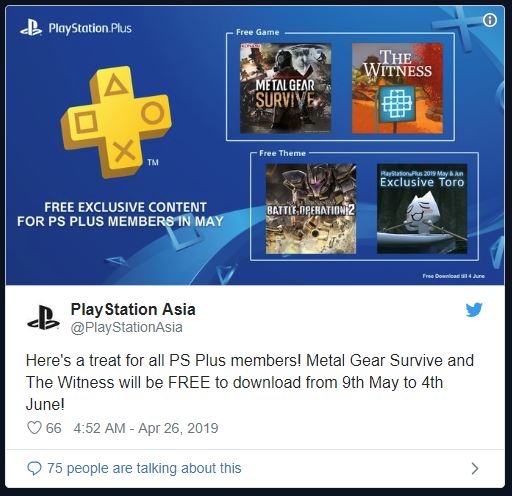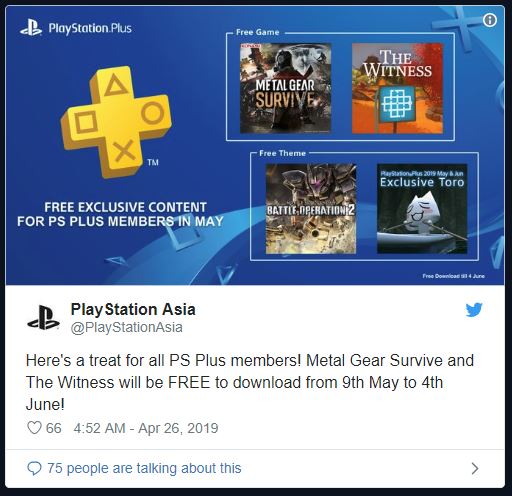 Alongside these, subscribers will also be able to download exclusive Battle Operations 2 and Toro themes, too.
So if you're based in Asia, or have an Asia PlayStation Plus account, you'll be able to download all of this good stuff from May 9th to June 4th, 2019.
PS Plus Japan Free Games – May 2019
For PS Plus Japan folks, they'll not only be able to enjoy Metal Gear Survive, but they'll also get Darksiders: Warmastered Edition too. In our review of Darksiders: Warmastered Edition we awarded the game 8/10 and said Darksiders Warmastered gives those who missed out another chance to try an underappreciated gem of the PS3 era."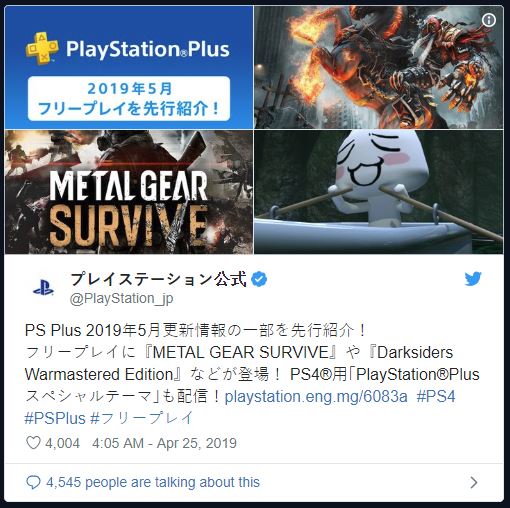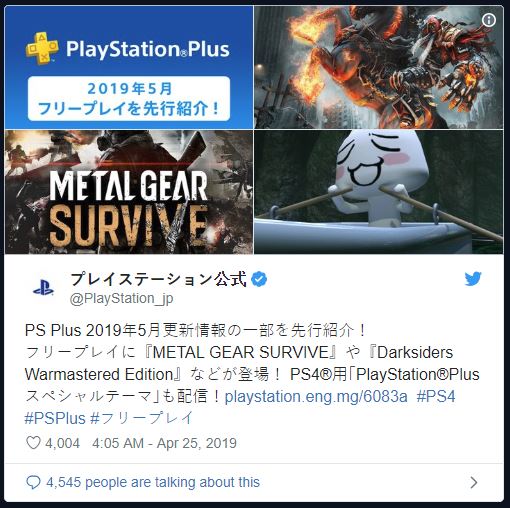 PS Plus Japan subscribers will be able to download all of the aforementioned two games from May 8th to June 4th, 2019.
For the rest of us in Europe and North America, you can check out our PS Plus May 2019 predictions ahead of their announcement next week.
While you're waiting for your free PS Plus games, why not take a peek into the future and have a look at what we know about PS5 below: