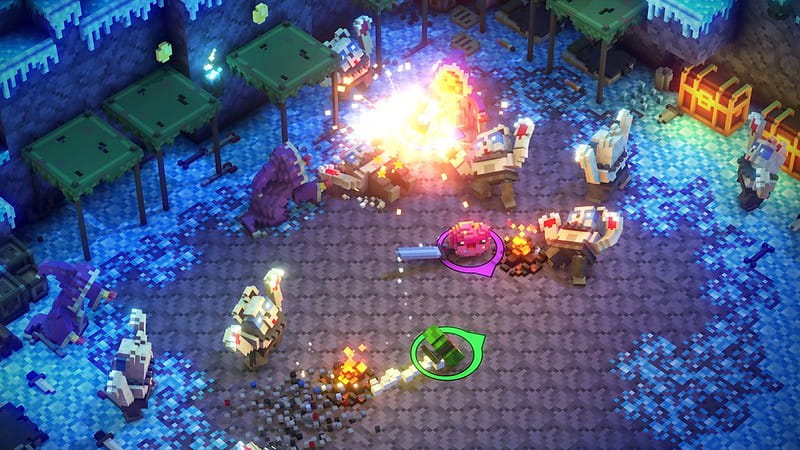 Sony announced a new dungeon-crawling title known as Riverbond during its State of Play broadcast last night, which combines a vibrant, vortex-style aesthetic with fast-paced combat and cameos from classic indie game heroes.
Riverbond Hitting PS4 This Summer
Developed by Cococucumber, Riverbond sees players slugging it out with various nasties across 'memorable worlds' while looting treasure and becoming a hero — just another day in the office, then. The studio is looking to tickle your nostalgia senses by giving Riverbond a bit of a retro feel, although its controls are very much based on the fast and fluid input of modern outings.
Riverbank will accommodate a variety of different playing styles, with players able wield melee and ranged weapons to dispatch hordes of foes and hulking bosses. Like any 16-bit influenced title worth its salt, Riverbond will also offer up couch co-op, and even packs in a set of crossover skins from titles including Enter the Gungeon, Guacamelee!, and Bastion.
There's eight of these skins in total, and can be found tucked snuggly inside hidden treasure chests. You'll be able to take Shovel Knight for a spin in the Castle World, for example, as well as get to grips with Pyschonauts' Raz as you hoover up the nightmares of troubled elves.
As for the cooperative play, Cococucumber is allowing you to team up with a mate to tackle missions, combine your efforts in combat to lay waste to groups of baddies, and even get into massive rucks with bosses. After all, dungeon crawlers aren't much cop without a bit of teamwork, right?
"Riverbond will let you go on an adventure, cut some grass, wreak havoc to our beautifully handcrafted maps, and maybe find a secret or two along the way…,'" reads the blurb.
Riverbank is pencilled in for a release on PlayStation 4 this summer, though a concrete launch date has yet to be pinned down. Check out a trailer below.