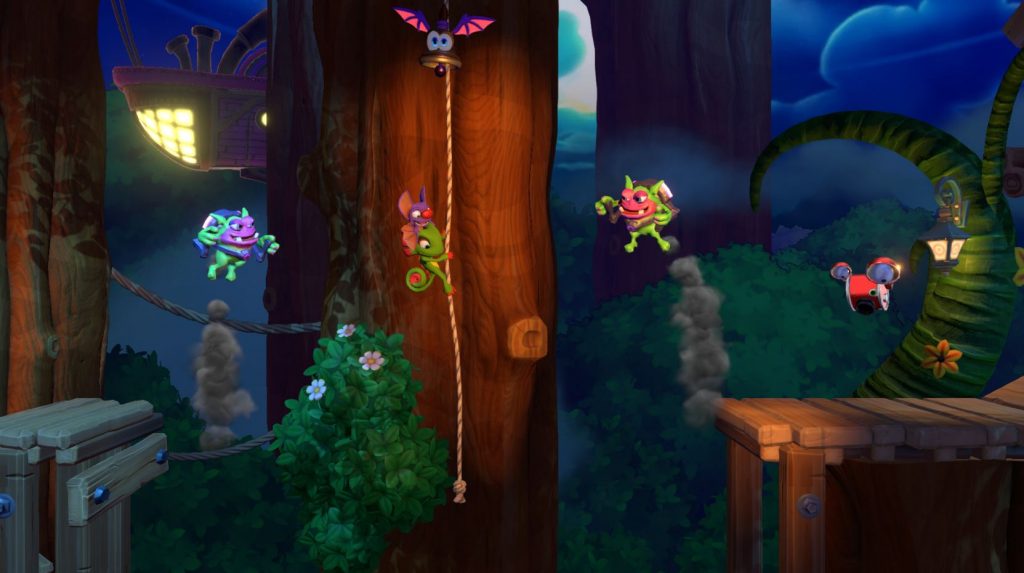 UPDATE 03/09/19 12:35 – Playtonic have confirmed the actual Yooka-Laylee And The Impossible Lair Release Date to be October 8, 2019.
A new trailer for the game has also been released. Gematsu also revealed that if you pre-order the game you will get access to the 'Trowzer's Top Tonic Pack' which contains four exclusive cosmetic Tonics:
Large Head Tonic – This Tonic Gives Laylee a comically oversized head.
Glow Worm Tonic – Yooka and Laylee glow like… well, glow worms.
D.I.S.C.O Tonic – Turn every level into a platforming party of Playtonic proportions.
Yooka 64 – A blast from the pst Tonic for fans of all things retro.

ORIGINAL STORY – The Yooka-Laylee And The Impossible Lair Release Date has been confirmed for October by developer Playtonic Games. The release month was announced on Twitter earlier today.
In the traditional Playtonic fashion, the team confirmed that Yooka-Laylee And The Impossible Lair will release in October via a tongue-in-cheek video with the characters in the game. Although the video confirms the release month, we still don't have an official date.
You can check out the video below:
Playtonic announced the 2.5D spinoff earlier this year before E3. It came as a surprise, given that the team specifically wanted to make 3D platformer from a by-gone era. The game is not a sequel to 2017's Yooka-Laylee. The first glimpse at gameplay came last month, with a brand new trailer.
A description of the game from Steam gives you a nice overview of the title:
Yooka-Laylee and the Impossible Lair is a brand-new platform adventure from some of the key creative talent behind 'Donkey Kong Country'. With their arch-nemesis Capital B up to no good, the buddy duo needs to spring into action once again to save the day. To thwart his evil plan of using a "Hivemind" device to enslave an entire kingdom of bees, our heroes need to take the fight to Capital B's "Impossible" Lair. Things look tough, but with the help of Queen Phoebee and her Royal Beetallion, Yooka and Laylee might just have a chance!
Yooka-Laylee release back in 2017 to mixed reviews. We fell into the middling category awarding the game a 6 and stating "Yooka-Laylee shows there's room for nostalgia-flavored 3D platforming in today's market by reminding us of the joys of well-built, colorful worlds, and daft, fun characters. Unfortunately, the good work put in by Playtonic to modernise the stagnant genre is hamstrung by glaring technical issues that dull the vibrancy, and cloud over your enjoyment." You can read our full review here.
Yooka-Laylee And The Impossible Lair releases for PS4 in October.
Source – [Twitter]