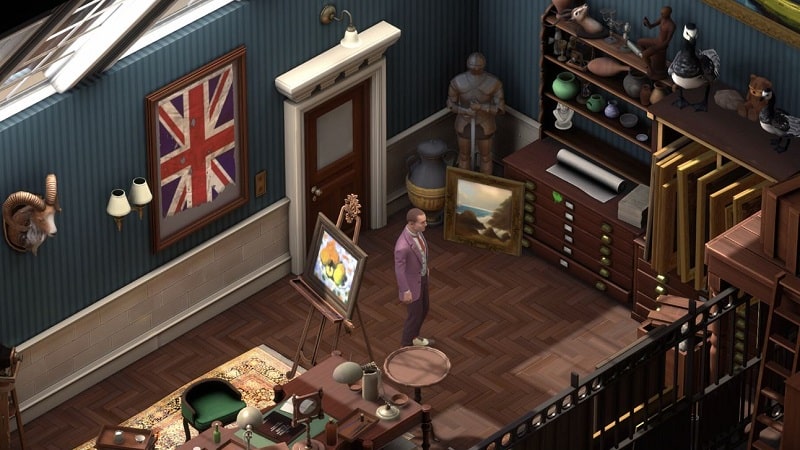 Agatha Christie – Hercule Poirot: The London Case PS5 review. Off the bat it's important to understand that Agatha Christie – Hercule Poirot: The London Case, the second chapter in a fresh take on the author's popular sleuthing novels, is both not much different at all from 2021's The First Cases and also a resolutely relaxing, Sunday afternoon of a game. As such it's important to adjust your expectations accordingly here, since you won't be getting an epic and sprawling detective epic akin to those reliably outputted by Sherlock Holmes licensors Frogwares and, well, that's just fine as it turns out.
Agatha Christie – Hercule Poirot: The London Case PS5 Review
---
A Relaxing, Sunday Afternoon Sleuth Caper Distilled Into Video Game Form
Some of my earliest memories of lazy Sunday afternoons with my folks involved myself, rendered practically immobile by a sizable lunch I had eaten just an hour or so previously, parked in front of the television watching the formidable David Suchet taking on the role of Belgium's finest as he goes about the place uncovering clues and solving crimes with his predictable vigour and charisma. Though the crimes themselves were fairly low-stakes affairs for the most part, the dialogue was breezy and every mystery went from clue to clue, from conversation to conversation before meeting a tidy end at around the forty-five minute mark.
Certainly then as I've already alluded to, The London Case feels very much like a video game distillation of that whole concept with players cast as the titular detective, tasking them to track down a missing classical painting in pre-war London, all the while navigating the various relationships, trials and tribulations that occur between the main characters.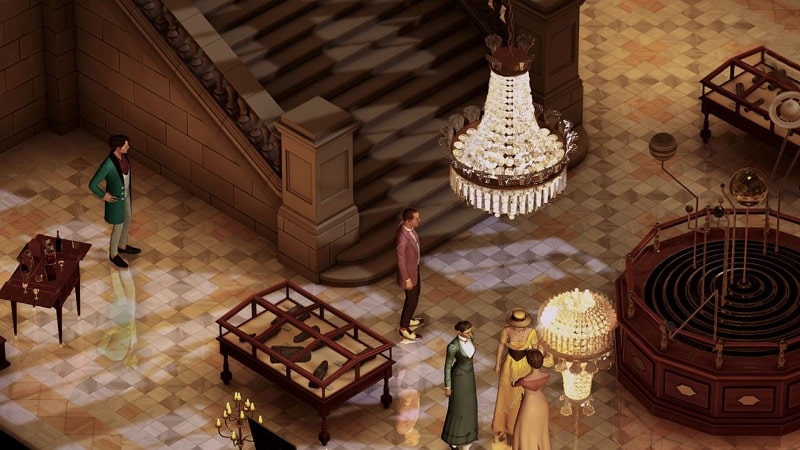 Much like the previous game, the sleuthing unfolds from a third-person, isometric perspective from which players must slowly guide an immaculately styled and younger Poirot around the place, analysing the environment for clues, interviewing suspects and making deductions in order to establish a trail of facts and events. Of course all of this will feel familiar to anybody who has played the previous title in the series, but for everyone else such detective beats are easily accessible and represent a decent place to start for sleuthing games in general.
Uncovering clues in the environment is simply achieved by interacting with those areas where you are able to so (as denoted by an eye symbol) and passing a cursor over points of interest and pressing the X button, at which point Poirot will chime in with an observation about what he has seen before committing it to memory for use later. It's a simple, yet effective mechanic that has been used in countless other detective games, so its implementation here will surprise few. Aside from collecting items and examining the environment, Poirot's other main avenue of fact-finding is via conversations with folks of interest. Here, our Belgium detective will seek to uncover facts and other such useful information by working his way through a sequence of dialogue options, with additional choices available once certain key events have taken place, or other such deductions have been made.
Unfortunately, the conversation side of things is where The London Case feels a little too simplistic, thanks in no small part to a lack of additional dialogue options which had it been expanded would have been useful in bolstering some non-linear aspects of the whole detective lark by potentially presenting players with some red herrings to chase. Additionally, there is no ability for Poirot to visually examine suspects either. A noted mechanic in Frogwares Sherlock Holmes titles, it was something of a thrill in those games to be able to pick out blood under their fingernails, torn threads on a jacket and more besides in order to gain some additional insight into the case at hand. Its absence in The London Case can't help but make Poirot's most recent outing feel a little too basic as a result.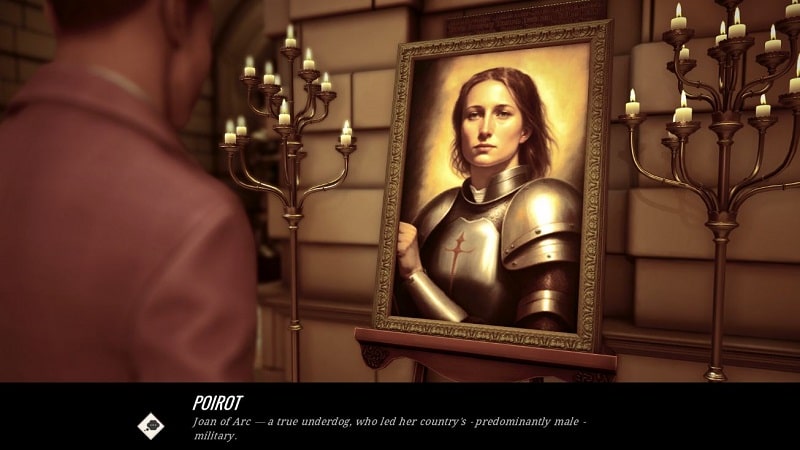 Once additional clues and insights have been gained from both environment exploration and conversations alike, you can begin to link the two together in Poirot's handy 'mind maps', which essentially allow him to group and organise information related to every aspect of each case. Fans of the detective genre in general will draw an obvious parallel to Sherlock's 'mind palace', where the Pride of Baker Street was able to precisely calibrate all of his clues and gleaned information to arrive at a deduction which will allow him to make progress in the case at hand. That's pretty much the same deal here.
In practical terms you'll be creating deductions by linking up one piece of information to another, with a successful deduction often providing Poirot with an all-new nugget of insight that can be used to open up new dialogue options in conversations or open up a new element in the environment for examination. And this is essentially the gameplay loop that you'll be experiencing across The London Case's nine chapters with pretty much no variance between the beginning and when the credits begin their roll. What this also means is that The London Case really isn't very challenging at all, with straightforward puzzles and obvious logical deductions, it's fair to say that veteran armchair detectives won't find their 'little grey cells' especially taxed, though newcomers will find everything appropriately accommodating for their first outing into the genre at large.
Where there is variance however, is in the scope of the various locations you'll be visiting during your time with The London Case. In the earlier chapters, your sleuthing endeavours are largely restricted to just two or three rooms, whereas later on you can go to and from from different locations thanks to handy fast travel system which makes such pursuits resolutely simple. Speaking of traversal, one thing that should be mentioned is that Poirot himself cannot walk any faster than a leisurely trot, which can make navigating some of the larger environments something of a mild slog – though points of interest and other characters always tend to be close by.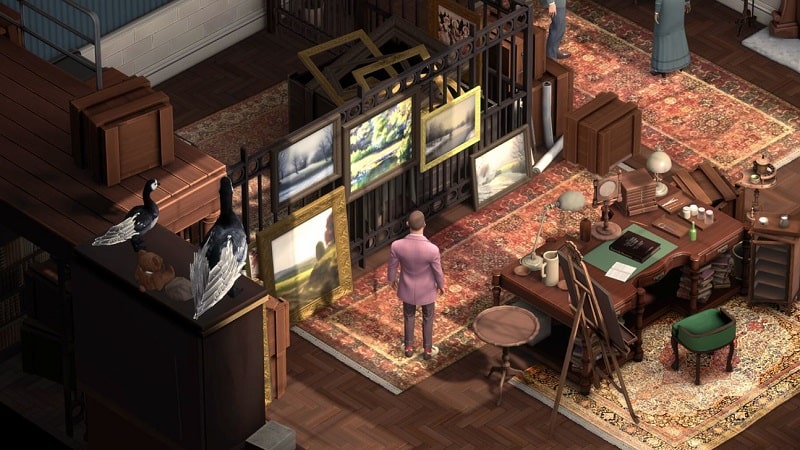 To be clear, while the detective beats of The London Case are simplistic and perhaps overly straightforward to a fault, the joyous feeling of satisfaction that you get when you make a breakthrough in a case after a period of being stuck is still as palpable as it ever was. Equally too, in addition to the brief (though welcome) dopamine hit of scooping up the various trophies being handed out like candy throughout the game, the ultimately relaxed and slow-paced beats of The London Case also qualify it as the perfect offering for when you just want to chill out and get stuck into a detective mystery. Y'know, on say a Sunday afternoon.
From a production point of view, The London Case is a modest affair. Though The London Case has clearly been made on a humble budget, with no lip synching on character models during cutscenes and poor cutscene direction where Poirot can sometimes have his back to the folks he is trying to talk to, the isometric environments are highly detailed, sharp and vibrant in a way that I didn't expect. Further afield, the quality of the voice acting though occasionally stunted, is also fine for the most part – if a touch overly dramatic at times.
Agatha Christie – Hercule Poirot: The London Case is an enjoyable, if unambitious detective yarn. Though its simplicity might fail to stimulate the tactile minds of more practiced video game sleuths, the resolutely relaxed and accessible detective beats on offer mean that newcomers will find few better introductions to the genre and should probably feel free to add a point to the review score below in the process.
Agatha Christie – Hercule Poirot: The London Case is out now on PS4 and PS5.
Review code kindly provided by PR.