If you are like me, the search for the perfect controller is always an ongoing quest. Through the years I have acquired many in various colors, themes, and functionality. I would say my controller obsession is borderline addiction, so when Evil Controllers reached out to ask if I would like to review their MasterMod PS4 controller, I jumped at the chance.
The Evil MasterMod Controller Review. Next Level Gaming
Evil Controllers specialize in professional and modded controllers designed to offer gamers an edge over their opponents. The Professional models are tournament / Esport legal and are comparable to SCUF and other Pro controllers like the Astro C40 TR. The modded versions like the one I received are not permitted in tournaments or Esports but they will not get you banned as the mods are subtle and do not exploit the game or console software making them undetectable in online play. Instead, the Evil mods only enhance the gaming experience by making use of macros and timing windows within certain titles.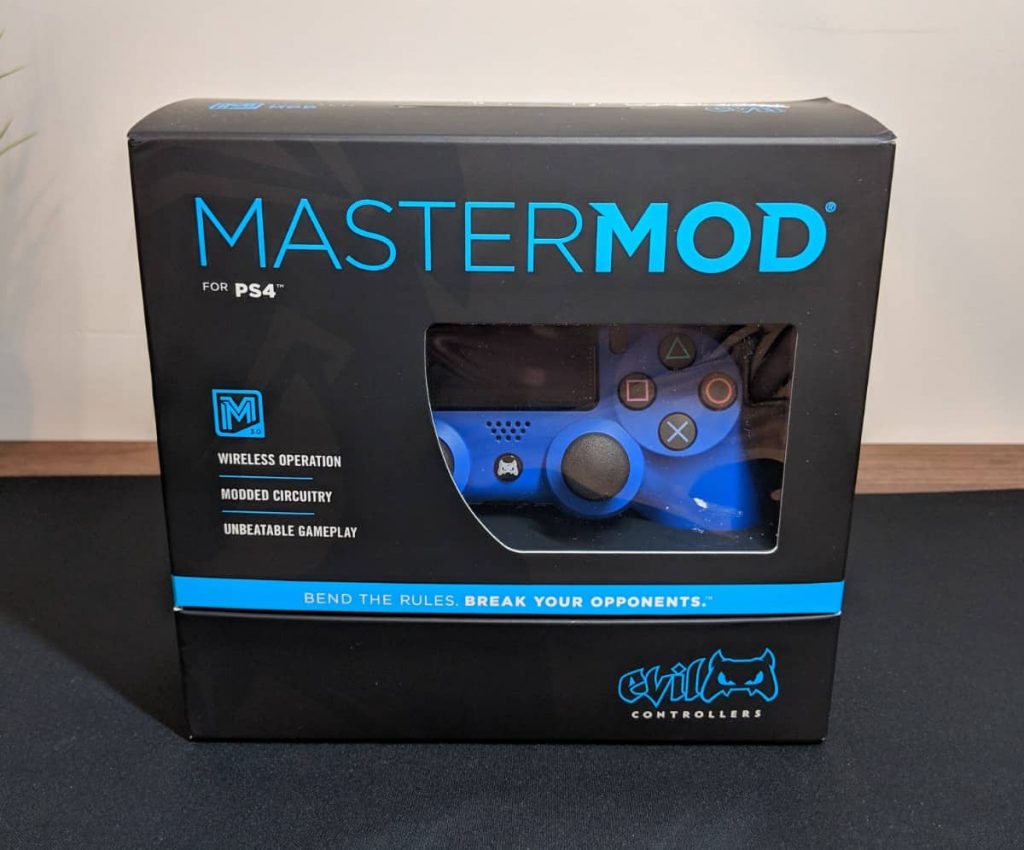 The MasterMod controller looks and feels much the same as the DualShock 4 does. Due to my smaller girl hands, I've always preferred the DualShock's size to the slightly larger style of the Xbox controller which most other Pro PS4 controllers tend to mimic.
The MasterMod has nine different mods including several rapid-fire variations, auto scope, auto spot, drop shot, fast reload, and auto-run. The controller also features twenty customizable save slots that are similar to a Call Of Duty loadout. Programming the mods and using the save-able slots is just a simple button combination away. If mods aren't your thing, they can be turned off entirely.
Controllers Are The New Black
Evil also offers a plethora of cosmetics in the form of various paint styles and personalization options. The controller I received is adorned with a black and blue splatter pattern and features the PlayStation Universe logo. If you don't feel like coming up with your own design, they offer some pre-designed themes such as a Call Of Duty or Apex Legends.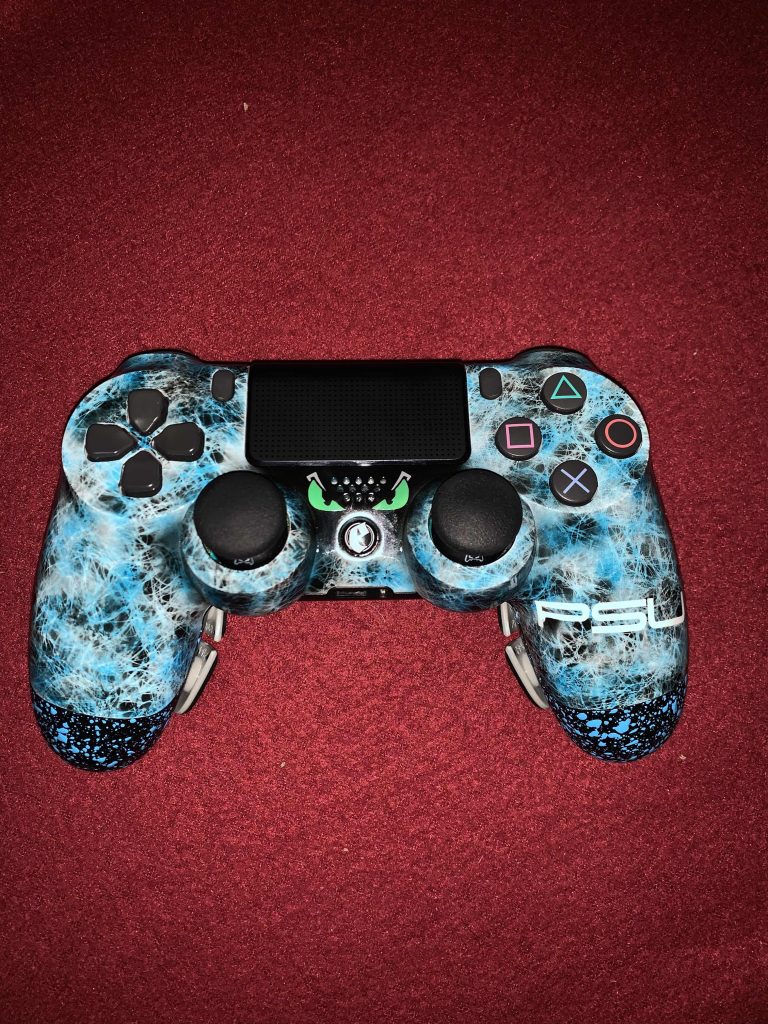 Everything about the MasterMod feels like an improvement over the basic DualShock 4 which includes four specially designed paddles which are located directly on the handle grips. These paddles can be remapped on the fly even if you are in a game. Admittedly, there's a bit of a learning curve getting used to the paddles, but after awhile, you will wonder how you lived without them. One slight issue I had in the beginning was that due to the paddles being in close proximity to where your fingers naturally rest, you might find yourself unwittingly pushing them when you didn't mean to.
The paddles are small and strategically placed but if you are new to Pro controllers the either some or all of the paddles can be deactivated. I suggest starting out using one or two until you get a feel for them. The speckled paint that is used on the grips has a textured feel and is slightly raised to help your hands from slipping on the naturally smooth surface which is especially nice for those intense gaming moments.
The thumbsticks feature Pro Tension which is two and a half times stronger than a standard thumbstick. This added resistance allows for a more precise accuracy in movement. Unlike the concave shape of the standard DualShock 4 thumbsticks, the Evil ones are convex and include three sets of various lengths. The added precision of Pro Tension really helped to prevent Cal Kestis from falling to his death during some of Star Wars Jedi: Fallen Order trickier jumps.
The Evil MasterMod Is Perfect For Fans Of Shooters.
Given my love of Shooters, one thing that stands out above all other Pro controllers I have used is the MasterMods Tactical Triggers. This provides an instant response in the trigger pull that is due to the fact it is a click response instead of the usual movement of the analog trigger pull. This is fine for most games, but the controller unfortunately won't work with titles that require a full ranged motion trigger controls which would include most driving/racing offerings.
I tested out the Evil MasterMod with several different games and it worked perfectly in all of them. Where the Evil controller really excelled was in fast paced shooters like Titanfall 2. Not having to move your fingers from the thumbsticks really gives you an advantage over other players in situations where milliseconds matter.
Unfortunately, like all Pro controllers, the Evil MasterMod comes with a hefty price tag. However, if you are willing to pay the extra money and love shooters, you should definitely come to the dark side and give Evil a chance.
The Evil MasterMod Controller for PS4 is out now, and can be purchased here for an RRP of $119.95.
A retail unit was kindly provided by the distributor for review.