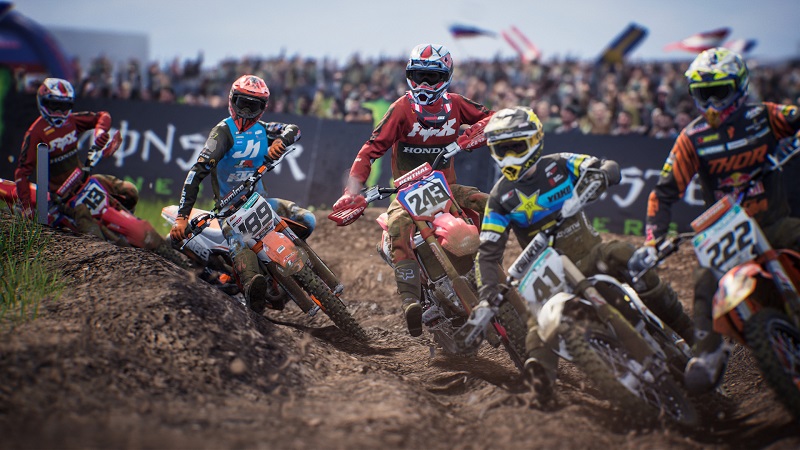 MXGP 2020 PS5 Review. It was only ever going to be a matter of time until Milestone's MXGP franchise would come screeching onto PlayStation 5. The latest in the series, MGXP 2020 is almost the typical poster child for third-party, cross-generation games. Which is to say that MGXP 2020 has a solid core but does little to take advantage of the new technology that it's hosted on, let alone advance the franchise in any sort of meaningful way.
MXGP 2020 PS5 Review
---
While MXGP 2020 is undoubtedly the sharpest and smoothest that the franchise has ever been on a PlayStation console, it still falls some way short of what Sony's monstrous lump of silicon is capable of. Certainly then, there are a number of visual trade offs observed throughout the game. MXGP 2020's sharp dynamic 4K resolution is offset by distinctly mid-generation PS4 textures and trackside detail, while the game's buttery smooth 60 frames per second has some of its sheen taken off it by the asset pop in which occasionally rears its ugly head.
Elsewhere, weather effects and track deformation are all welcome and fine but again, it all looks like it belongs to a previous console generation, rather than being an example of the retina searing visuals that the PlayStation 5 is capable of.
However the primary benefit that the PlayStation 5 version of MXGP 2020 enjoys over every other is the manner in which the DualSense implementation has been handled. Much of the joy of the MXGP games has been the evergreen conflict that exists between man, machine and mud and in playing a part in this battle, the DualSense controller leverages its fancy haptic feedback and adaptive technology to palpable effect.
The feeling of inertia and resistance that you get from the triggers as you try and force a burst of acceleration as you explode out of a tight hairpin corner is quite the sensation. While equally, the constant, rattling thrum of your metal mount is also keenly felt; adding yet further layers of immersion to a rallycross simulation that was hardly bereft of that quality in games past.
Additionally, the sense of speed and that feeling of smash-mouth, rough and tumble racing that is synonymous with motocross is also very much accommodated by MGXP 2020's first-person camera too. Simply, there is a great deal of enduring, mud-splattered satisfaction to be had from tearing around corners and leaping over massive hills and it's a thrill that developer Milestone have reliably nailed extremely well with a practised hand.
MXGP 2020 then doesn't have any real flaws from a handling point of view – a key aspect of its design which should arguably be the bedrock of the entire experience. Sadly however, the content which surrounds what is otherwise a super solid experience is lacking somewhat in both flair and charm.
While all the usual quick race, time attack and multiplayer modes feature, MXGP 2020 also brings with it a career mode whereupon you choose a team and bike class before going through a series of races, unlocking new sponsorships and bike parts as you go. Unfortunately after the engaging loudness and colorful brashness of Dirt 5's single player campaign, MXGP 2020's career mode comes across as a rather trite and banal affair that offers little else that we haven't already seen before (not least in MXGP 2019).
Speaking of modes, also returning from the previous instalments are the Playground and Track Creator modes. Again much like last year, these two modes provide a neat distraction from the humdrum career and single races seen elsewhere in the game. Track Creator does pretty much what it says on the tin, in that permits players to fashion a wide variety of different tracks for players to race around on.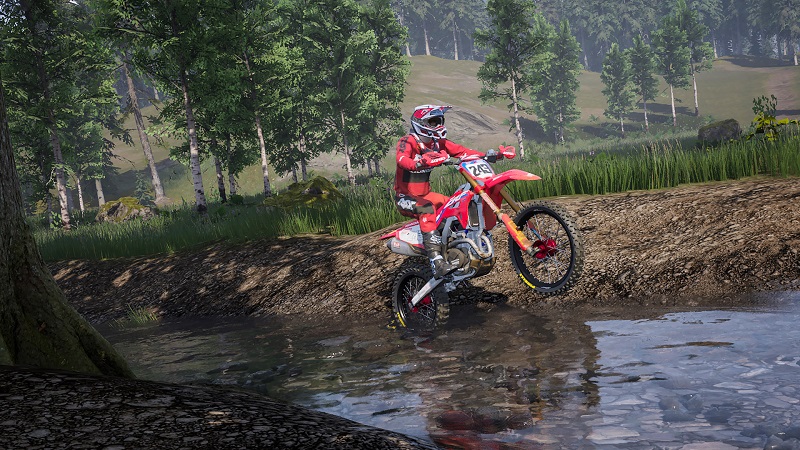 Playground on the other hand thrusts wannabe riders into an open world setting where a number of different trials are available. Testing everything from your speed to your control and agility, these trials are enjoyable enough but ultimately perfunctory and don't really offer anything much above and beyond what 2019's game did.
And this is the problem. Though MXGP 2020 has a robust racing and handling model, it just doesn't feel like anywhere near a large enough leap from its previous instalment – a failure which is felt even more keenly as the first game in the franchise on PlayStation 5.
MGXP 2020 is out now on PlayStation 4 and PlayStation 5.
Review code kindly provided by PR.