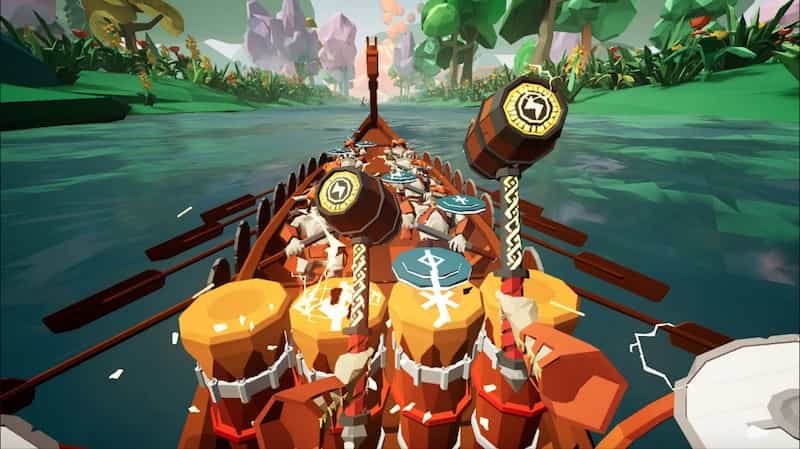 Ragnarok Review (PSVR2 ) – The path to Valhalla is rocky in this rhythm-action drumming game. In PlayStation Universe's Ragnarock PSVR 2 review, find out why you might unleash your inner Nord whilst getting lost in the beat of Viking Metal.
Ragnarock Review (PSVR2) – Viking Drumming Game Gives Glory to the Gods (of Rock)
---
(Dual)Sense The Beat
I'd already said similar about arcade-style shooters, but rhythm games might also be at home in VR.
Ragnarock is a drumming rhythm game that doesn't take up nearly as much room as my Rock Band 4 drum set, and is just as enjoyable to play. It has a smaller focus in terms of genre and objective, but that doesn't stop it from being a damn good time.
I'm trying to find the moment I really 'got' Ragnarock. Was it that moment I was finally comfortable thumping virtual drums and hitting a barrage of fast-paced notes? Maybe?
I suspect the answer came slightly later when I hammered my way through Valhalleluja by Nanowar of Steel and found my rhythm upset by the realization this song was a blend of Norse God references and worship of Swedish megastore and cheap meatball specialist IKEA.
The song has an excellent beat to drum away to, but I found myself chuckling at the IKEA/Odin lines and messing up my good run.
A game with good music is always a special thing for me. Video games have opened my tastes up to all kinds of genres. Ragnarock features Viking Metal and the like, which I've listened to a bit here and there before.
But this game has me listening to its artists whilst writing about it. A job well done. Still, good music only takes you so far. Ragnarok needs to make the drumming enjoyable and fairly precise. In that regard, it does pretty well. While the basis of the game is to hit the notes (runes here) as accurately as possible to rack up a high score. The extra twist in Ragnarock is that you're in a Viking boat.
Hammer Time
Yes, you sit at the back with drums in front of you and two big hammers in your hands (that'll be your PSVR 2 controllers). Your job is simple. Motivate the rowing party to cover as much distance as possible by providing them with a thumping (literally) soundtrack.
The more precisely you hit the runes, the quicker your power bar will charge up, and then you can smash the side cymbals to supercharge the rowboat, pushing it further and faster.
Something that is difficult to get used to playing a rhythm game in VR is the sheer scope of it. Ordinarily, there's a rigid flat-screen display that lets you see everything no matter what.
In VR, there's a very real threat of getting your eyes drawn off the edges of the play area. As I was getting used to drumming in VR, I often found myself fixating on a section of the play area and subsequently missing runes on the far drum.
It's something to be mindful of if this is your first venture into virtual reality rhythm action. Otherwise, it's pretty responsive stuff. Even light taps register and when you start to remember the songs, you can really feel the beat coming naturally, and things flow naturally.
Focus is key though, and as noted previously, a wandering eye can scupper a flawless run and rhythm. As is par for the course with games like this, the songs get more complex the further you go. Thankfully, Ragnarock's relatively simple four-line setup allows for a greater chance of survival and eventual conquering of even the fastest songs.
Odin-credible Tracks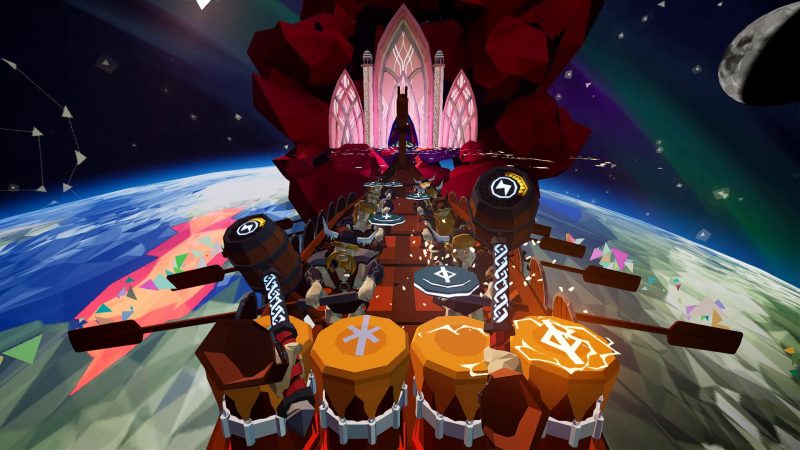 The songs themselves may fall under a theme, but there's a good variety on offer. Fast-paced Pirate Punk, Crunchy Viking Metal, Epic Instrumentals, and more make up the 40-odd tracks.
This includes artists such as The SIDH, Sons of O' Flaherty, Alestorm, Feuerschwanz, and Wind Rose. There's energy, melody, hard-cracking rock, and Norse bellowing that makes you want to whip your top off and glug down an ale. I mean, I was gonna do that anyway, but Ragnarock speeds up the process.
You could call Ragnarock out for being a rather simplified version of what it is. I quite like the stripped-back focus though. It helps with the important part for me…rhythm.
It might help endear the genre to a less hardcore demographic. There's also something a bit more traditional if you want that in the form of Drums Rock.
Ragnarock also has a multiplayer component where you can race against a rival ship. I'm terrible at it, but I still had fun. You can also face off against a ghost for a bit less pressure.
Onwards to Valhalla
It's a shame the DLC isn't packed in. Especially as it has The Offspring in here, but hopefully it will arrive in due time. For now, Ragnarock is a really good drumming game with a neat twist.
Ragnarock is available on PS5 and PSVR 2.
Review code kindly provided by publisher.