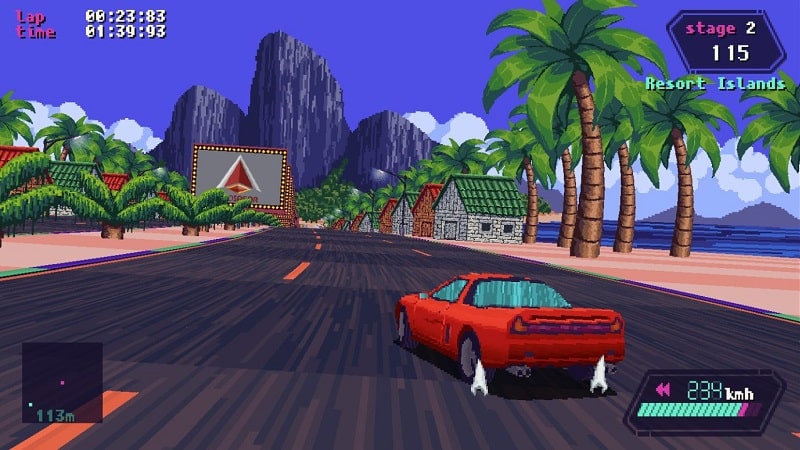 Slipstream PS4 review. Can you remember the last time you played Sega's classic arcade racer Out Run? No? Well, neither can I which is why Slipstream is the absolute closest thing I (and now you) will ever get to sampling those Sega blue skies, jaunty tunes and satisfying arcade racing because Sega, for whatever reason, hasn't pulled the trigger themselves. Hooray for motivated fans!
Slipstream PS4 Review
---
An Endorphin Stuffed And Highly Satisfying Tribute To Sega's Out Run
There's no getting around it, Slipstream is without a shadow of a doubt a maximum sugar, full-throated tribute to Out Run. With its pseudo 3D tracks and cars, relentlessly boppy soundtrack and exaggerated car handling and drifting, Slipstream absolutely fills that Out Run sized hole that is in your heart right now and cannot help but prompt a feeling of rising bile as to why Sega hasn't done the job themselves.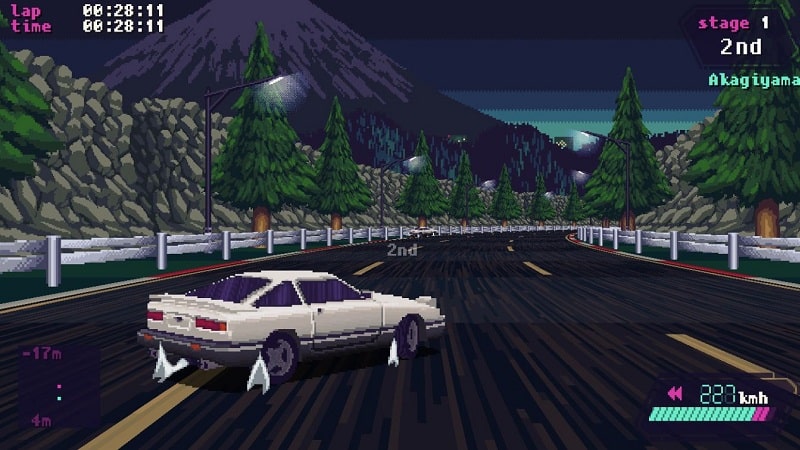 Developer ansdor (this isn't a typo – his name is officially listed in all lower caps) like myself and likely like many of you, is clearly a devout lover of Sega's Out Run – the difference between him and most of us is that not only is he clearly a talented game developer with flair to spare, but he has turned those talents to creating that which Sega could not/will not (delete as appropriate).
There are a wealth of modes that are available to wannabe 80s racers in Slipstream – from the rival based Grand Tour mode which pits you against different drivers each with their own unique personality, through to the Grand Prix mode which permits you to upgrade and customise your ride in a tournament style competition, it's certainly clear that the developer has wrapped a satisfying number of modes around Slipstream's compelling core premise.
And what a core premise it is too. Simply put, Slipstream looks, sounds and feels like Out Run, conveying that same retina-searing sense of velocity, coupled with a gloriously responsive handling model embedded into which a masterful drift mechanic will tax all but the most experienced players. Slipstream is nothing if not progressive too in its concessions to newer players in this regard, as a handy automatic drift mode does the hard stuff for you when you take especially tight or lengthy corners, while actually choosing to master the tricky drift mechanic yourself still remains an overtly satisfying pursuit to say the least.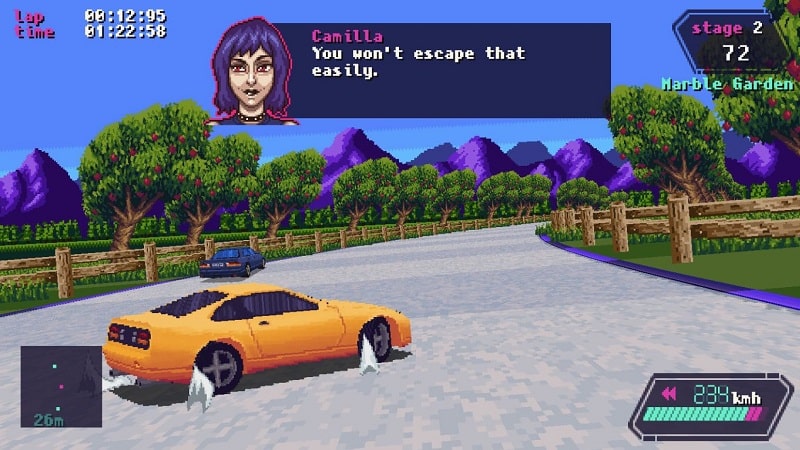 Slipstream's namesake isn't just for show either but also is a reference to the Slipstream mechanic that features heavily in the game – allowing players to enter the titular slipstream of a car that is ahead of them and use the speed increase to essentially slingshot past them and onward to victory. Much more than a gimmick, the Slipstream mechanic turns out to be especially great in Slipstream's local multiplayer mode which allows for up to four players to take part in a bout of good old-fashioned arcade action as you snatch victory from the jaws of defeat and beat your friends to finish line at the last moment.
In terms of the modes, the best of them is arguably the Cannonball mode which allows you to customise just about everything you want; from the tracks you'll be racing on through to traffic levels, rival racers and more besides. On the flipside, Grand Prix seems the weakest of the modes on offer because while you can upgrade three stats on your chosen car with money won from races – engine, gearbox and tyres (which affect speed, acceleration and handling accordingly), it is entirely possible to invest your hard earned cash in the wrong stats and thus relegate yourself to a car that is very difficult to win races with.
Elsewhere the Grand Tour mode, while entertaining, is perhaps best of use as an ad-hoc take on the classic Out Run arcade setup where you race through different tracks en route to the eventual finishing line. The main reason for this is that the other drivers that you'll race against have their own various dialogues that they will spout out at the player, hinting at some kind of lore or narrative, but really it's all just fluff and Slipstream wouldn't be worse off without it.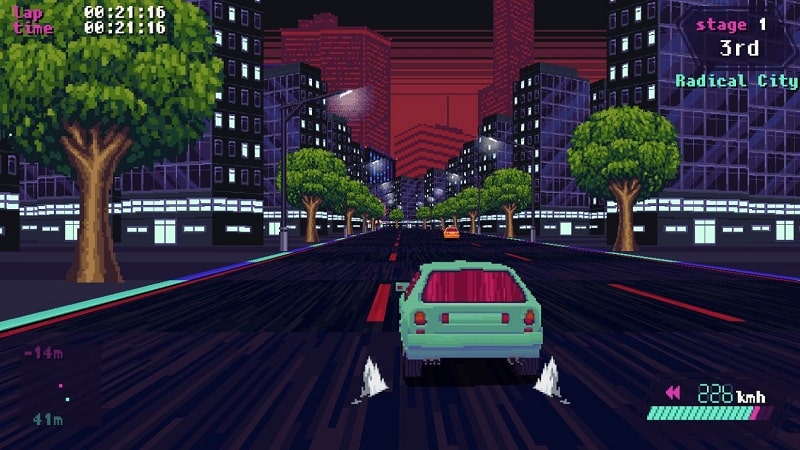 Certainly, playing Slipstream with a bunch of friends is a whole heap of fun – not least owing to how frantic and competitive the races can become and not to mention the fact that many of the racing modes (including the superb Cannonball mode) are available for use. What is a touch disappointing however is that Slipstream doesn't support online multiplayer – which is a shame.
When it comes to the visuals and audio presentation, Slipstream is an impressive offering. Visually, the game does a fantastic job of recalling the halcyon days of classic arcade racing from the late 1980s and early 1990s, while an additional array of CRT, NTSC, VHS and other visual filters allow you to tweak things according to the strength your nostalgia. The music too is also a home run – boasting a wide range of foot-tapping earworms that provide a deft tribute to the forgotten arcade anthems of yesteryear.
A beautifully crafted love letter to Sega's Out Run, until the latter publisher decides to get their act together, Slipstream is not only the closest you'll get to recreating Sega's classic arcade racer on contemporary hardware, but it also adds enough new parts and components to this vintage ride to make it well worth taking in 2022.
Slipstream is out now on PS4. You can read more at the official site for the game and buy it here on the UK and US PlayStation Store.
Review code kindly provided by PR.