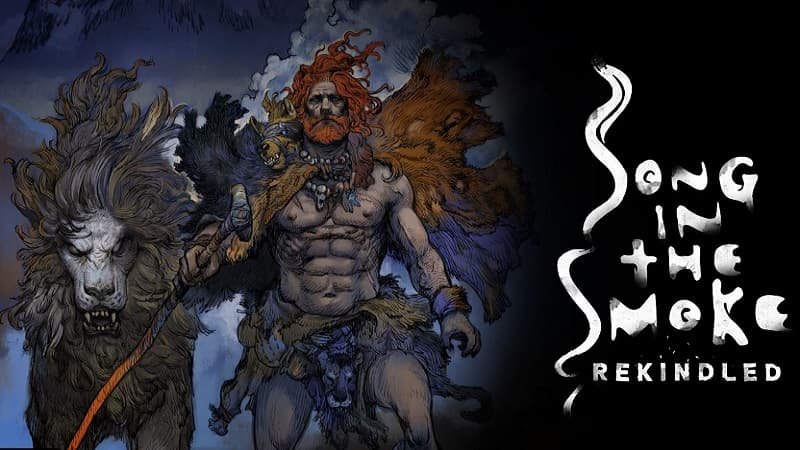 Song in the Smoke: Rekindled PSVR2 review. Released at the end of PSVR's tenure, Song in the Smoke was an engrossing VR survival effort that was generally not given the chance it deserved given that it emerged during the waning days of Sony's first stab at PlayStation VR when interest in the platform was at an all-time low. Conversely Song in the Smoke: Rekindled, a revamped version of that very same game, has released alongside the launch of PSVR's successor and in doing so finally gets the opportunity to shine that it never had before. Is it worth taking the plunge however if you missed it the first time? Yes. Yes it is.
Song in the Smoke: Rekindled PSVR2 Review
---
The First Must-Have Survival Effort For PSVR2
Coming from developer 17-Bit, which brought us the underrated GALAK-Z and Skulls of the Shogun, Song in the Smoke: Rekindled is a first-person survival effort for PSVR2 which combines mysticism and a dark fantasy setting with traditional survival mechanics and a whole lot more to elevate it beyond its genre peers. On PSVR2, Song in the Smoke is by and large the exact same game as its predecessor from a content perspective, but as one might expect 17-Bit have made the most of the new features afforded by Sony's latest iteration of PlayStation VR technology. Before we get to the improvements that the PSVR2 version of Song in the Smoke: Rekindled brings over its PSVR predecessor though, let's take a look at the core mechanics and design of the game.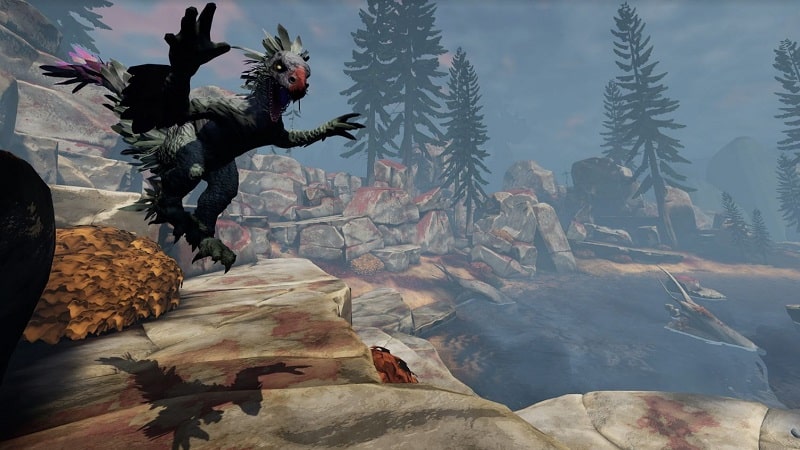 Whisked away into a mysterious world filled with predatory monsters, Song in the Smoke immerses players in its dark and painterly fantasy realm by not only awakening them in said place, but also in how well it manages to teach players the ropes and all the key skills that they'll need to succeed going forward. From navigating the environment to crafting new objects, the tutorial that Song in the Smoke: Rekindled provides is both comprehensive in scope and leisurely in pace, crucially allowing players who don't usually dip their toes in survival waters to get stuck into the game in earnest. Put simply, Song in the Smoke: Rekindled is a survival effort that has been tailored for both experienced hands and fresh faces alike and for that fact alone it should be commended.
Happily, I can report that everything feels quite natural in Song in the Smoke: Rekindled. Movement is impressively smooth and easy to accomplish – the analogue sticks of the PSVR2 Sense controllers are used to navigate your way across and through the wilderness, while a brand new 'free jump' mode allows you to jump wherever you want with ease. Combat too is similarly straightforward to pick up with melee attacks being easily pulled off by, well, bashing and stabbing things, while taking out enemies with your trusty bow (when you craft it) is just as simple, just load up an arrow, pull back on the string and fire. Even stealth, which is something you'll find yourself doing a lot in Song in the Smoke: Rekindled is effortless too – simply hide in a bush when enemies appear and if you're concealed a black silhouette of the flora you happen to be hiding in will appear on the screen. Easy.
Further Reading – New PS5, PS4 Games Release Dates In 2023 And Beyond – All Upcoming PS5, PS4, PSVR2 Games
Equally, interacting with your inventory and other key items couldn't be easier. A handy map is available at all times by simply pulling it out of your chest pocket while you trusty cloak carries all of your belongings and can be accessed with just a simple button press. Everything in Song in the Smoke: Rekindled feels built to be as effortless as possible and in a genre stuffed with over complicated mechanics and controls, Song in the Smoke: Rekindled is a breath of fresh air. Where Song in the Smoke: Rekindled might seem a little less appealing however is in its crafting mechanics and systems.
Sure enough, if you've never played a survival game with crafting elements in VR, then going through the motions of breaking sticks against stones to create arrowheads and lining up stones, wood and flint to make a campfire, drying our your food and so on will all seem neat when you're doing it the first few times. In truth though, Song in the Smoke: Rekindled doesn't add a whole lot to the survival crafting side of things that its genre stablemates haven't done already and very much embraces the micromanagement that has long since sat at the heart of the genre. This means you'll need to constantly keep an eye on your overall health, hunger, thirst, warmth and so on, though a handy selection of difficulty levels either sharpens or dulls the edges of Song in the Smoke's survival systems depending on what you choose (including an insanely tuned 'Jake Mode' which is set aside for survival sadists only).
Though Song in the Smoke: Rekindled might lean on the established status quo when it comes to its survival game design bedrock, 17-Bit are well known for doing things a little different with their output and Song in the Smoke: Rekindled deftly epitomises that approach. For a start the world that Song in the Smoke: Rekindled takes place in is utterly mesmerising. A painterly realm filled with all manner of exotic creatures, flora and fauna that appear to be ripped from the pages of Slavic folklore and beyond, Song in the Smoke: Rekindled certainly manages to immerse you in a game world that feels familiar and yet utterly unique at the same time.
Beyond the aesthetics of Song in the Smoke: Rekindled, there's also much more going on under the surface than you might initially realise at first. Far from being an aimless survival sandbox, Song in the Smoke: Rekindled anchors its core gameplay offering to a tantalising narrative that immerses players in a primordial world riven with mysticism and an enigmatic, encroaching darkness which threatens to envelop everything. It's a world that can't help but pull you in and feels a million miles away, creatively at least, from the usual spread of tropical islands and jungles that survival titles usually thrust you into.
Further Reading – PSVR2 Review – A True Game Changer For High-End VR On Consoles And Beyond
The aforementioned darkness also figures directly into the game design too. You see, not only should you be crafting, keeping yourself fed/watered and generally keeping yourself in one piece as you progress through the winding wilds of Song in the Smoke's prehistoric setting, but you also need to make sure that you're always around a light source at night, since this when the darkness comes and failing to appropriately position yourself next to a light source will result in death rather swiftly to say the least.
Sitting atop Song in the Smoke's various mechanics is effectively a nexus of procedurally generated content from different aspects of the game's overall design. Not only is the world geometrically different with each playthrough, but so too do the relationships between the various creatures and other characters begin to shift too, making Song in the Smoke: Rekindled feel substantially more refreshing than many of its genre brethren. This feeling of freshness is given additional importance when you again consider how Song in the Smoke: Rekindled doesn't reinvent the wheel of crafting and survival mechanics, but the overlay of these procedural systems coupled with an intoxicating game world both manage to ably distract from those less thrilling aspects of its design.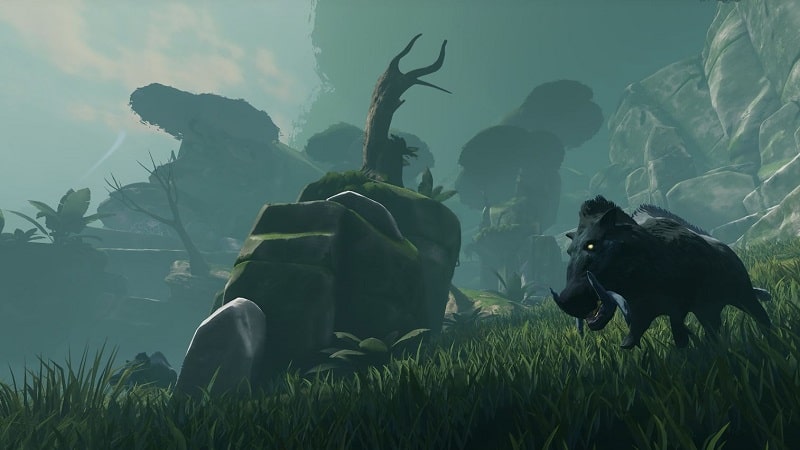 The 'Rekindled' part of Song in the Smoke's new title refers to not just its re-release on Sony's shiny new lump of VR technology, but also the absolute avalanche of improvements that have been thoughtfully implemented into the PSVR2 version of Song in the Smoke to elevate it beyond the original PSVR iteration of the game. With many PSVR2 upgrades of existing PSVR titles that list of upgrades tends to be both uniform and expected, but where Song in the Smoke: Rekindled scores bonus points is in how it implements them.
Sure enough the leap to 90 frames per second, 4K resolution HDR visuals powered by an OLED display means that Song in the Smoke has never looked better, with the PSVR2's extra grunt being used to provide fine detail and retina-searing fidelity to the Song in the Smoke's mystic, primordial realm. The implementation of 3D sound is also well assured, with some truly nail-biting encounters and scenes which help to break up the gameplay loop of its survival beats being brought to terrifying life thanks to the PSVR2's leveraging of Tempest 3D audio technology.
Further Reading – Upcoming PS5 Games – The Most Anticipated PS5 Games Coming Soon In 2023
Beyond the audiovisual side of things, the PSVR2 Sense controllers simulate the feeling of being struck in combat, falling off ledges, leaping from one place to the next and so on. What was most surprising was also how the haptics in the PSVR2 headset itself are used. Stand under a waterfall for example and the haptic feedback in the headset will thrum convincingly as the water cascades down onto top of your head and behind your ears. It's super immersive stuff to say the least that further cements the PSVR2 outing of Song in the Smoke: Rekindled as arguably the definitive version of the game.
Though the somewhat ho-hum resource management and survival mechanics are a little shop-worn at this point, Song in the Smoke: Rekindled nonetheless soars as the best survival adventure on PSVR2, thanks in no small part to its evocative world, endlessly clever procedural design and stunning improvements made possible by Sony's latest lump of VR tech. If you missed Song in the Smoke the first time round, this is your chance to right that mistake definitively.
Song in the Smoke: Rekindled is out now on PSVR2. If you own Song in the Smoke on PS4 you're entitled to a free upgrade on PSVR2.
Review code kindly provided by PR.